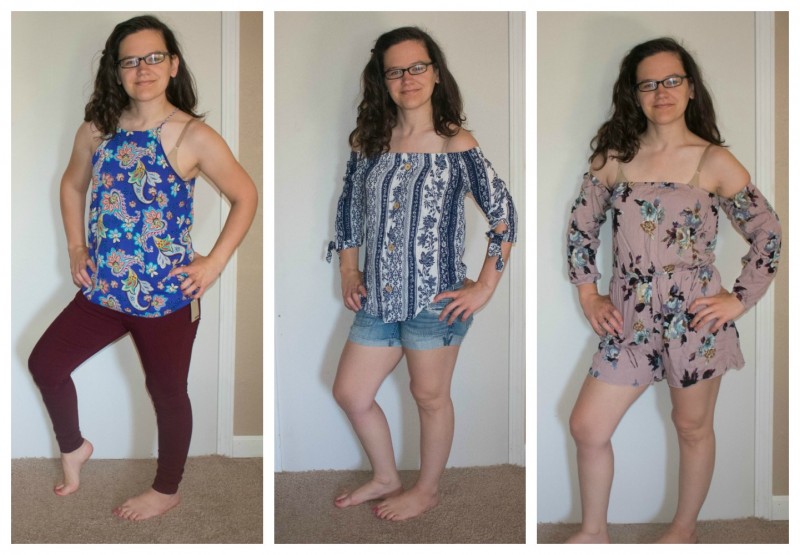 I was sent a Nadine West shipment. There are affiliate links in this post. All opinions are my own.
For quite a while now I've been getting Nadine West shipments. Just last weekend I was wearing a top that I got in a previous Nadine West shipment and my niece asked me where I got it. I wound up telling her all about how Nadine West works. That sort of thing happens pretty often now because a lot of my wardrobe has come from Nadine West at this point!
When you sign up for Nadine West
you fill out a style profile to give them an idea of what your style is. You also let them know your sizing. Then each month (or twice a month, depending on which you choose) you'll get a pink bag stuffed full of clothing and accessories. You get to try everything on and decide what you like and want to keep. The shipment also includes a prepaid return mailing label so you can ship back any items that you choose not to keep. You're only charged for the items you keep.
Curious what was in my August shipment? Well, I'll show you!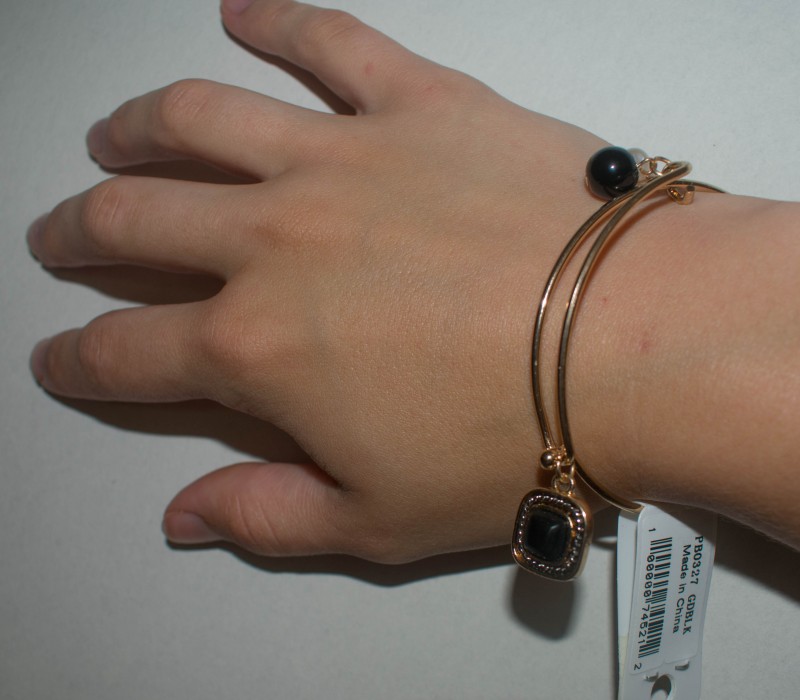 This a simple but cute bracelet. It fits me well and just has the two charms on it. I am not very good at remembering to wear bracelets in general, and when I do, I usually want one that is a bit more dressed-up than this one. This was a pass for me. It would be $16.99 to keep.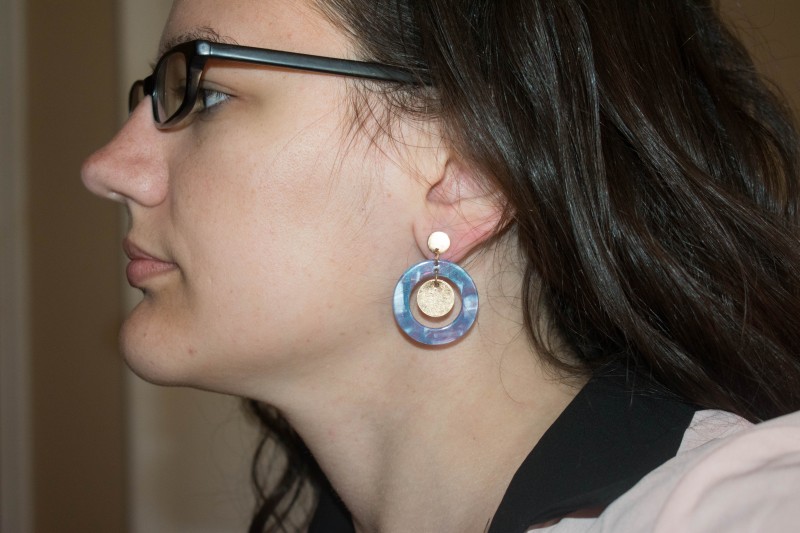 The earrings sent are pretty, with two gold circles and then a blue outer ring. These are fairly lightweight for this style of earring. I think these are really pretty but they just aren't earrings I would probably remember to wear because they have to be color coordinated to an outfit. I tend to stick with simple gold or silver earrings because I can wear them with more things. These are $16.99 to keep.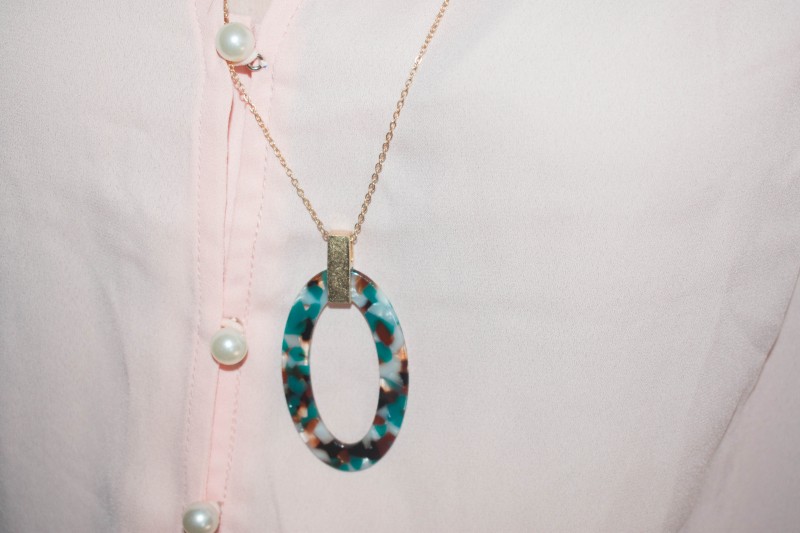 This necklace doesn't truly match the earrings, but they have somewhat of the same vibe. I think the colors are really pretty, but I just rarely wear enough jewelry to go with specific colors. This necklace is $24.99 to keep.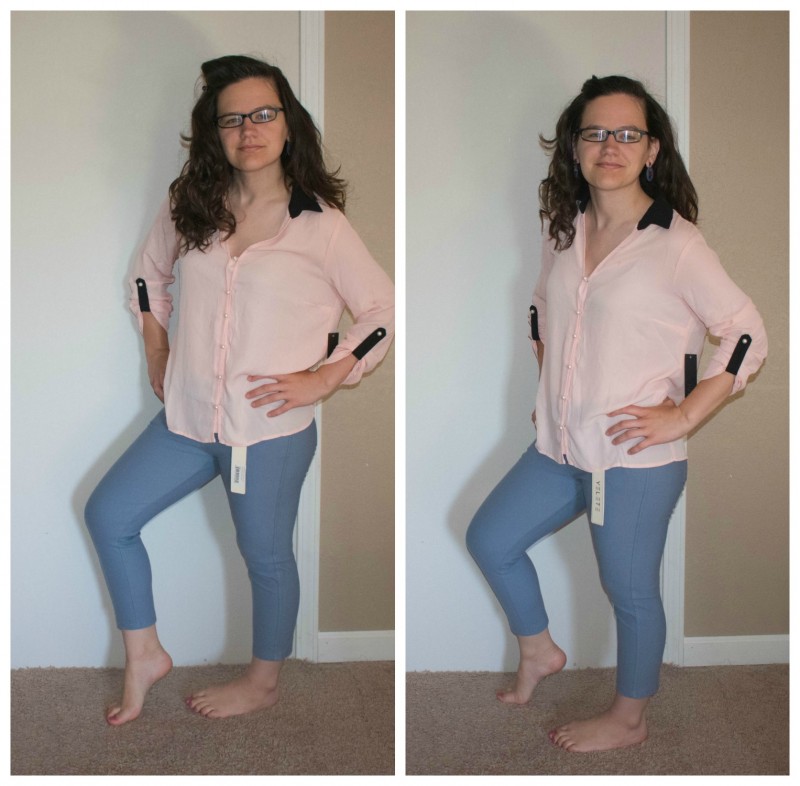 The top and bottom pictured above are from the shipment. The leggings are desiged to be calf-length but are a bit long on me (I am 5'1″). They are leggings but sort of have a jeggings type look to them. If these were full length I would have kept them, but they just end at an awkward height on me. They are $20.99 to keep.
The top I was excited about at first glance. I love pale pinks, I like button-up blouses, and I like how it had the black pieces as an accent. However, the buttons are made to look like pearls and that is really not my thing. (You can see the buttons in the photo above of the necklace, by the way). I decided against this top due to disliking the buttons. It would be $27.99 to keep.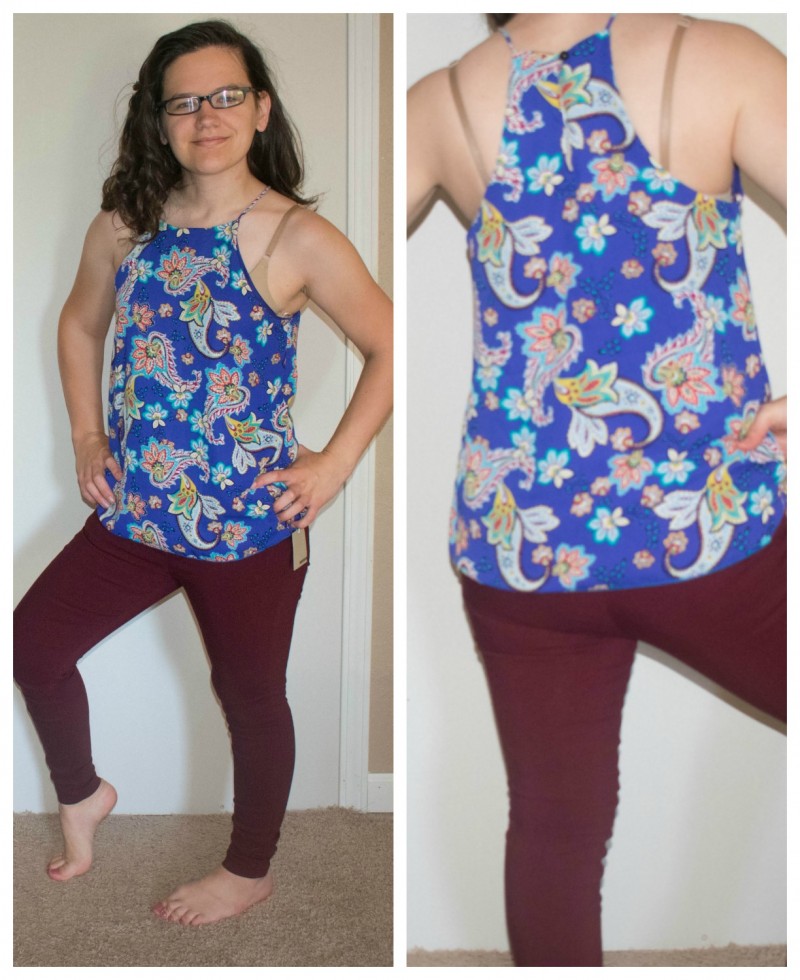 The top and bottoms pictured above are both from Nadine West.
I was excited to see another pair of 'real' pants! I really hope they keep sending me pats. These are a deep red which is a little outside of my comfort zone in bottoms, but I would have kept them if they had fit better. They were really super tight. I do think they are designed to fit very form-fitting, but I could barely breathe in these, I definitely need a size up. They are $24.99 to keep.
I really like the cut of this top. The straps are unique, o it would be tough to find a bra that would be easily hidden but I like the overall style of the top. The paisley type print isn't for me though. So, unfortunately, I passed on this top too. It is $24.49 to keep.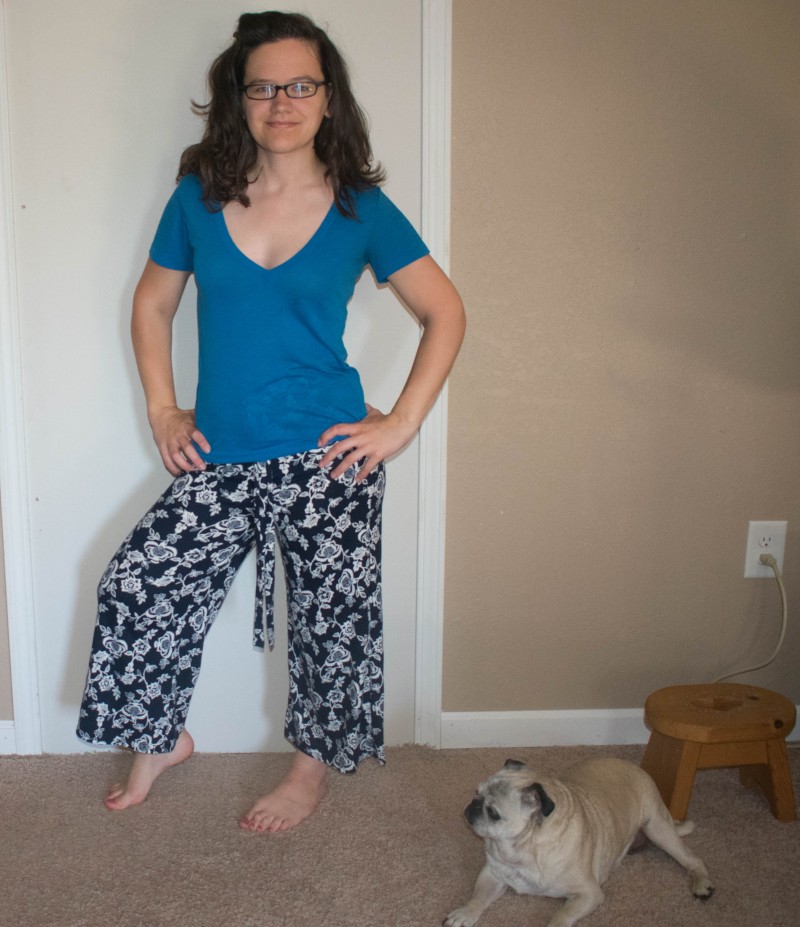 You can pretty much count on getting one pair of culottes in each Nadine West shipment. They aren't my style so I never keep them. These ones are $19.99 to keep.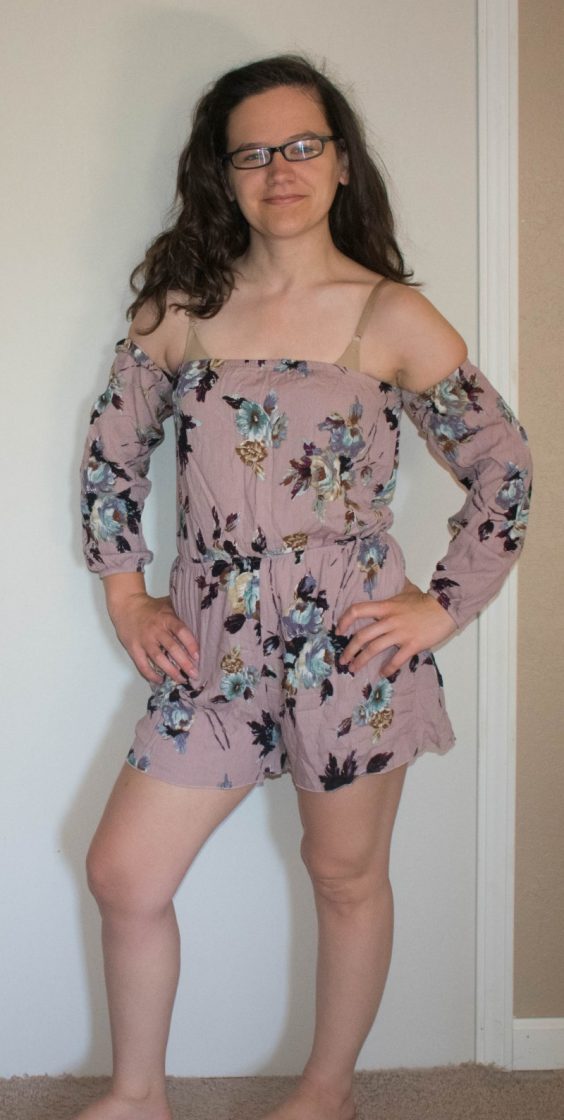 I think this was my first shorter romper from Nadine West! I think Rompers are really cute on other women, and I've tried them on in stores before. I've never found one that fit my body well. They either make my belly look really big, or they give me a massive wedgie – or both. So I was happy to discover that this fit me pretty well and didn't give me a wedgie. I would probably have kept this if it had short sleeves or had tank-top type of shoulder coverage. The sleeves are attached to the armpit area of the romper and it just feels rather restrictive to me. Also, here in Michigan we have hot summers and cold winters and very little spring-like or fall-like weather. So if it's short enough to wear shorts, it's way too hot to have sleeves on. They have this romper priced at $29.99. This wasn't quite for me, but I hope they send me more rompers in the future!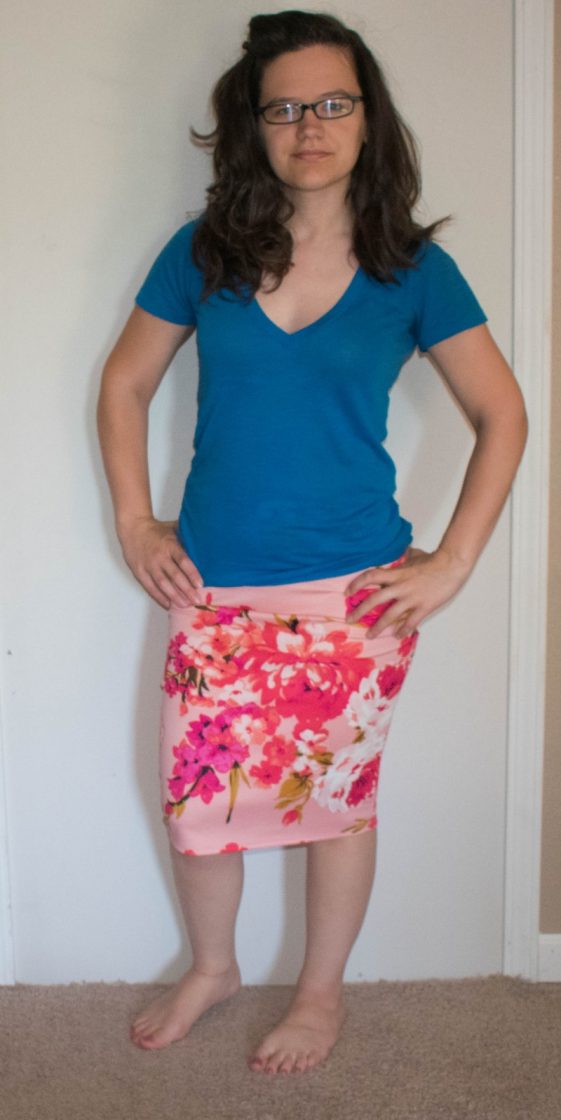 This skirt is sleek and super feminine. I think it's cute, but I'm not one to wear skirts much in general, and I never wear pencil style skirts. It is $21.99 to keep.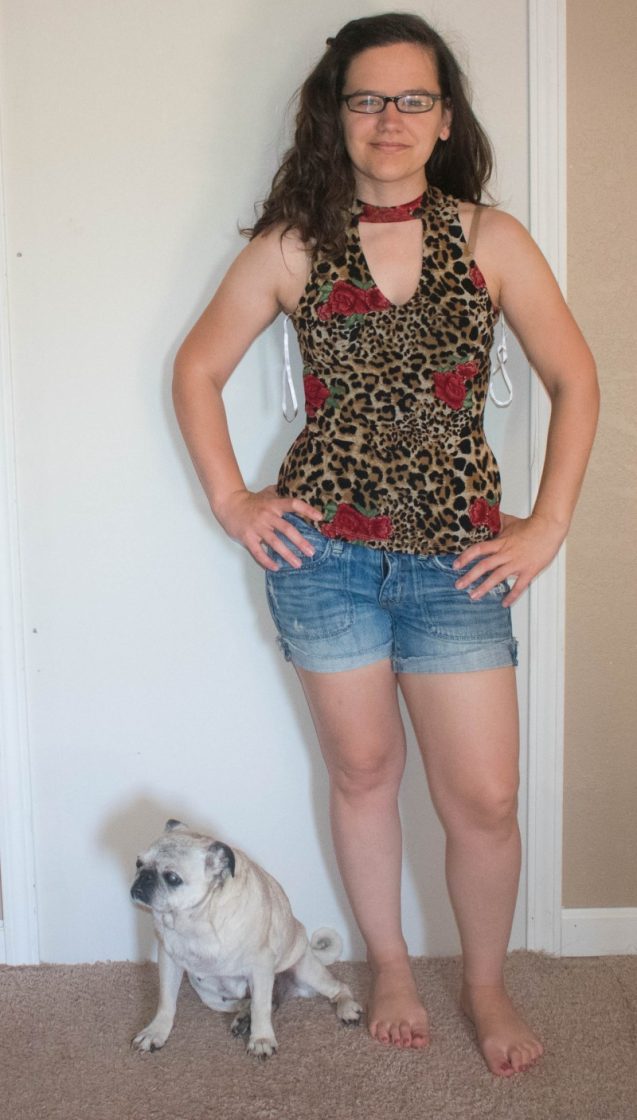 This top is a really stretchy, light material that I think would be comfortable to wear on hot days. I like the cut of the shirt and the neckline, but animal print isn't for me, ad I think I would feel better wearing a size larger in this particular shirt. I am sort of between sizes right now. It is $24.49 to keep.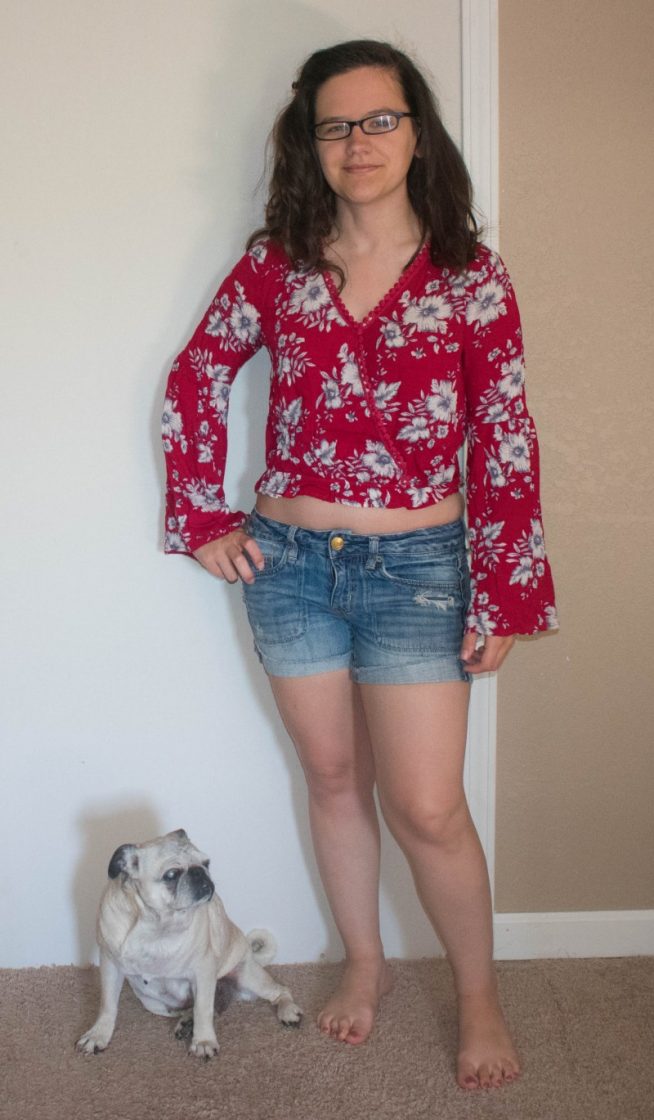 I like the color and print of this top, but I'm not a fan of showing off my bare belly. It is $25.99 to keep.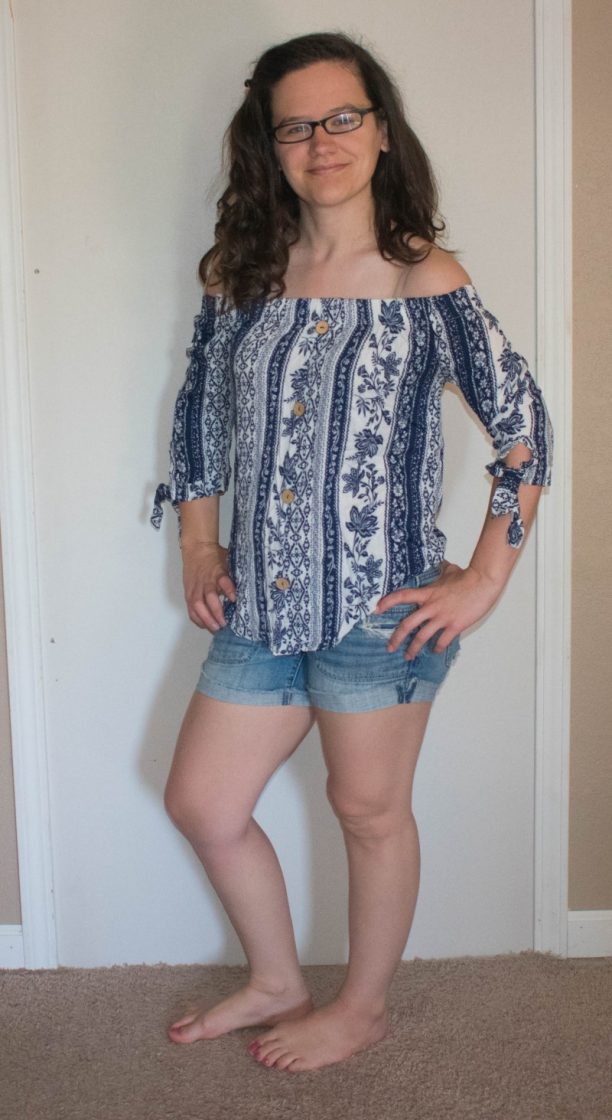 One of my favorite things about Nadine West is when they send me clothing that I wouldn't usually try on, but then I do because they sent it, and I love it! This shirt would have been one of those for me if it had shoulder straps and/or wasn't so tight around my shoulders. I don't often buy blue tops, but I really like the print of this one. I like the wood-look buttons as well. The material is thin and airy, perfect for summer. I'm not used to wearing tops that are shoulderless, but even so, I am pretty sure this is too small for me. I could barely move my arms once the elastic shoulder part was down on my upper arms (where the model showed it being worn). So close to being a keeper, but not quite. This top is $26.99 to keep.
This was my first ever Nadine West
shipment where I didn't have any keepers. The shipment just prior to this was one of my favorites ever! But, they can't all be great, right? The awesome thing about Nadine West is if you are only charged for what you keep. Also, I would have kept some of these if they had fit me better so I am considering updating my size on my style profile. The last time I tried sizing up, it felt like everything I got the following month were way too big. It's tough when you fit different sizes in different brands.
Anyway, let me know which item(s) you liked from this bag! Which would you have kept for yourself?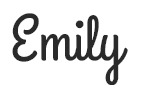 Hi there! I am Emily Evert, the owner of Emily Reviews. I am 28 and live in a small town in Michigan with my boyfriend Ryan and our two pugs. I have a large family and I adore my nieces and nephews. I love reading memoirs, and learning about child development and psychology. I love watching The Game of Thrones, Teen Mom, Sister Wives and Veep. I like listening to Jason Isbell, John Prine, and other alt-country or Americana music. I created Emily Reviews as a creative outlet to share my life and the products that I love with others.
This post currently has 6 responses.