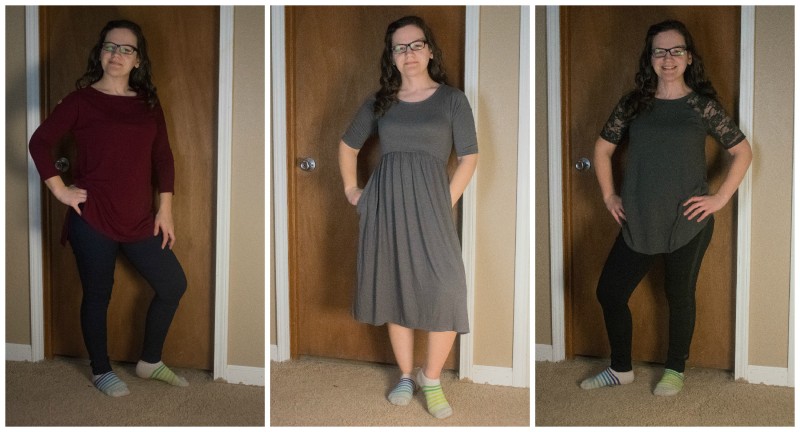 I was sent a Nadine West shipment for review. There are affiliate links in this post. All opinions are my own.
If you're new here, let me introduce you to a company that I love – Nadine West
! They send clothing to you based on the information you provide in a style profile. This includes your sizing information, which colors and prints you like to wear, what types of accessories you wear and more. The items they mail you are a surprise until you open the package. They also send you a prepaid return mailing label. You return anything you choose not to keep, and you aren't charged for those items. So you get surprised with items, you try them on, return what you don't care for and then are charged only for what items you do keep.
How many items you are sent can vary from about 5 to about 15. This month was a smaller package, I got 6 items. When I opened this package I was excited just by seeing the colors. All the items sent were definitely based on my color preferences!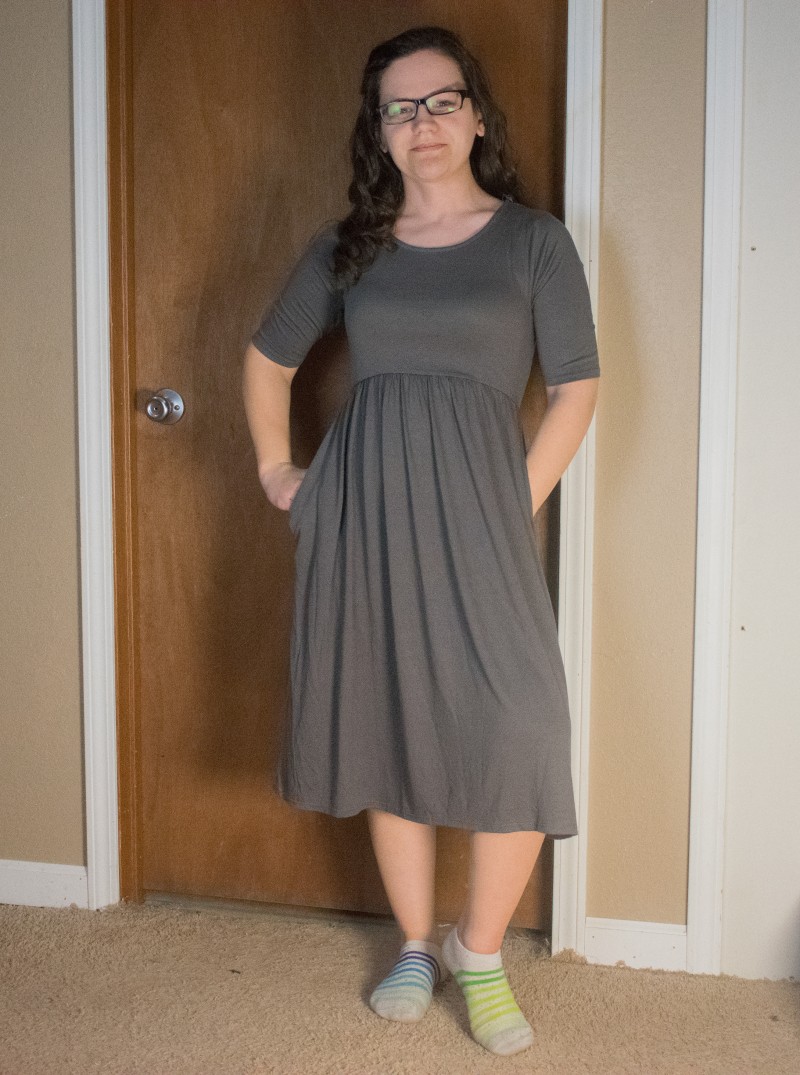 Gray is one of my favorite colors to wear. This is a pretty simple dress but I like how it comes in a bit under the bust and the fitted sleeves. It has pockets which I love as well. The deal breaker for me is just the length. I really only ever wear short dresses. This dress is 26.99 to keep.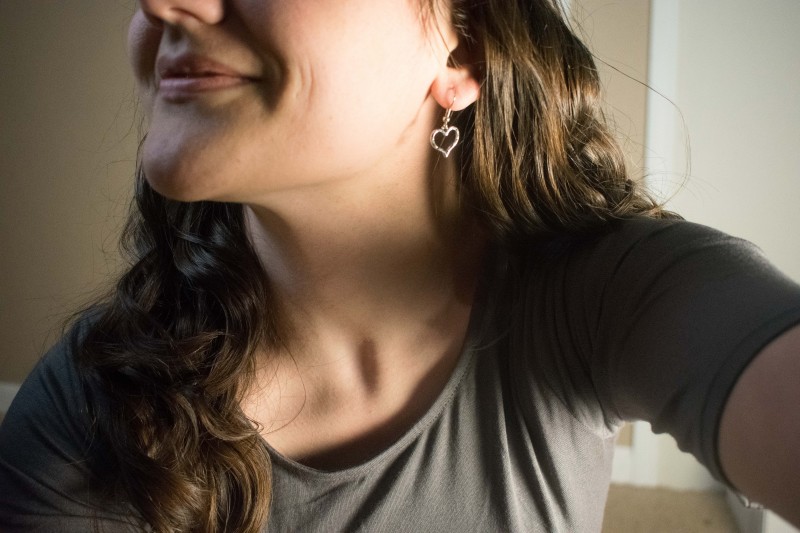 These earrings are so cute! Small, lightweight hearts with a 'hammered' finish look to them. Definitely keepers for me! They cost $16.99.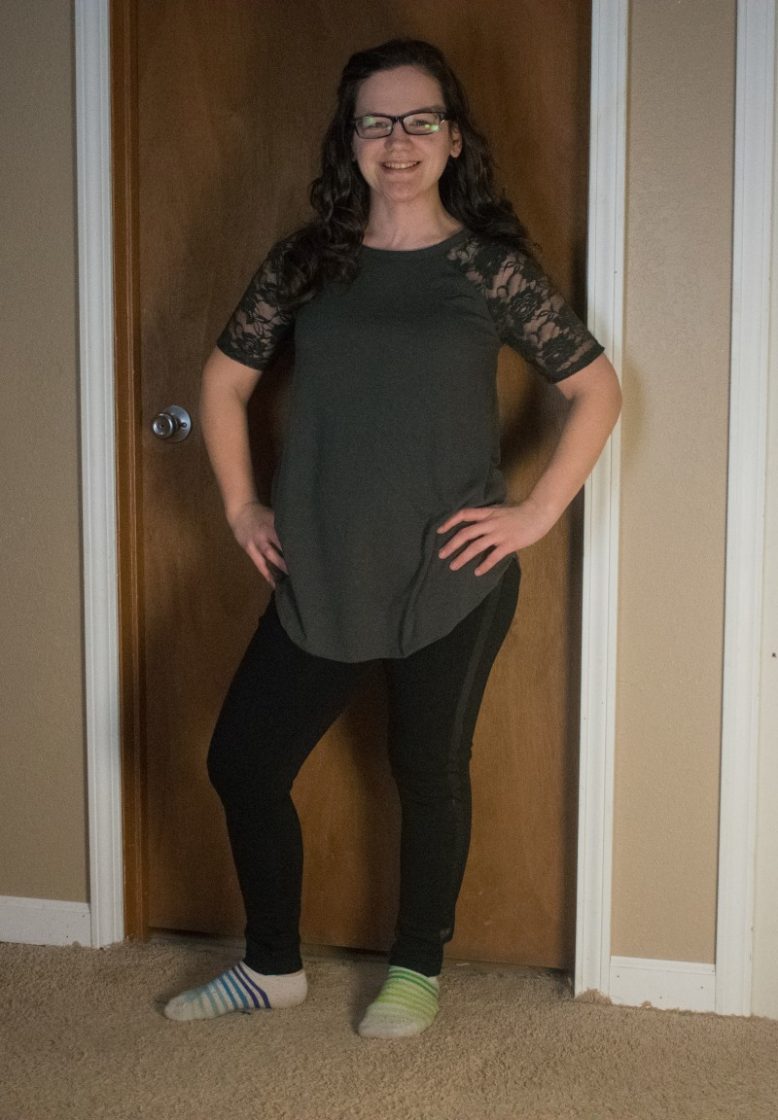 The top and bottom here were both sent in this shipment. Again, I love gray so I was excited to see this gray top. I also love lace, so I liked the lacey sleeves. I would like this top more if it were shorter, ending at the top of my pants. I still like it this way though! It is $29.49 to keep.
The bottoms here have a 90's feel to them with the stripe down the legs! I wear cotton/casual leggings a lot but these have more of an athleticwear type feel to the material. I like them but I just don't think I would wear them very often so I decided to pass them on to someone else. They are $16.99.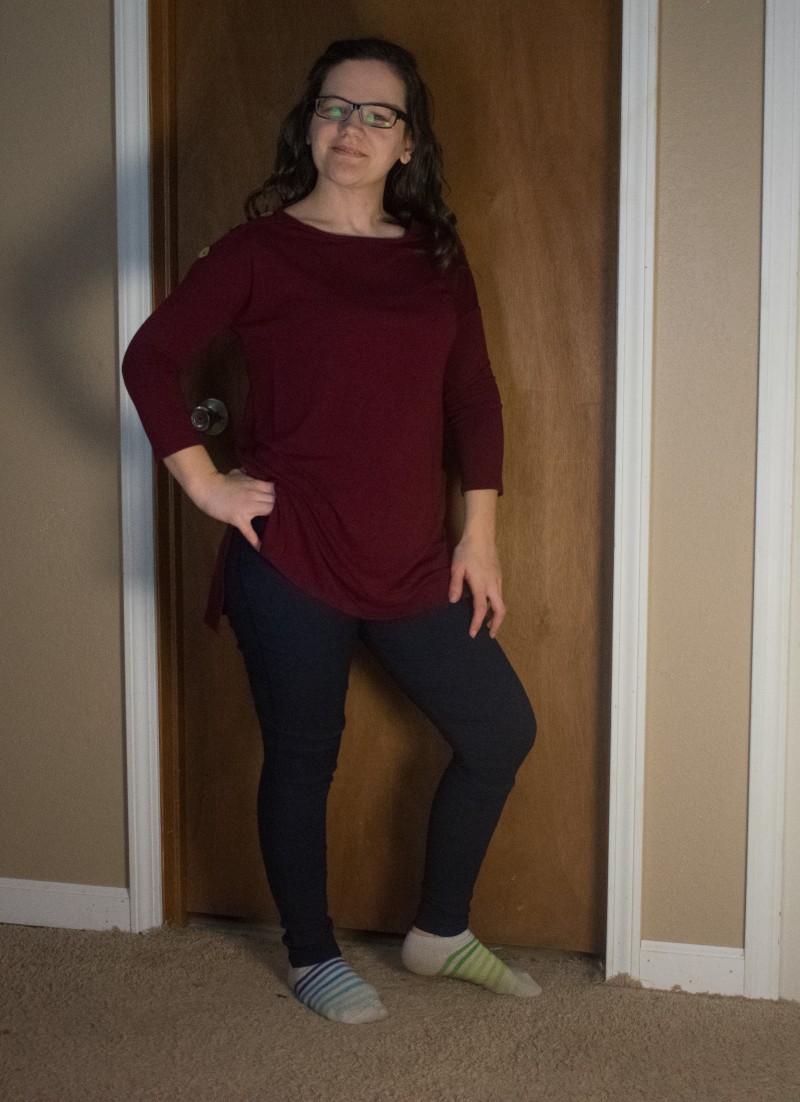 The top and bottoms here were both sent from Nadine West.
I love deep reds so I liked the color of this a lot. I also like how it has cute wood-look buttons on the shoulder. The downsides for me were the slit in the bottom side of the shirt, and also the length. I have been sent a lot of tunic or otherwise really long tops lately. Is that the current style? I haven't paid enough attention in stores, I guess. I am short 5'1″) so I feel it's easy for tunics to look misfit on me.
The bottoms here are jeggings! I love jeggings – who doesn't love the comfort of leggings with a jean-like appearance? Such a win! these are fairly basic, a deep denim color. They're lightweight so they will be comfortable even through early summer I think. They are $20.99.
Overall this was a good shipment for me. I really liked the gray shirt, earrings and jeggings. The other two items weren't quite right for me, but I could tell this whole shipment was really styled based on my preferences which was awesome.
Nadine West Sends Outfits To Your Home To Try-Out For Free BEFORE Buying!
. Check them out today to fill out your style quiz and get sent clothing based on your preferences!
Hi there! I am Emily Evert, the owner of Emily Reviews. I am 28 and live in a small town in Michigan with my boyfriend Ryan and our two pugs. I have a large family and I adore my nieces and nephews. I love reading memoirs, and learning about child development and psychology. I love watching The Game of Thrones, Teen Mom, Sister Wives and Veep. I like listening to Jason Isbell, John Prine, and other alt-country or Americana music. I created Emily Reviews as a creative outlet to share my life and the products that I love with others.
This post currently has 4 responses.