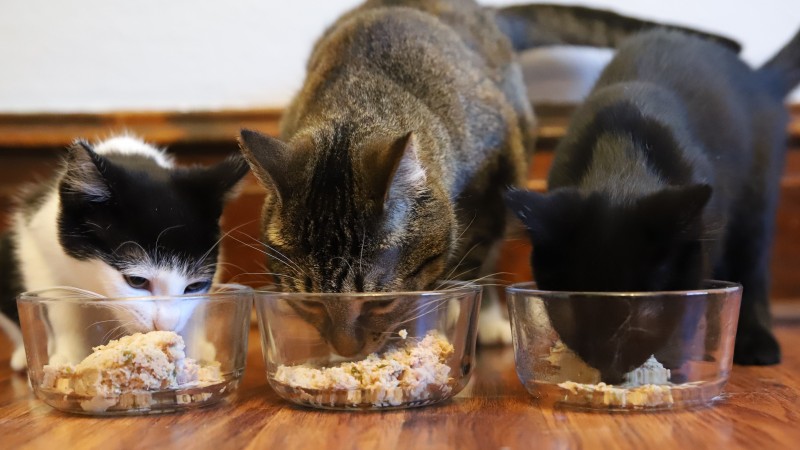 Thanks to Smalls for sending me this customized food for our cats! As always, all opinions are my own. There are affiliate links in this post.
As of this summer, we are officially crazy cat people! Last year my parents had a pregnant cat show up at their house in the country. She stuck around and raised her babies who have become their mousers and happily live on my parents land. The plan was to have the mama spayed this year but before my parents got around to it she was pregnant again! She had three adorable kittens and we planned to take one home when they were old enough…and then we fell in love with two! We found a great home for the third kitten and took our new fur babies home around 8 weeks to meet our cat Mittens; after a few days they became best buds.
[From top to bottom: Mittens, Calypso, Kismet]
Our kittens have been thriving and the kids love having babies in the house. We've always adopted from animal shelters before and have never raised a cat up from a kitten, so this is a fun and new experience for us. I'd been exploring the idea of real/raw cat food for awhile, so when Smalls: Real Food for Cats came up on my radar I knew it was something we should try. You'll fill out a quick quiz about your cat(s) that will let the team at Smalls know what you're most interested in, and you'll be given options based on your quiz.
We went for the healthiest + convenience option because obviously we want our kitties healthy, and with two kids and three cats I'm all about the convenience! Our package arrived just a couple days after shipping with dry ice so the fresh food would stay frozen until we thaw it. We got a great variety of items from Smalls and are excited about all of them!
We received a variety of ground bird meals that include fresh meat, vegetables, and added vitamins for health. They are (of course) the product our cats are most excited about, and they can hear me opening the bag from the opposite end of the house! I feel confident giving them these meals because not only are they high-protein and high-moisture, they're also human-grade quality.
We also received an assortment of freeze-dried raw food packs which are a healthier alternative to kibble. Made from whole chickens, ducks, and turkey including the bones and organs, this food is packed with protein and a convenient option when you don't have the fresh food thawed. Our cats love the freeze dried foods and the freeze dried Chicken Giblets are a huge favorite.
Along with fresh, raw food options, Smalls offers habitat items as well including litter and toys. We received the Millet Litter from Smalls which is virtually dust-free, all natural, and biodegradable! We have an automatic litter box and the clumping millet litter works well; plus with the raw food their litter box isn't nearly as smelly as it used to be.
Our cats also love the Crochet Play Trio from Smalls. These small hand crocheted toys are filled with catnip and are just the right size for our kittens paws. Even our older cat Mittens loves to play with them and chew on them!
We are so pleased with all of the offerings from Smalls: Real Food for Cats! I love that our cats are getting fresh, healthy food and that it's conveniently delivered to our front door. After our cats getting raw food, I don't think they'll ever want to go back to kibble! That being said, if you're worried your cat won't like it Smalls does offer a money-back guarantee. Plus, you can edit your subscription or cancel anytime. It's simple to get started with Smalls and you can save 25% on your first order!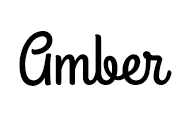 Hi there! I'm Amber, a 30 year old wife and mom of two from central Minnesota. I love to travel and to be outside with my kids anywhere the weather is warm! When I have a spare free moment, I love to read and scrapbook as well as binge-watch Netflix long after the kids are asleep. I drink too much Caribou Coffee and have a real sweet tooth but also try very hard to consume organic foods and use eco-friendly, fair trade products as much as possible. I also love socializing and sharing about my favorite products!
This post currently has 5 responses.