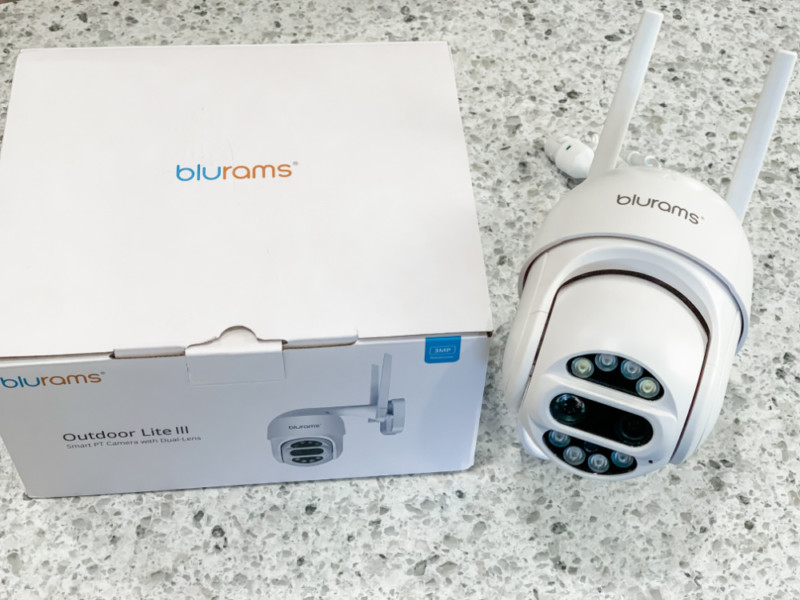 This 'Blurams PTZ Camera Review' post is sponsored by Blurams. As always, all opinions are my own.
Have you considered getting a security camera for your home or business? Sadly, there have been more and more thefts reported in our area over the last year or so. This is especially true for packages. Porch pirates seem to be out in full force. Thankfully, we haven't had any issues at our place but just to be safe, my husband started looking at different camera options. So when Blurams reached out to me about their brand new Blurams PTZ Outdoor 2K Security Camera, the timing couldn't have been better.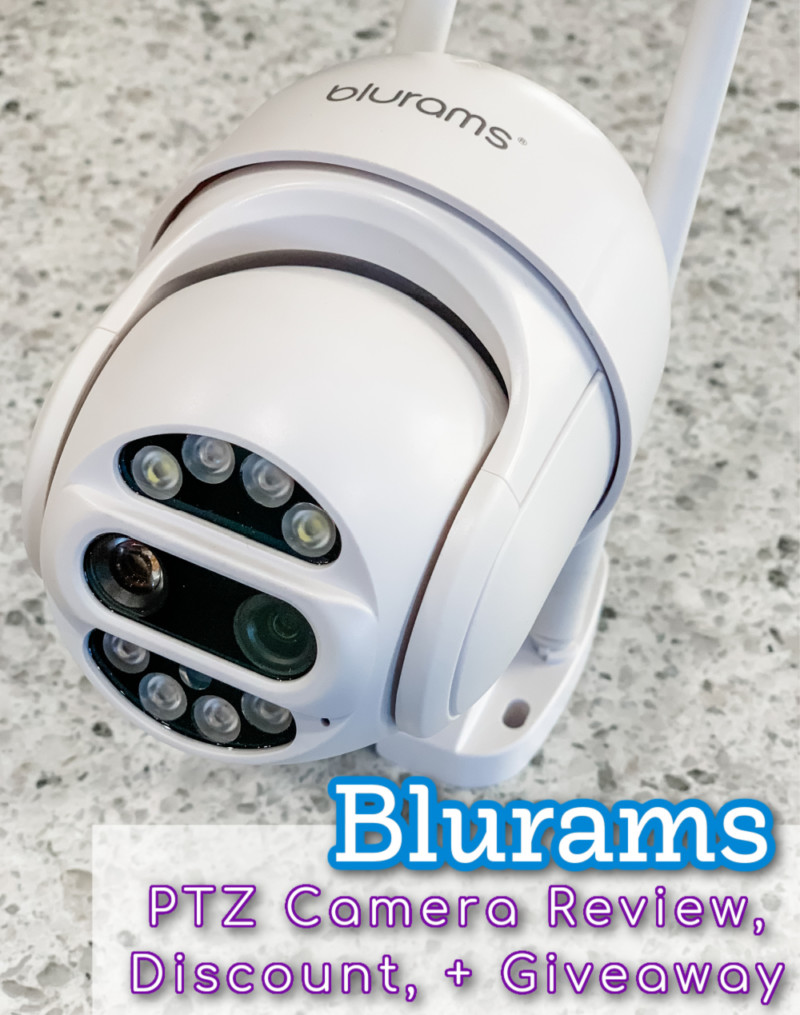 Blurams PTZ Camera Review
First off, I'm going to admit that my husband and I are NOT the most tech-savvy people. As a matter of fact, we try not to get in too deep when it comes to tech-y products. We FINALLY just updated our router after 10+ years (and the worker told us that they are only meant to last 3-4 years! <–Could very well be why we had some connection issues over the last few months….) So when we first looked at the Blurams PTZ Camera, we felt that while it definitely has some features we weren't super familiar with, it would be a product that could be learned fairly quickly.
At A Glance – Highlights & Features Of The Blurams PTZ Camera:
PTZ & Auto Tracking: Rotate the camera to various angle via Blurams App and it can auto track human motions and activate siren to scare strangers away.
Dual-Lens 2K: 1x to 9x digital zoom enables you to see farther and clearer in 2K high resolution.
Instant Alerts: Get instant notifications sent to your smartphone when detecting motions/sounds.
Color Night Vision: Built-in four 850nm IR LEDs, you can see things clearer in brighter colors within 10-15m distance.
Optional 24/7 Recording: Nonstop recording when connected to power source allows you to play complete back videos.
IP66 Certified Weather-Resistant: IP66-certified to withstand the rain, sun, heat or chill.
Wire-Free or Wired Connection: Connect to Wi-Fi or use an Ethernet cable to set the camera up. Two options, more flexible to use.
Waterproof: Perfect for using outdoors in any weather conditions.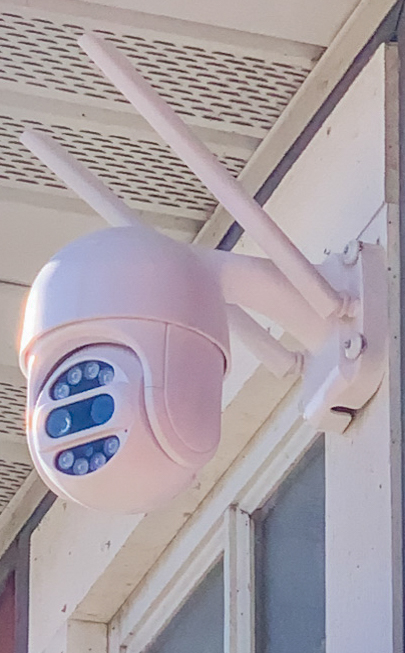 Set Up:
We unboxed our Blurams PTZ Camera and my husband tried to get it set up. Unfortunately, we did have some issues straight away. We couldn't get the camera to scan the QR code but YouTube to the rescue! My husband googled and found a helpful hint of enlarging the QR code screen and then the camera was able to catch it! Such a simple fix but because we aren't majorly tech-y, it wasn't something we would have thought to do on our own. (Also, the app says the lights on the camera should be flashing red and blue but ours never actually did.).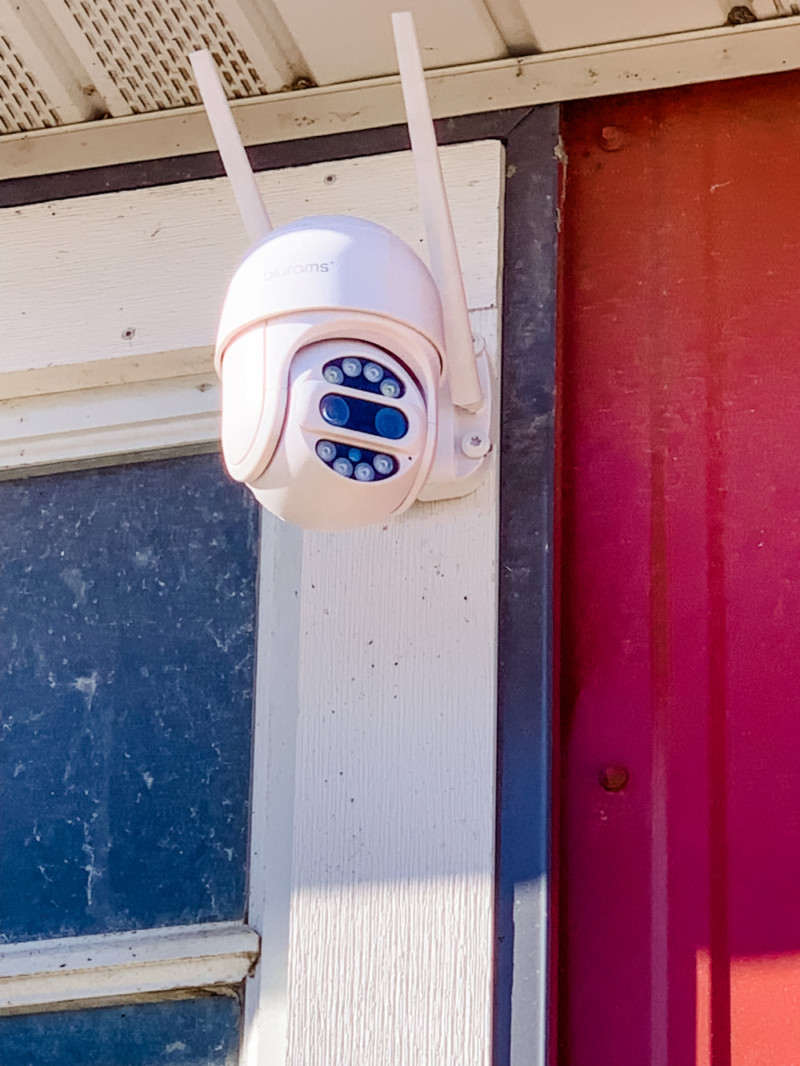 Here are some tips from the company if you're having troubles as well:
– Remove the camera's lens protective film to make sure the lens is clean
– Adjust the smartphone screen brightness, Switch the App theme to Light, please go to the Blurams app >- Me >- Settings >- Theme, switch to Light mode
– Place the camera on a table or platform, adjust the phone to let it scan the QR code
– Tap the QR code to enlarge it
– Adjust the distance between the lens and screen, the best distance is 3 ~ 5 inch
Once it scanned, it beeped and basically automatically sets itself up! So simple! My husband then took the camera outside and found a location that was in reach of our wi-fi. Then he mounted it securely to our building.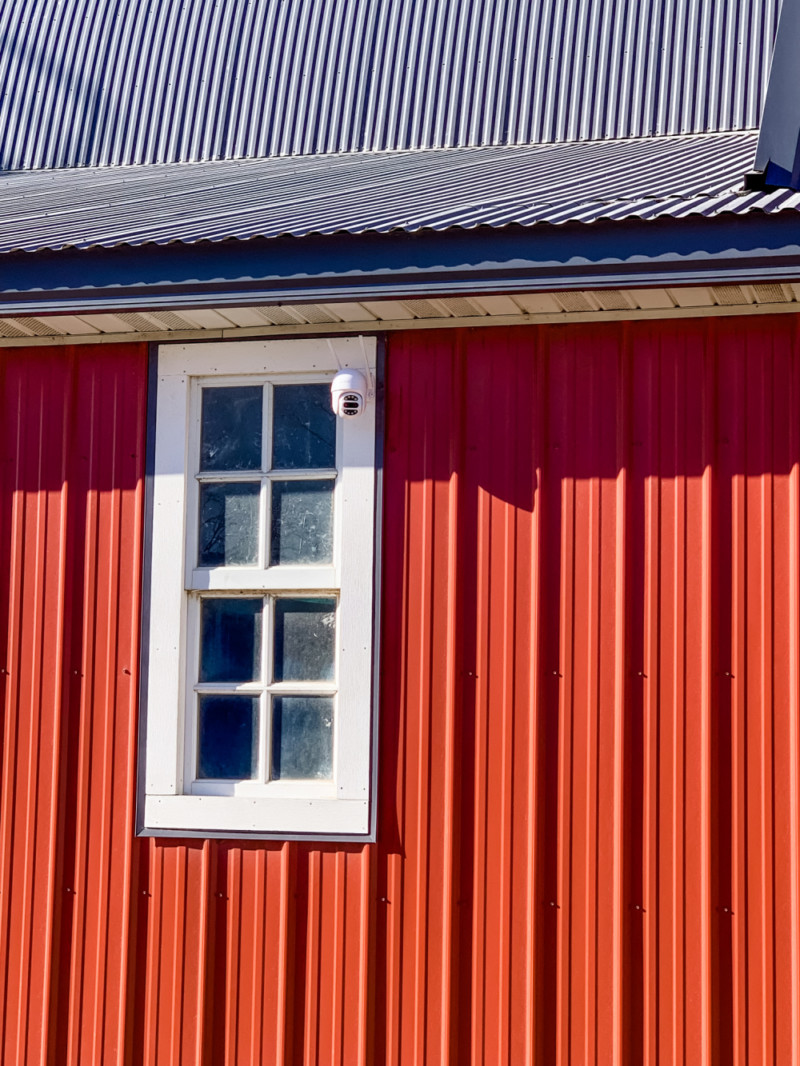 Performance:
This camera is pretty decent for the affordable price point. Of course, at a bargain price of $60, it's not going to be super high quality but it's definitely decent and great for our purpose. As a matter of fact, the picture is surprisingly clearer than I expected!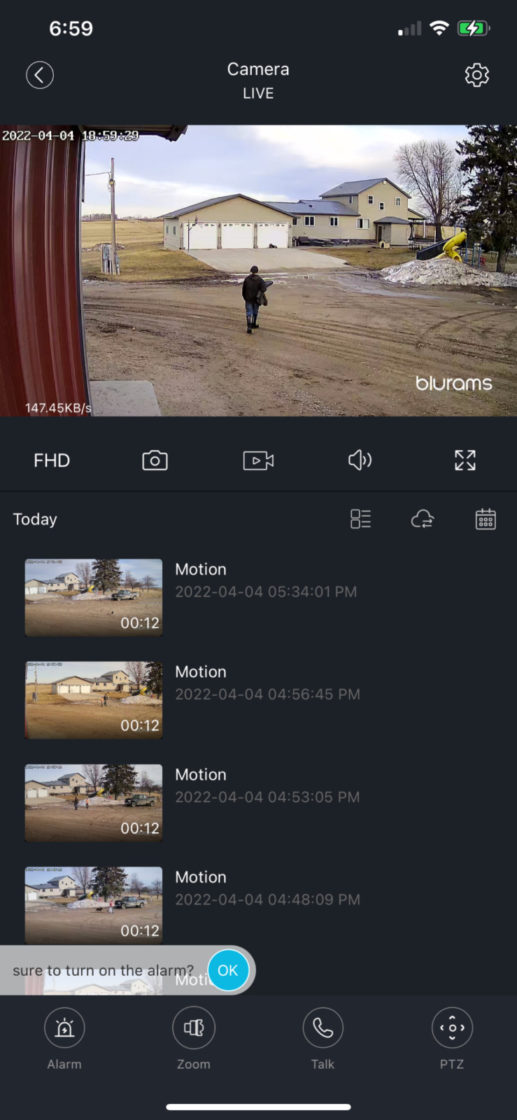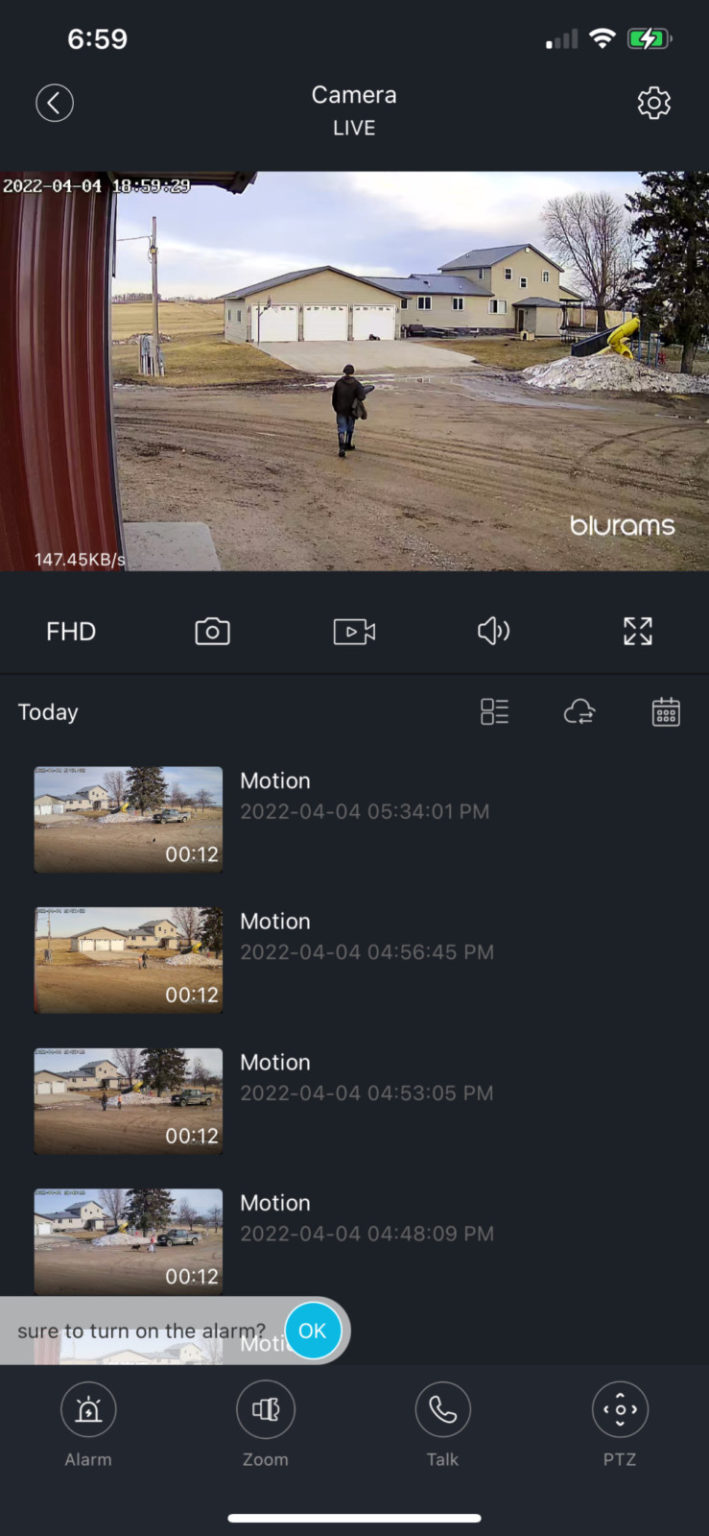 It's especially neat to watch the notifications pop up on our phone and then jump on the app which allows us to view the recorded videos as well as a live stream. We can push the alarm button for a quick alert as well as zoom in and out for a better view. Overall, we're finding the Blurams PTZ Camera easy to operate.
Thumbs Up!
We love being able to jump on the app, no matter where we are, and check to be sure all is well at home.
Blurams PTZ Dual-Lens Outdoor Camera 3MP Video:
Find Out More: Head over to the Amazon for more information about the Blurams PTZ Camera. You can also visit their website for additional info as well as to purchase directly.
Connect:
Facebook / Twitter / Instagram / YouTube
Discount:
Using the following promo codes on their website for a discount:
BRPTZCAMERA1P for 1 pack cam on website
BRPTZCAMERA2P for a 2-pack cam on website
BRPTZCAMERA4P for a 4-pack cam on website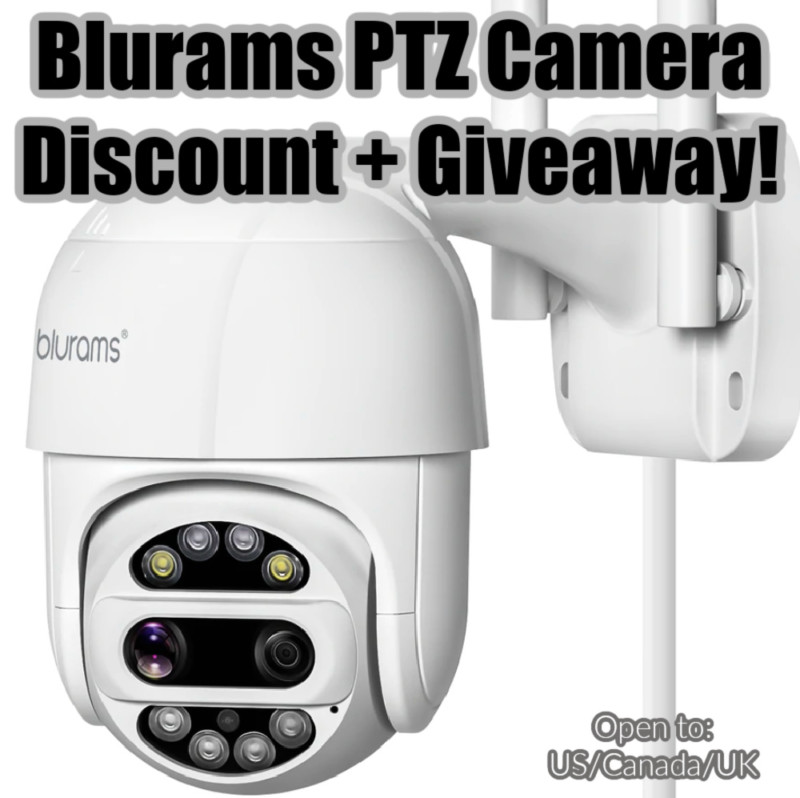 Enter To Win:
One lucky Emily Reviews reader will win their very own Blurams PTZ Camera! This giveaway is open to the US, UK, and Canada. Just enter the widget below for your chance to win. Good luck!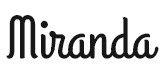 I'm a city girl turned country by my awesome husband and we have three busy boys and two darling daughters. I love spending time with my family, reading Karen Kingsbury novels, and catching up with friends while our kiddos have play dates. I'm blessed beyond measure and can't wait to see what God has in store.
Follow Miranda on Pinterest | Twitter| Blog | Instagram
This post currently has 34 responses.