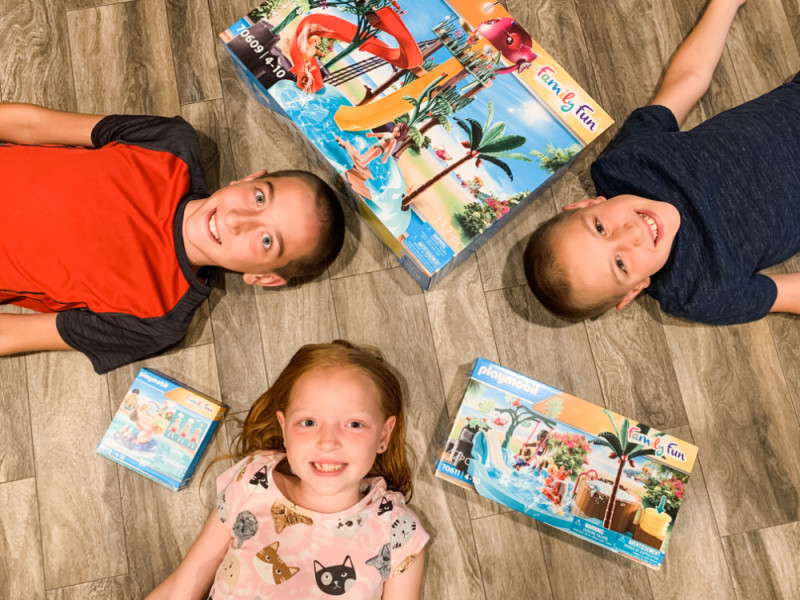 I received product from Playmobil for this 'PLAYMOBIL's New Water Park Line- Enjoy Summer To The Fullest!'. As always, all opinions are my own.
Whether you are brand new to the fun that Playmobil offers or if you're just looking to add to your kid's collection, their new Water Park lineup is the perfect way to end summer and enjoy these last few weeks before the school year rush.
Benefits Of PLAYMOBIL
My kids have enjoyed playing with PLAYMOBIL toys for over 10 years now. They love them so much they've even used their own birthday and chore money to buy PLAYMOBIL sets. I've found so many benefits from this brand and am thrilled my children are choosing these toys. Benefits include:
No Screens: PLAYMOBIL toys don't require screen time.
Encourages Imagination: These toys are so great for encouraging imagination. They are open ended toys that take kids on endless adventures.
Longevity: You'll find that PLAYMOBIL toys are made to last….just check eBay! You'll find some classic options that are no worse for wear even though they are a decade + years old!
Playability For A Variety Of Ages: I've seen toddlers as well as teenagers being entertained with PLAYMOBIL. Our kids used to take music lessons at a family's home and the kids (toddler through age 13) would spend hours building giant PLAYMOBIL cities out of sets and wood blocks. It was so neat to see their imaginations come to life!
Role Play: Because PLAYMOBIL sets feature people, animals, and other real-life pieces, kids get to practice role playing as they play.
Playmobil is a brand that focuses on delivering purely childhood-friendly toys which helps provide kids with a pleasant view of the world they live in.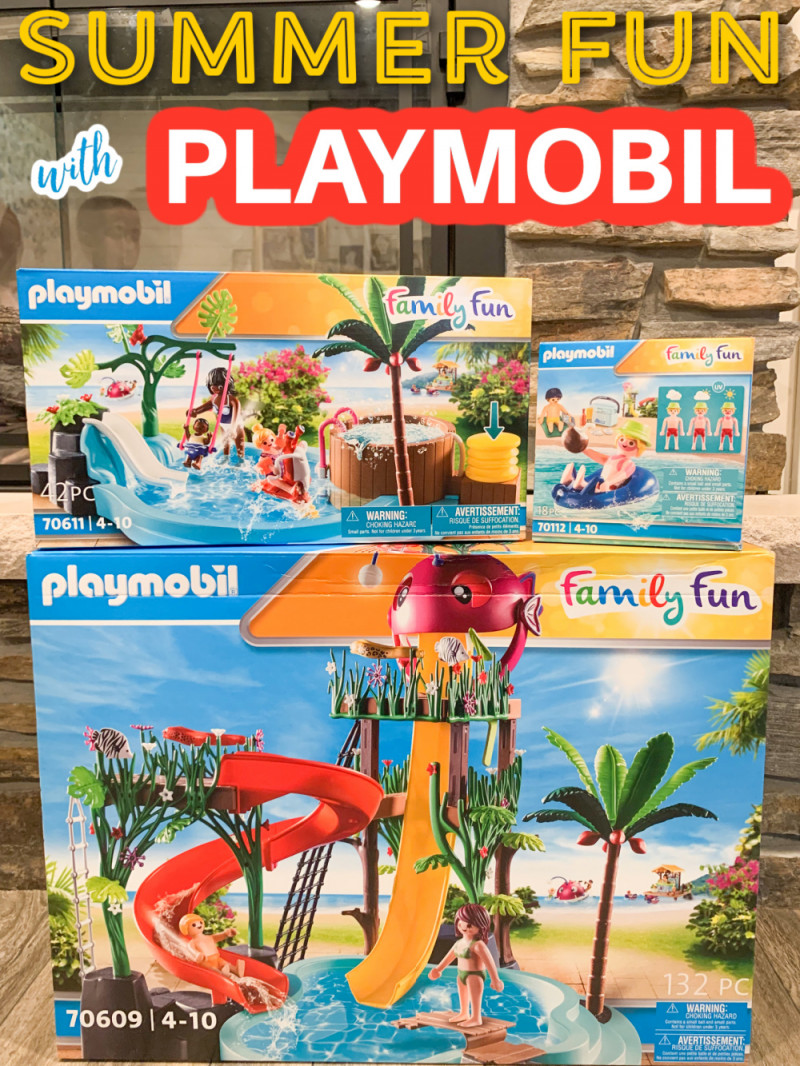 PLAYMOBIL's New Water Park Line- Enjoy Summer To The Fullest!
The new Water Park line features six new playsets with so many great water features that are great for outdoor or indoor play! – like pools, water slides, or even a bubbling hot tub (!!!). The pools can actually be filled up with water for the figures to splash around in! The fun in the sun never has to end! Make sure you put on sunblock though otherwise you will end up like the Sunburnt Swimmer. When exposed to UV light you can see just how red he gets!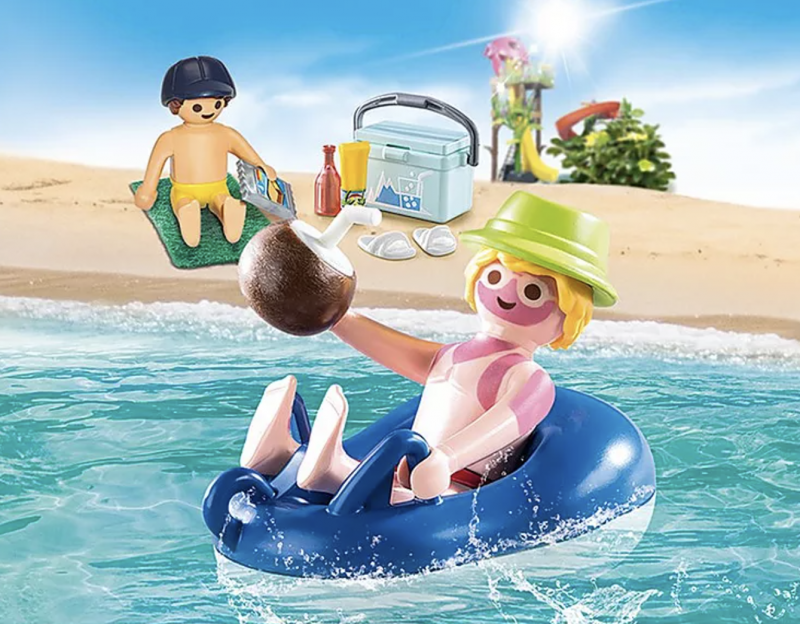 PLAYMOBIL Sunburnt Swimmer Item Number: 70112
This 18 piece set features a swimmer, 1 child, and a variety of accessories for poolside fun. But the most unique part is that exposure to UV light causes the figure's skin to 'sunburn'….ouch! (Don't worry, the burn will fade once out of the sun.) Along with all the fun beach picnic accessories, you'll also find the tire floats in the water.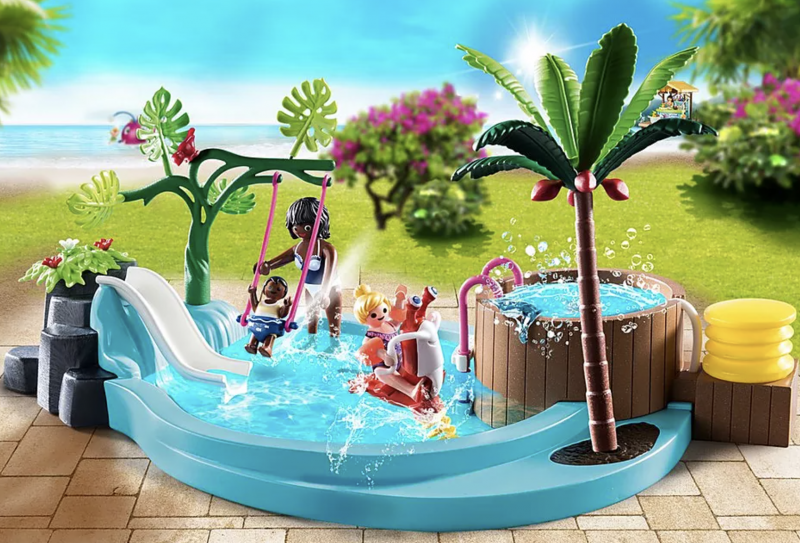 PLAYMOBIL Children's Pool with Slide Item Number: 70611
Slide, swing, pool, palm tree, oh my! This PLAYMOBIL set features everything you need for a mini backyard pool party for the littles family members. The included pieces will have baby happily swinging up and down while kicking the water away with their feet. After swinging baby around, mom will test out the whirlpool and the little girl happily rocks back and forth on the big shrimp spring rocker. There's even a little baby crocodile who can climb up the leafy vine to watch the happy goings-on in the pool.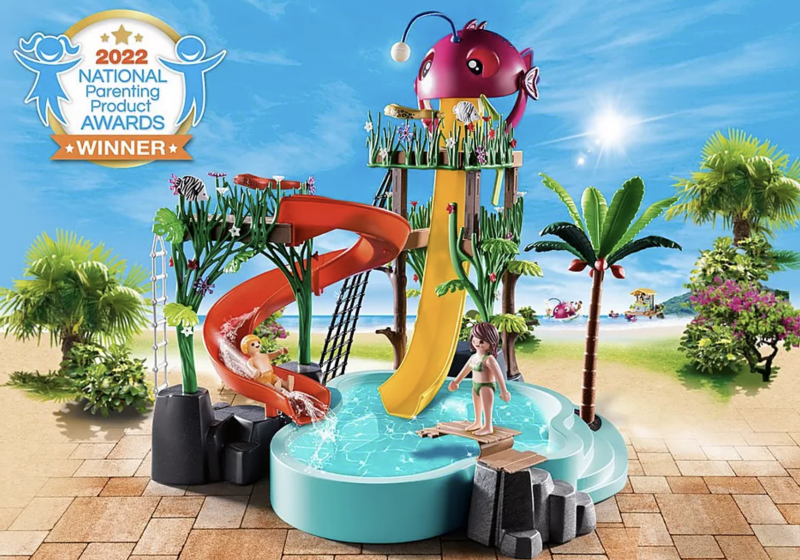 PLAYMOBIL Water Park with Slides Item Number: 70609
Finally, I wanted to share the mega fun PLAYMOBIL Water Park with you! This set is a dream as it's loaded with lots of outdoor play adventure. There are TWO slides and the springboard which guarantee wonderful water fun for all. Start the day by climbing up the rope ladder to the lookout tower before going down the slide into the water. Who dares to dash down the extremely steep slide through the trapdoor of the big fish head? While the little boy tests the slides, mom shows her skills on the springboard. There's unlimited amounts of fun to be had!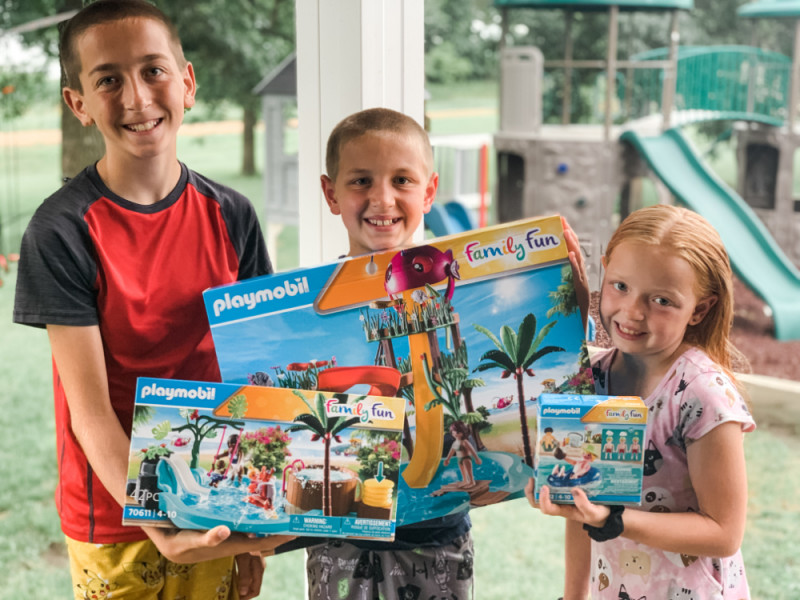 Buy It
You can find Playmobil sets (and MORE) for purchase over on Amazon as well as Playmobil.us.
Connect With PLAYMOBIL
Website / Facebook / Twitter / Instagram
I'm a city girl turned country by my awesome husband and we have three busy boys and two darling daughters. I love spending time with my family, reading Karen Kingsbury novels, and catching up with friends while our kiddos have play dates. I'm blessed beyond measure and can't wait to see what God has in store.
Follow Miranda on Pinterest | Twitter| Blog | Instagram
This post currently has 7 responses.