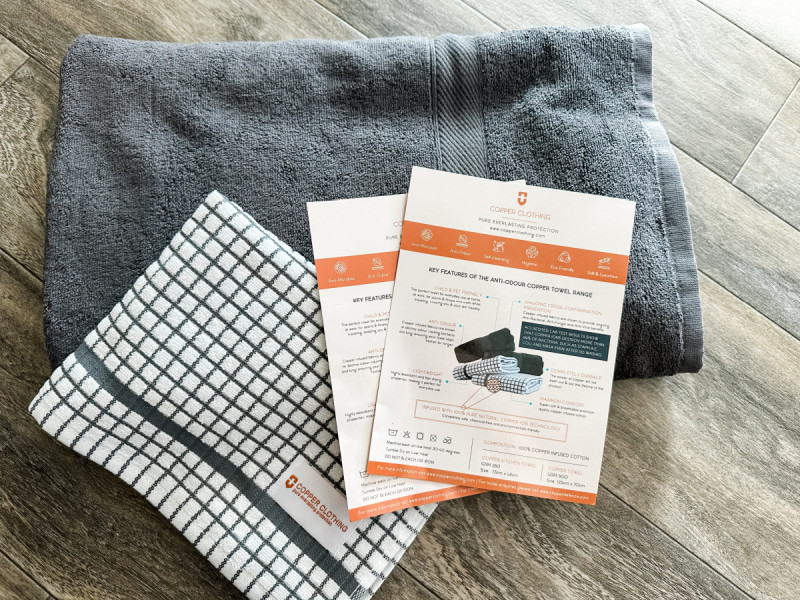 "This 'Copper Clothing Review – 2 New Towels Now Available' post is sponsored by Copper Clothing. As always, all opinions are my own.
Have you heard about the benefits of copper-infused products yet? The Copper Clothing brand has developed a patented copper-infused technology that offers a safe, natural, environmentally friendly, non-chemical, anti-microbial solution for products we use every day. Copper is toted as one of nature's biggest secrets! While most materials get smelly and full of bacteria with wear or moisture, Copper Clothing can make all the difference.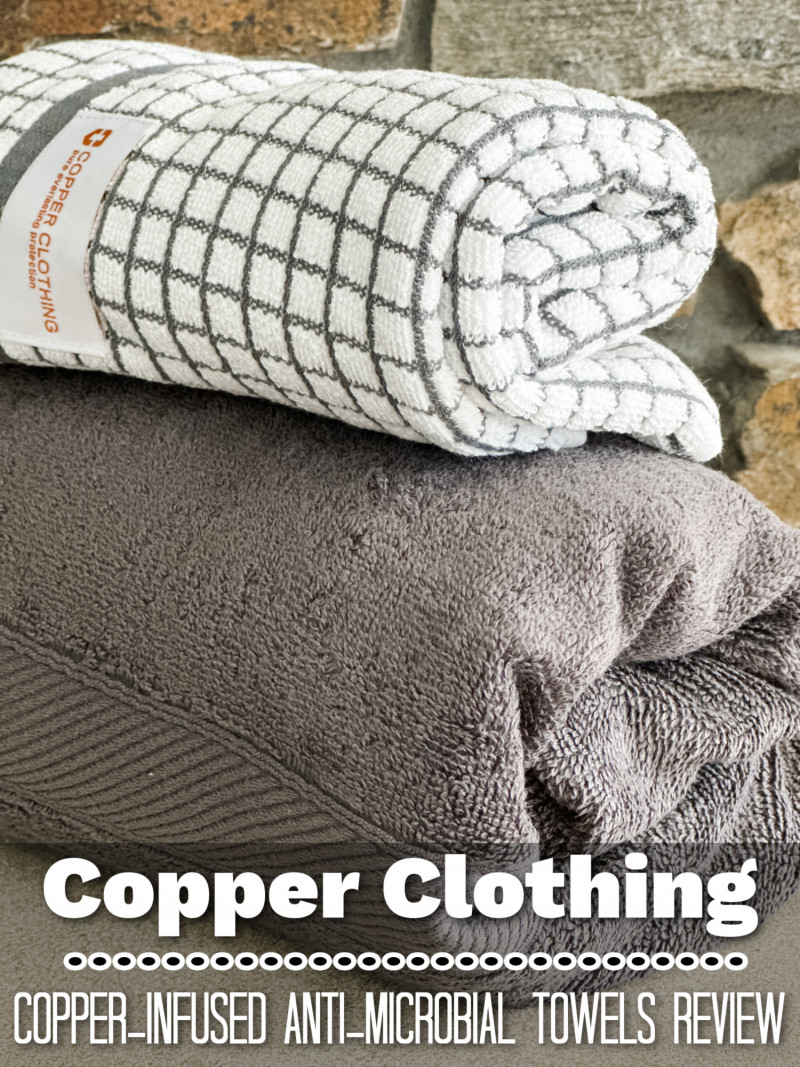 Copper Clothing Review – 2 New Towels Are Now Available
I've been learning about the benefits of copper for several years now and there's a lot of power behind this safe, natural trace element. The top reasons to choose Copper Clothing include:
Copper Is 100% Pure: Copper is a completely safe, chemical free, natural, non-drug, and non-invasive solution.
Anti-Microbial: There are actually world-wide studies that have shown copper can destroy 99.9% of bacteria, fungi and viruses within minutes of contact!
Copper Outperforms Silver: Previously, I'd been hearing that silver could be a good choice but I've since learned there are non-selective toxic biocides – making silver poisonous to humans and it will actually only exhibit anti-microbial activity in the presence of moisture and humidity. Copper is not poisonous and works across all temperatures.
Promotion of Angiogenesis: Something new I learned is that copper is known to promote the development of blood vessels and rejuvenate skin through the synthesis of collagen and elastin.
Durable Choice: Copper ions are bonded on a molecular level, meaning they will not leach. Product testing has proven that the benefits of the copper lasts the duration of the product life.
Anti-Odor: Because copper destroys bacteria, it also prevents the foul smells and bad odor we all detest.
Copper-Infused Anti-Microbial Kitchen Hand Towel

We are, what many would call 'a big family'. My husband and I have six kiddos. We also farm and homeschool so we go through a LOT of dishes each day. For a couple years, our dishwasher was broke and we were hand-washing everything. We finally had enough about two months ago and replaced the dishwasher but are trying to be extra gentle on it; so we're still hand washing pots, pans, containers, and anything except the basics. (So plates, cups, bowls, and silverware are all we put in the dishwasher.) With so many dishes, I was intrigued to try out Copper Clothing's new Kitchen Hand Towel.
In the past, I've noticed that my kitchen towels need extra care to stay fresh, meaning I had to ensure they were hung to dry after each sink full of dishes was washed and then launder daily. If I didn't, the towels would become grimy. While I do still make sure my Copper Clothing Kitchen Hand Towel gets washed often, I'm able to use it much more before it needs laundering.
It works well as a towel to place wet dishes on as they drip dry as well as a drying towel and hand towel. I also love the grey and white checked design.
Anti-Microbial Bath Towel and Gym Towel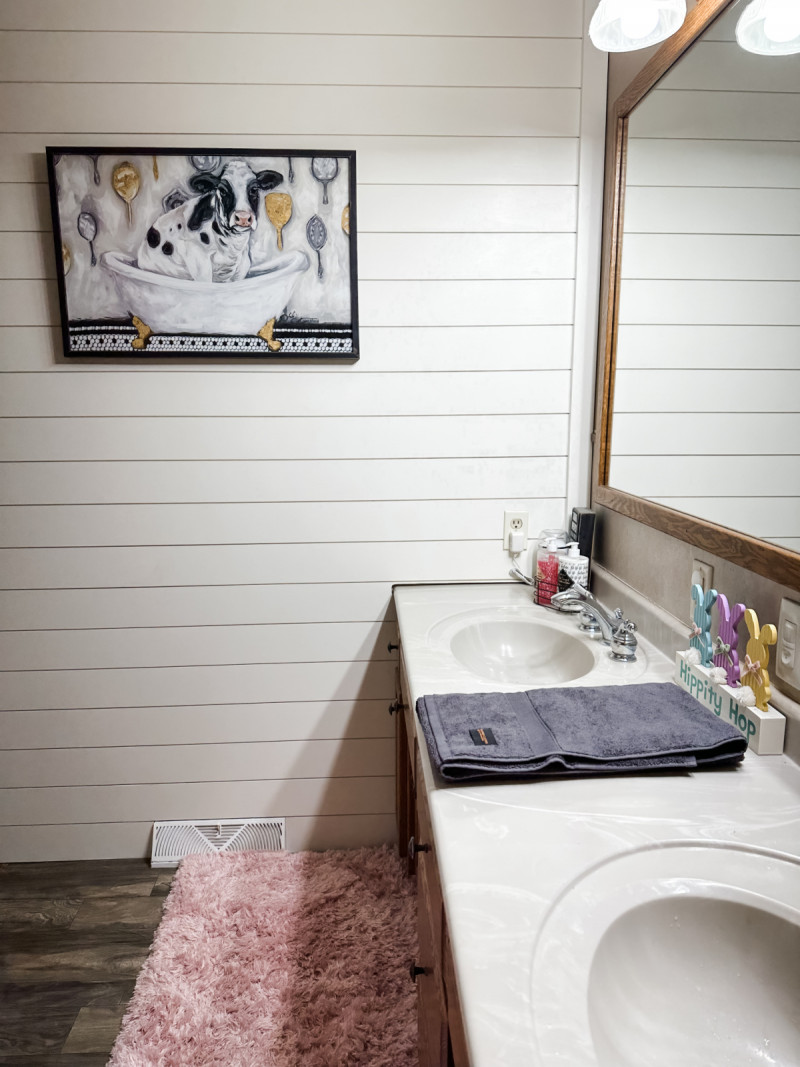 Bath towels are tricky! I feel that most typical bath towels get smelly and dank quickly and need washing daily or every other day. After learning about all the benefits of copper, I couldn't wait to try out the Anti Microbial Bath Towel. Having a towel with the most advanced technology available for protection against E. Coli and other infection-causing microorganisms sounded like a great idea to me.
This specially constructed towel features Copper Clothing's anti-odor, anti-microbial, anti-fungal, and anti-virus design and is a great alternatives to your average household towels — which, by the way, did you know are home to approximately 10 million fungi and bacteria?! The copper ions that are integrated within the fibers of this bath towel work to destroy all pathogenic microbes upon contact and protect the towel from germs that can cause foul smells and breed illnesses.
This towel is quite soft to the touch, right out of the packaging. I love the solid deep gray color as it's neutral and will match almost any bathroom or house design. After using for a bit, I'm happy with the performance and would love to replace our entire linen cupboard with Copper Clothing towels!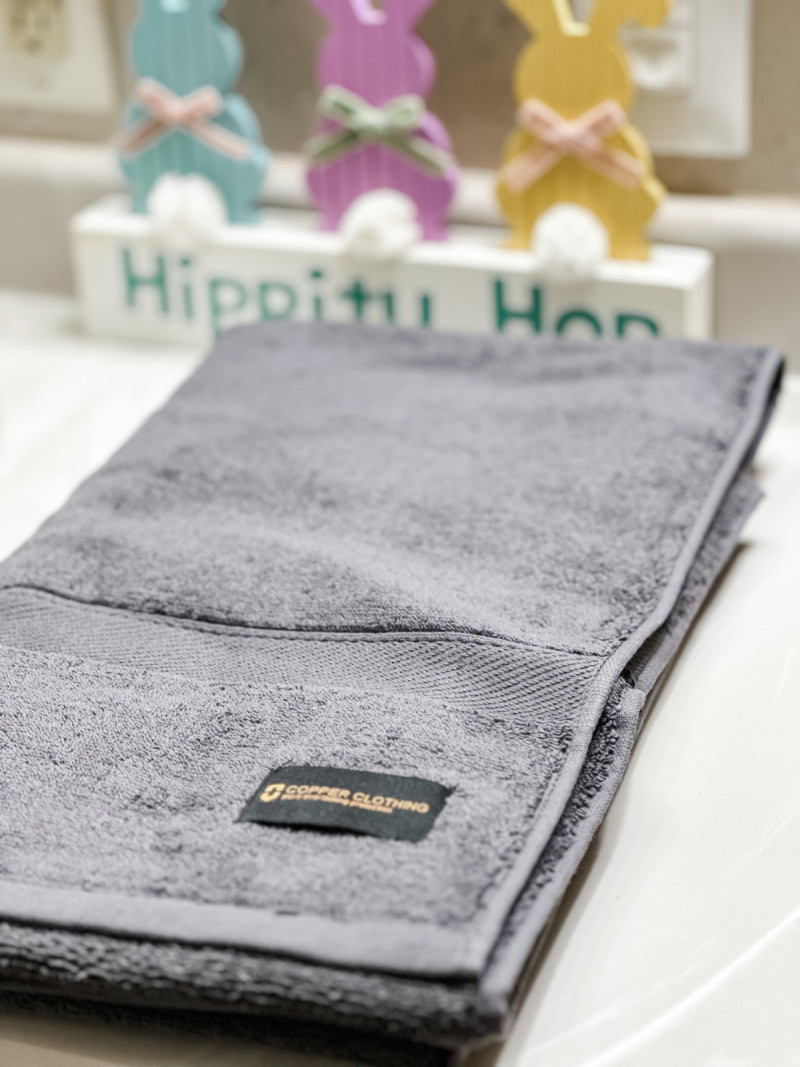 Copper Clothing Products Are The Best
There are so many key features behind Copper Clothing products that makes them the best. Whether you're single or married, old or young; I think everyone will appreciate these key points.
Child And Pet Friendly: The two towels I featured above are the perfect options for everyday use at home, work, school, gym, or even when traveling.
Anti-Odor: Copper infused fabrics are known for their ability to destroy odor causing bacteria and fungi.
Lightweight Design: The highly absorbent and fast drying properties make these towels perfect for every day use.
Ongoing Cross-Contamination Prevention: Copper infused products are shown to provide ongoing anti-bacterial, anti-fungal, and anti-viral benefits.
Durable: The power of copper doesn't wash out and is made to last the lifetime of the product.
Maximum Comfort: These products are super soft and breathable.
Pure Natural Copper: All Copper Clothing products are infused with 100% pure natural copper ion technology. Their products use premium quality copper infused cotton that's completely safe, chemical free, and environmentally friendly.

Copper Clothing Feature on BBC's The One Show
Find out why copper could be the answer to many problems below:
About Copper Clothing
Copper Clothing is pioneering the research and development behind copper-infused technology to revolutionise the way we tackle antibiotic resistance and prevent future pandemics. Their goal is to reduce the spread of infectious diseases through commercializing a range of safe to use, high quality, durable, non-drug, non-invasive and affordable anti-microbial solutions.

Connect With Copper Clothing
Website / Facebook / Instagram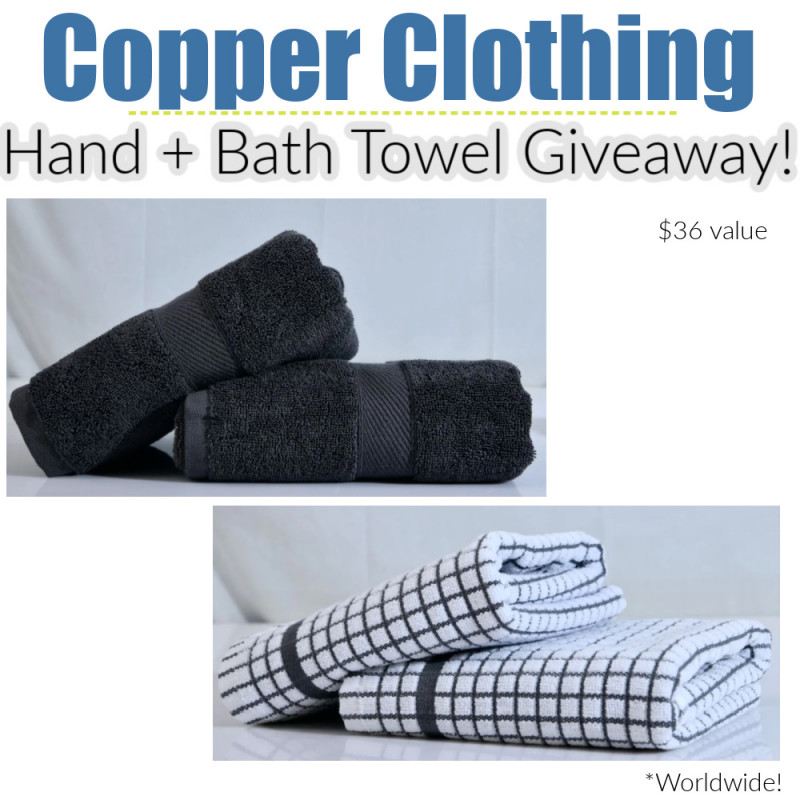 Enter To Win This Copper Clothing Giveaway
One lucky Emily Reviews reader will win their very own Copper Clothing prize pack consisting of 1 bath towel and 1 hand towel, valued at over $36! This giveaway is open World Wide, just enter the widget below for your chance. Good luck!
Related Posts – Copper Clothing Review
Be sure to check out Asha's Copper Clothing Anti-Microbial Masks, Socks, and Gloves review.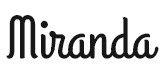 I'm a city girl turned country by my awesome husband and we have three busy boys and two darling daughters. I love spending time with my family, reading Karen Kingsbury novels, and catching up with friends while our kiddos have play dates. I'm blessed beyond measure and can't wait to see what God has in store.
Follow Miranda on Pinterest | Twitter| Blog | Instagram
This post currently has 81 responses.