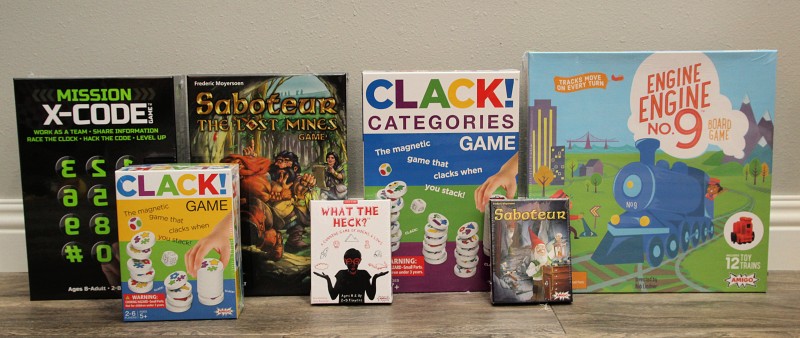 I received product in exchange for this post.  As always, all opinions are my own.
Give the gift of quality time and play through AMIGO Games this year!  Any day can be family game day but it's even more fun with the help of AMIGO Games.
The Power Of Game Play – Gift AMIGO Games This Christmas
We are a huge game playing family.  And being from Minnesota, where winter tends to hit hard, we play even more often throughout those cold months.  So this Christmas, my kids will be thrilled to find some cool new AMIGO Games under the tree.
Engine Engine No. 9 Board Game
All aboard for loads of fun with the Engine Engine No. 9 Board Game.  This simple strategy game has tracks that can switch at every turn.  Meaning, it's a REAL game-changer!  While the inside track may be the shortest, it's also the most perilous.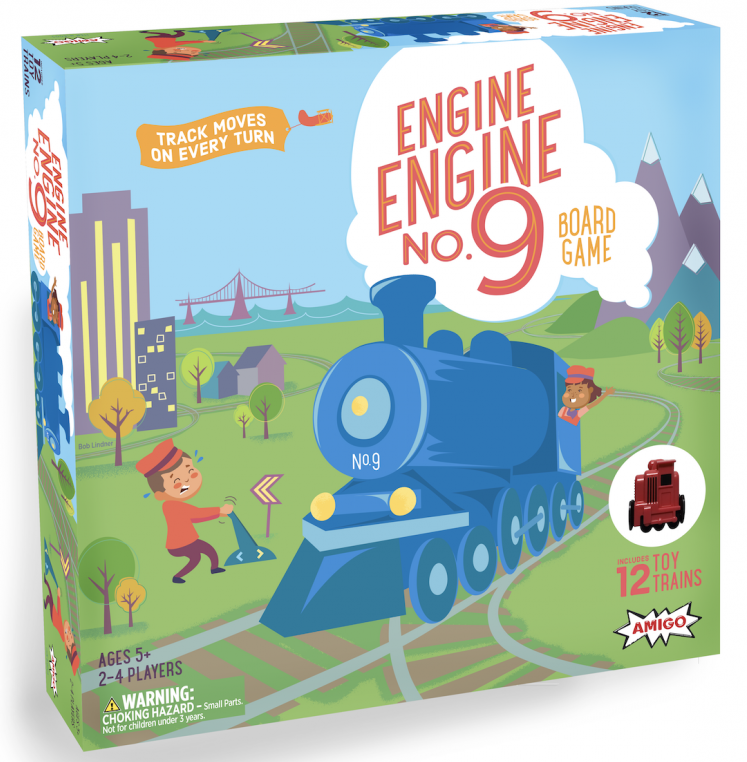 Be careful, because if your train is on the tracks when they move, you may race ahead.  BUT, if your train goes off the rails, it's time to start back over again.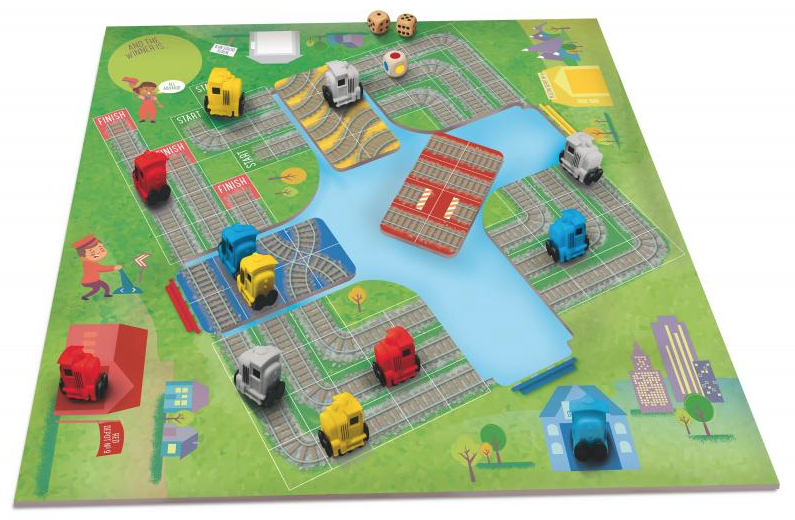 Do you think your can be the engineer to win?  Or will the luck of the dice send your locomotive back to the starting line?  Engine Engine No. 9 is great for ages 5 to 105.
Saboteur – The Classic Game of Treasure and Trickery
If you like a fun game of treasure and trickery, Saboteur is for you!  Get ready because you and your fellow dwarves are digging for gold in a maze of mining tunnels.  Beware! Some of the miners are actually saboteurs trying to foil your efforts and steal all your hard earned gold.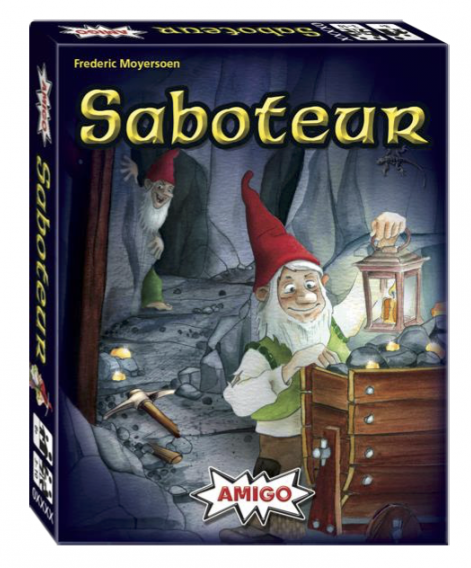 To find the mother lode, you must overcome cave-ins, broken lanterns, and busted pick-axes.  In the end, the dwarf with the most gold nuggets wins.  Will it be you?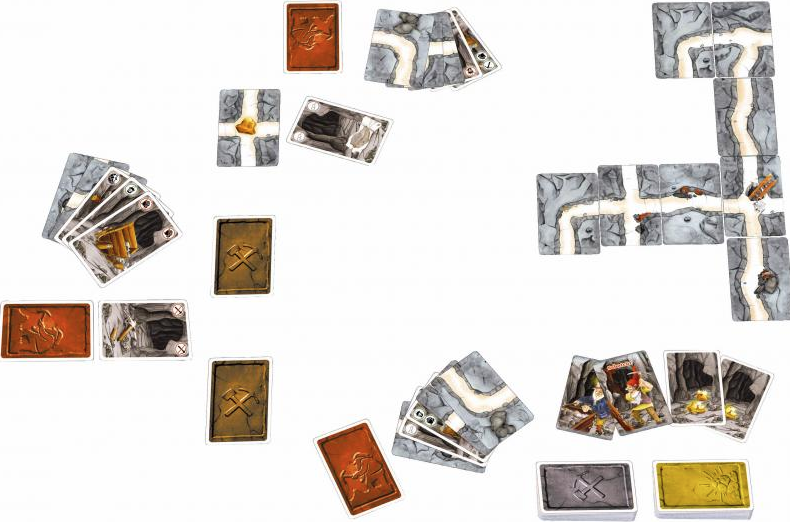 With a unique combination of cooperation and betrayal, the Saboteur game reveals new secrets every time it's played.  Geared for ages 8 and up, play with 3-10 players.
Saboteur The Lost Mines Board Game
The first-ever Saboteur board game is waiting for you to play!  In the far reaches of the forest there are old, long-forgotten mines brimming with gold, silver, and gemstones that are ripe for the taking.  So now is the time to gather your dwarf clan and start building a path to these loaded mines.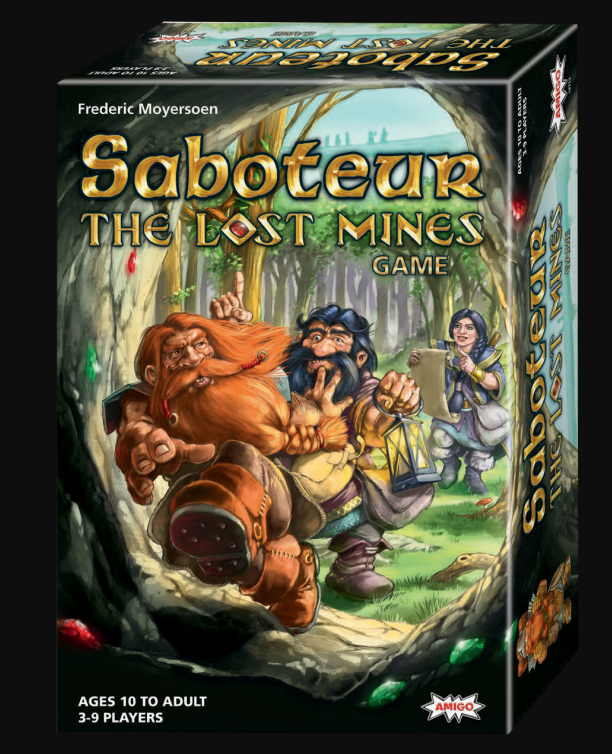 But beware, one of the mines is actually guarded by a dragon!  Not to mention, the forest paths are filled with trolls, traps, and other obstacles.  So you will need to work together to overcome the trials!  But wait, the biggest threats may just come from within — your team's unknown saboteur works for the other team, and the selfish dwarves are only out for themselves.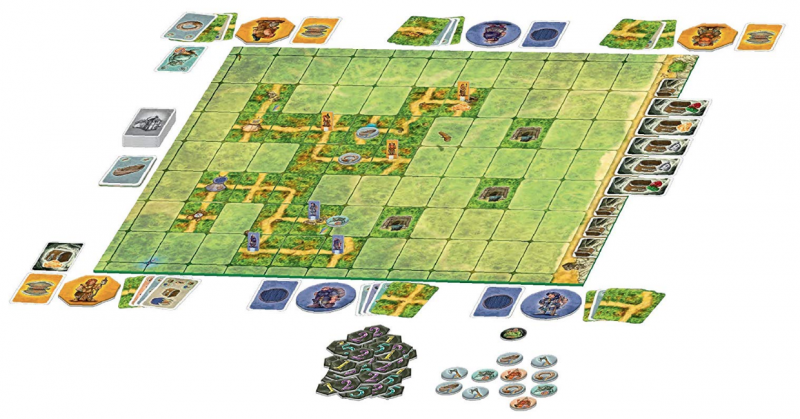 This board game version of Saboteur builds off of the card game's classic gameplay, with plenty of new features that make it as engaging, and treacherous, as the original.  Geared for ages 10 and up.
What The Heck? – A Cunning Game Of Highs & Lows
With just FIVE rules, What The Heck has been a top-rated game in Europe for over 30 years now!  To win this game is simple, you just need to read your opponents minds.  Sounds easy???  When you figure out which card they are about to play, you will have your chance to win.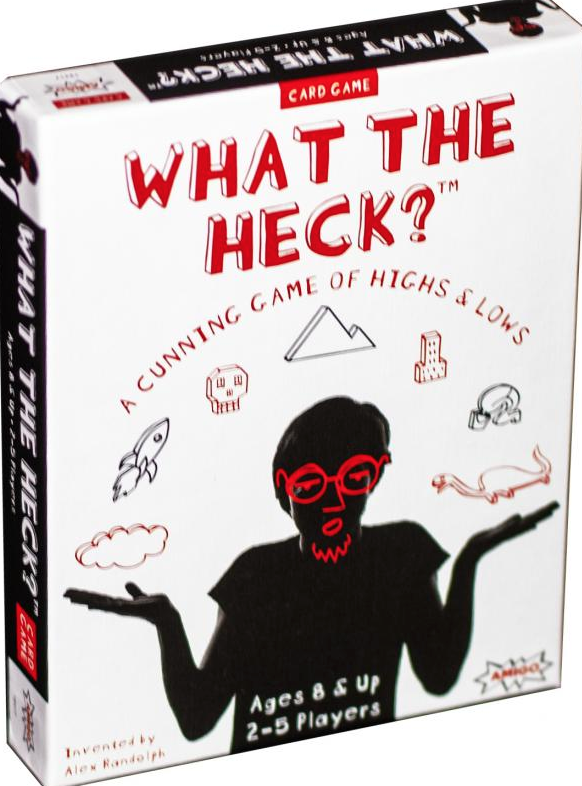 On each turn, players flip over a point card and compete to take it (if it is a positive number) or avoid it (if it is a negative number). The catch is that everyone starts with the same cards, so you will need to psyche out your opponents and play your cards carefully.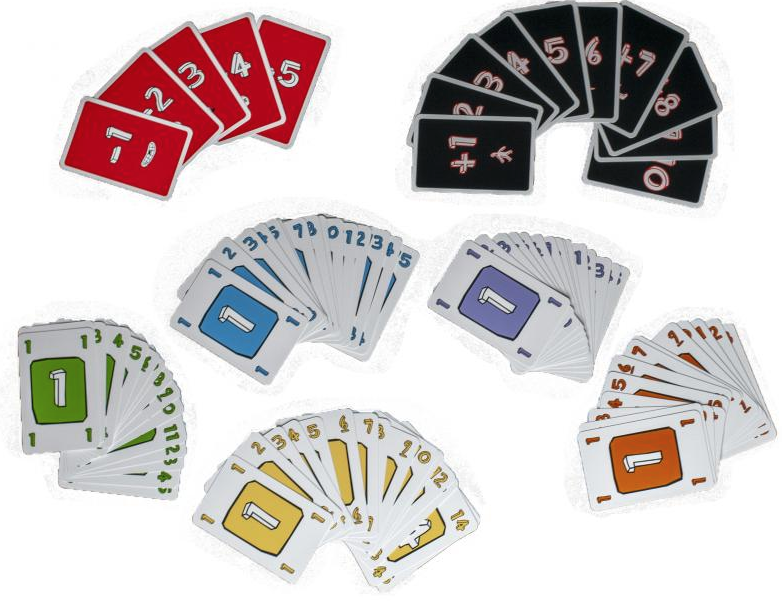 So do you really want to play that card?  You may end up canceling each other out!  Patience not required as there's no waiting for turns in What The Heck?  Geared for ages 8 and up, play with 2-5 friends.
Mission X-Code
For big kids who love a challenge, Mission X-Code is the game to play!  Mayday! The world's computer networks are down and you've got just 3 minutes to enter a secret code to save them. But you can't do it alone, you must work as a team.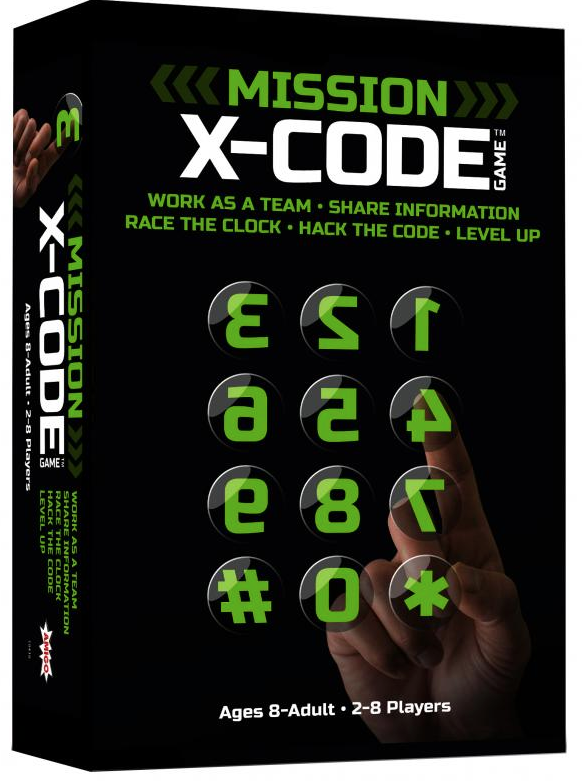 Tell the other players what you need for your part of the code, then swap to get those cards. But you can only trade in one direction, so you'll need communication, strategy, a little luck, and lots of skill . . . and that's just for level one!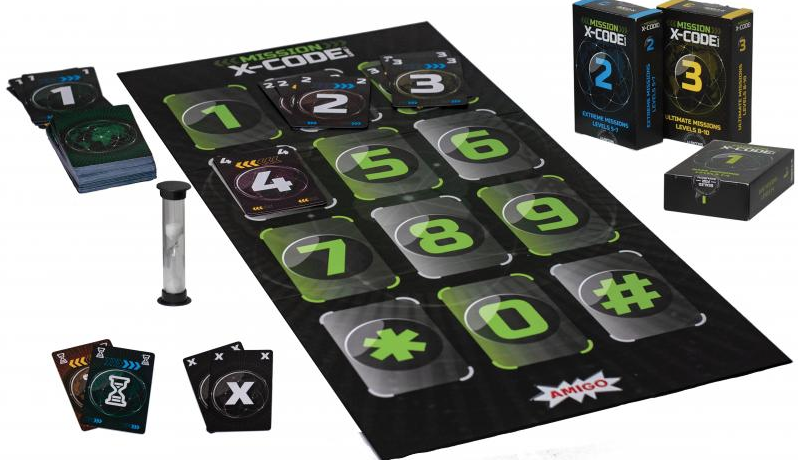 There are 10 exciting levels—each more challenging than the last—in this game that's designed to bring people together with hours of entertainment and full re-playability!
Clack! Kids Magnetic Stacking Game
For a fast-paced, fun game for kids, Clack! is sure to be a hit.  Look, can you see the Yellow stars?  Red lightning bolts?  Blue footprints?  Where can they be?  Spread out the magnetic discs, roll the dice, and scramble to match the picture and the color.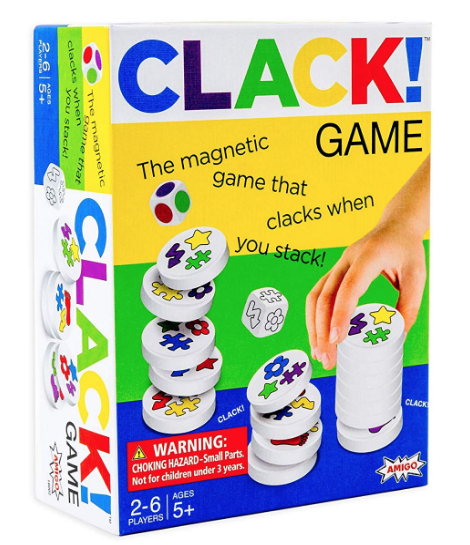 Make a match, grab a disc, and use its magnetic clack to build a stack.  This is the magnetic game that clacks as you stack, adding even more fun to the play.  And the best part is that keeping score is super easy – just line up the stacks to see whose tower is tallest.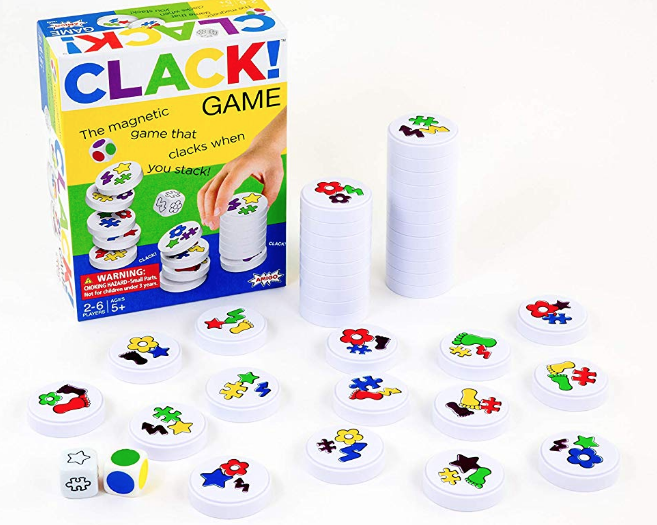 Just five rules of play, the Clack! Game is geared for ages 5 and up and can be played with up to six players.
Clack! Categories Game
If you are a big fan of the Clack! Game, then you'll definitely want to check out Clack! Categories next.  This great new addition has all the fast action that has made CLACK! a top-selling game.   The safe magnetic discs connect with the same satisfying "clack."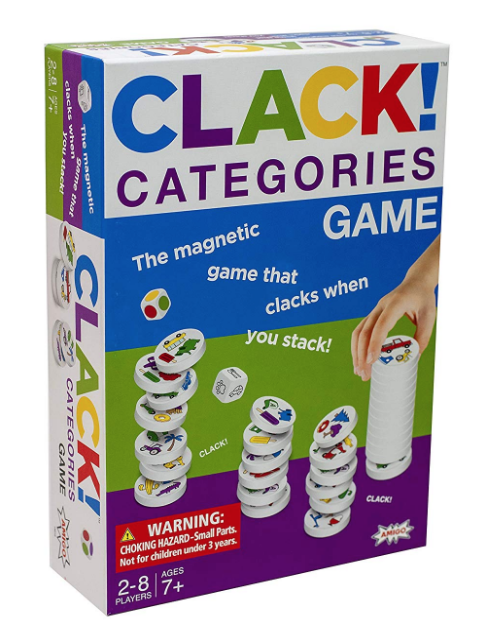 But there's a simple twist with Clack! Categories that makes it ideal for parents and older kids—the extra challenge is that you scramble to find images from categories such as food, vehicles, and animals. Players find a match, grab a disc, and use its magnetic clack to build a stack. CLACK! Categories is the game with a magnetic attraction.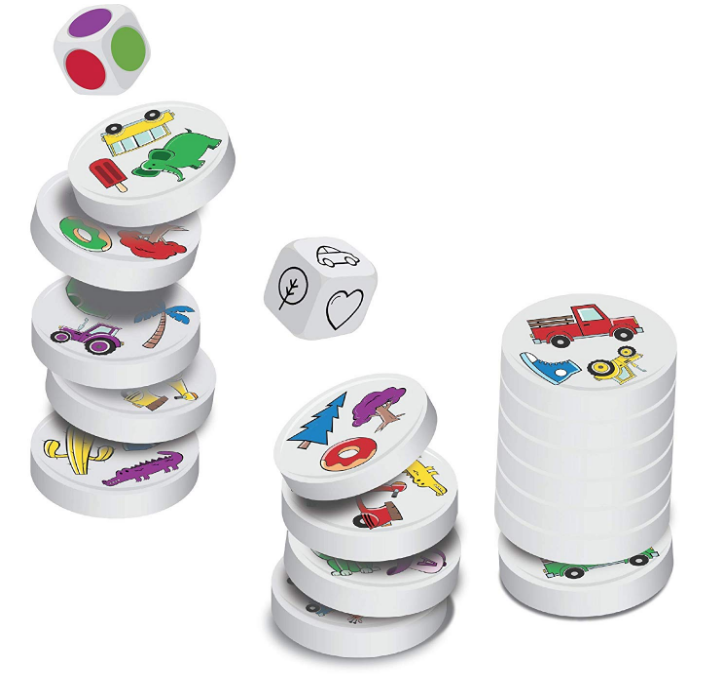 About AMIGO Games
AMIGO Games was actually founded back in 1980  They are a German game manufacturer, focusing on children's, family, strategy, and card games. This great company is well known for producing games that feature high quality components, excellent gameplay, and themes that resonate with consumers— AND all at a fair price!   Amigo's games are sold in 38 countries worldwide, including the US!  
Connect With AMIGO Games
Website / Facebook / Instagram / Pinterest / YouTube
Enter To Win:
One lucky winner will receive a game duo of: Clack! and X-Code.  This giveaway is open to the Continental US only.  Just enter the widget below for your chance to win.  Good luck!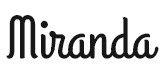 I'm a city girl turned country by my awesome husband and we have three busy boys and two darling daughters. I love spending time with my family, reading Karen Kingsbury novels, and catching up with friends while our kiddos have play dates. I'm blessed beyond measure and can't wait to see what God has in store.
Follow Miranda on Pinterest | Twitter| Blog | Instagram
This post currently has 43 responses.