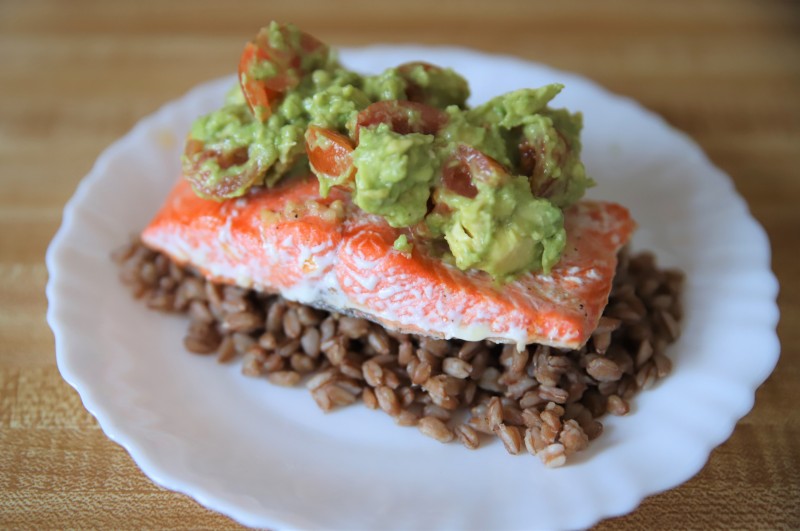 If you've followed Emily Reviews for awhile, you've probably read about how much my family loves salmon and that we have it at least once a week. Tonight, I was craving a fresh, springy salmon dish so I whipped this up with ingredients we had at home. It turned out delicious and I just want to eat all the extra avocado pesto salsa with chips!
We don't always have salmon on hand but we were able to get to the grocery store last week and stocked up for the next month or so. I always buy a filet of wild caught salmon at Costco, along with avocados. The only issue I have with avocados is that the whole bag seems to get ripe at the same time! This time, I was able to use three avocados up for this recipe. A few weeks ago I made a creamy spinach and garlic recipe, but this week I wanted to go a little lighter.
I sliced up my salmon using the best knife ever; my EDGE Chef's Knife which I shared about in my honey bbq salmon recipe. It cuts through tough salmon skin like butter! Then I whipped up the oil mixture to bake the salmon. If you have lemons at home, fresh lemon juice and zest would make this recipe even better! I had bottled juice on hand so I used that.
Once I brushed the oil mixture onto the salmon, I let it sit for a few minutes while my oven preheated. Then I stuck it in the oven for 15 minutes while I made the fresh avocado pesto salsa. If you want easier clean-up, line your pan with aluminum foil or parchment paper!
Check out these gorgeous, perfectly ripe avocados. Our whole family loves fresh avocado so I used three for this recipe. You could probably get away with just using two if that's all you have. I added the grape tomatoes (quartered), pesto, and a little salt and pepper to taste into the avocados and mixed them well. I wanted to retain the chunkiness of the avocados so I only mixed them until the ingredients were incorporated.
When the salmon was almost finished cooking, I made some farro, which is a wheat grain that our family likes. You could also put the salmon on a bed of rice or cauliflower rice, or just serve it with some steamed vegetables. Once the salmon was done, I put each piece on a bed of farro and covered it in the fresh avocado pesto salsa!
It was a huge hit with our whole family, especially the kids! I loved how the different layers blended together. Wild caught salmon is so flavorful, and when paired with this tame grain and the fresh salsa, it was a taste explosion! Check out the full recipe below.

Let me know – will you give this salmon recipe a try?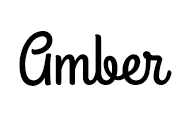 This post currently has 9 responses.