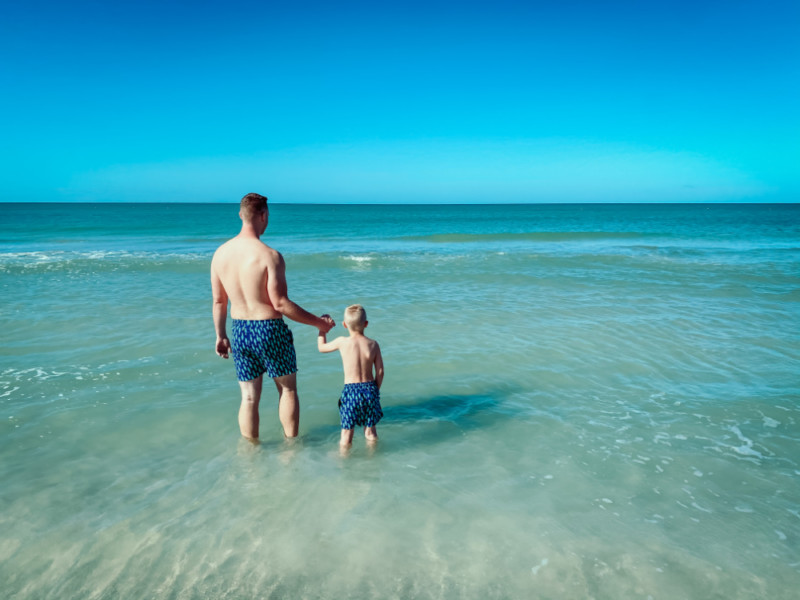 Thanks to Tom & Teddy for sending me these adorable swim trunks! As always, all opinions are my own.
Well as you can imagine, it's not quite swimsuit weather here in Minnesota yet. In fact, we just got snow last week! Luckily for us, we planned a trip to Florida earlier this month so we got to miss out on some of the cold temps as we enjoyed Clearwater Beach for a few days. Some of our friends are teachers and their spring break lined up with super cheap plane tickets, so we couldn't pass up the opportunity to go on a vacation together. Plus, we've been trying to plan a trip since before we had kids, so it was about time!
As always, I bought a bunch of clothes before the trip and I also wanted to get Tyler and Lincoln some matching swim trunks like they had last year. I reached out to our favorite swim brand, Tom & Teddy, and was so excited to hear they have a new Mediterranean line of shorts! They sent me a pair for Tyler and pair for Lincoln in the Ink Blue & Green Sardines print which is absolutely adorable.
Matching Swimwear from Tom & Teddy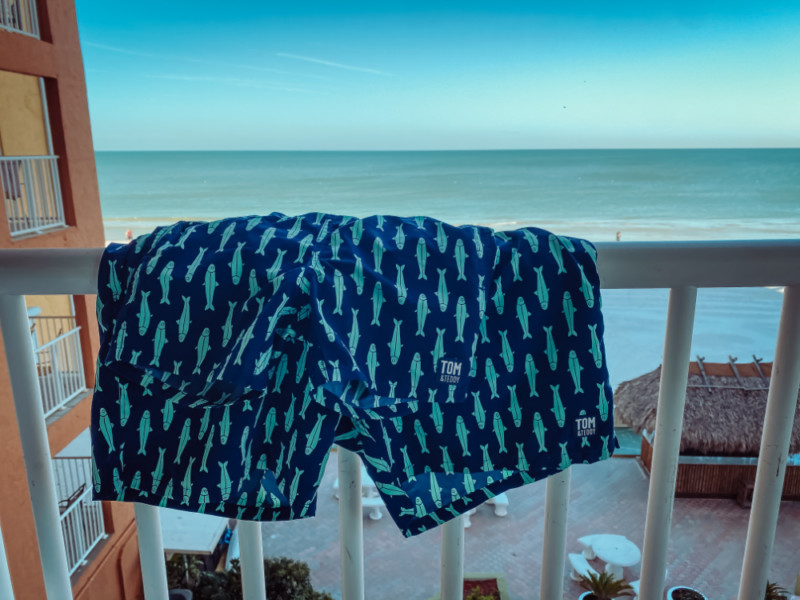 Check out the view from our rental condo! We had perfect beach weather and though the water was a little chilly for the locals, it felt great to us. We spent four days on the beach and the boys loved building sandcastles and digging giant holes in their Tom & Teddy swim trunks. I'll admit; the first day I failed at putting sunscreen on Tyler and his back ended up a little burned; but his legs were protected because Tom & Teddy shorts offer UPF50+ protection from the sun.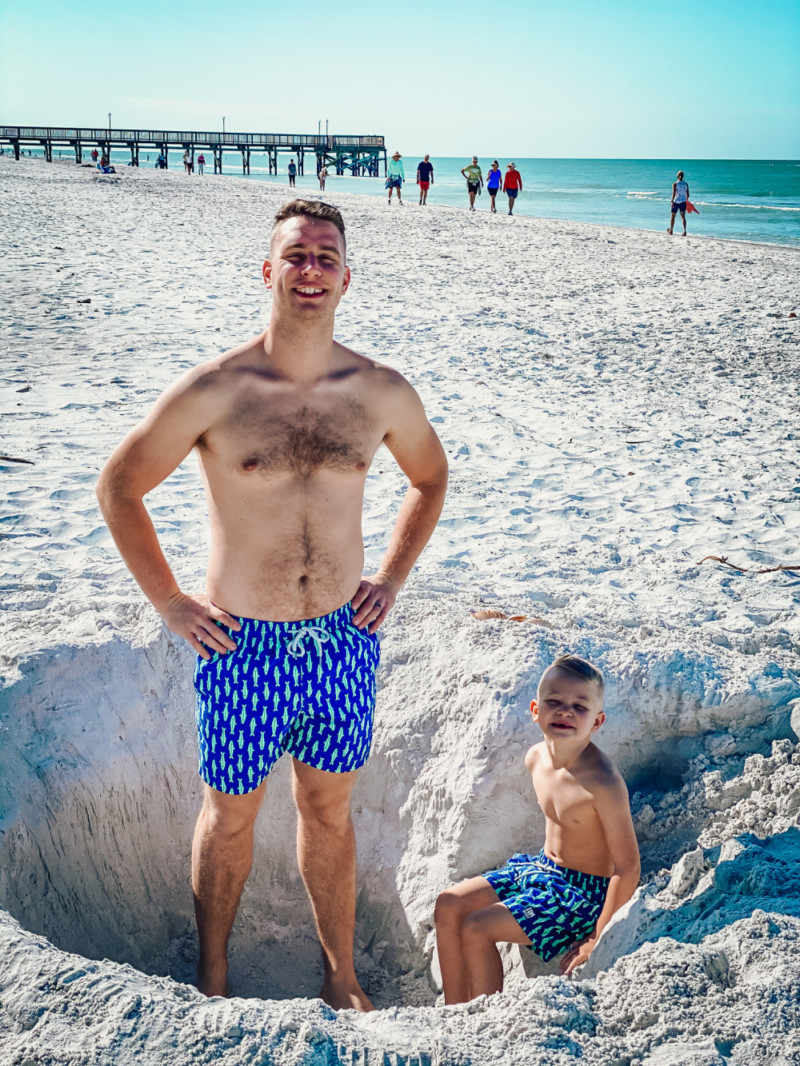 One of Tyler's biggest issues with swim suits is that most don't have a working drawstring at the waist. He has narrow hips but his shorts need to fit over his butt, and Tom & Teddy's trunks do just that. Plus they have a drawstring that actually works and stays comfortably tied for hours. Lincoln's trunks also have a working drawstring which is great because he has no butt to hold them up!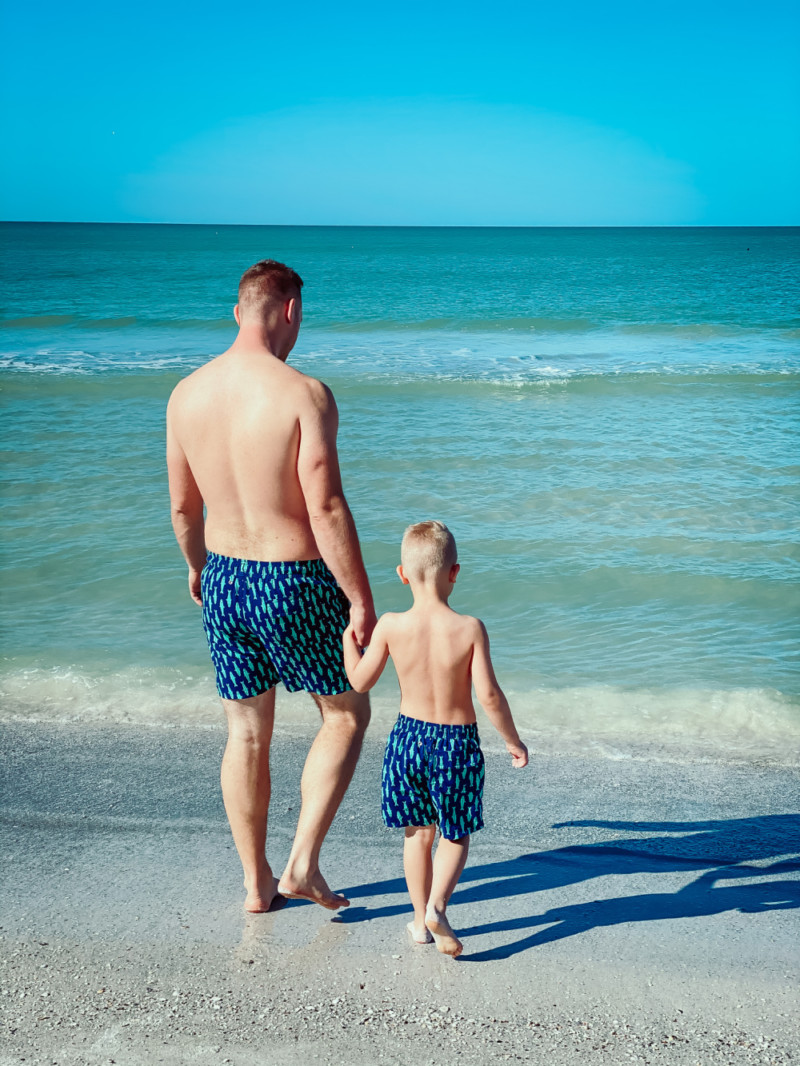 What material are Tom & Teddy shorts made from?
Tom & Teddy shorts are made from super soft, quick drying microfiber with a soft mesh lining inside. Both Tyler and Lincoln love how comfortable the shorts are, even when wet. The fabric is saltwater and chlorine resistant also, so they'll remain durable for a long time.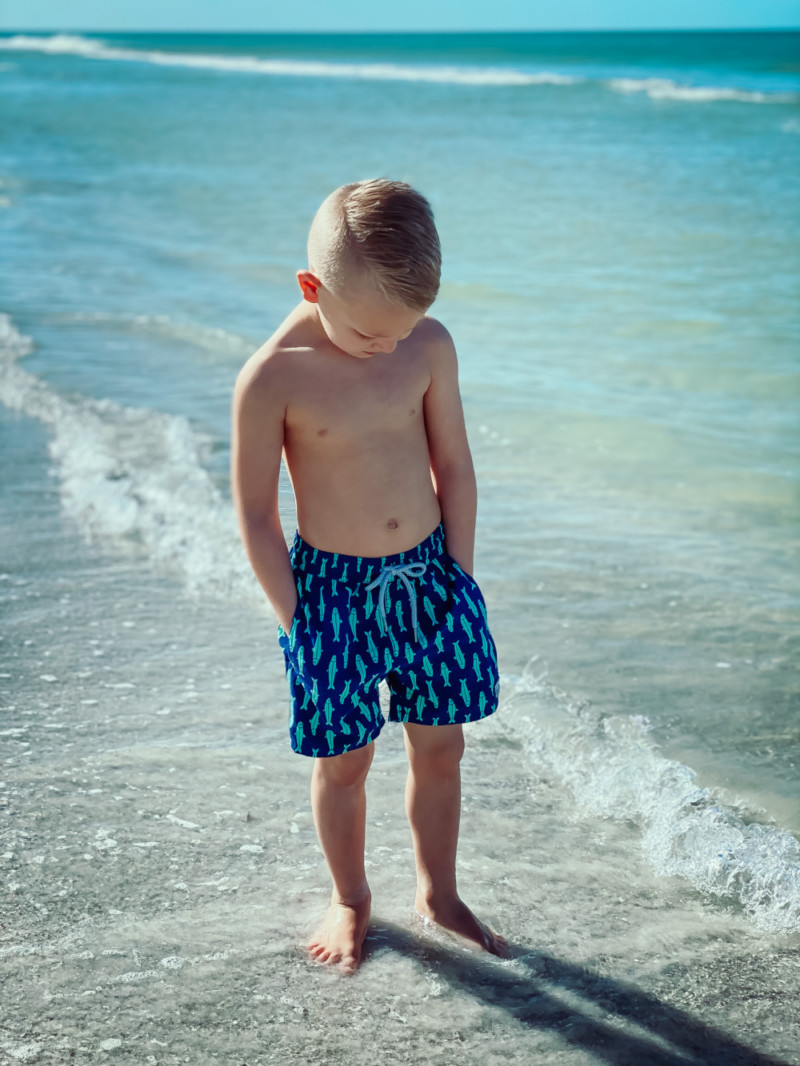 Do Tom & Teddy Swim Trunks have pockets?
Yes! Tom & Teddy swim trunks have two side pockets and one back pocket with Velcro fastening. How cute does Lincoln look with his little hands tucked in his pockets? I just love this photo! It's a rare moment that he's holding still, and that was especially true on the beach with so much room to run.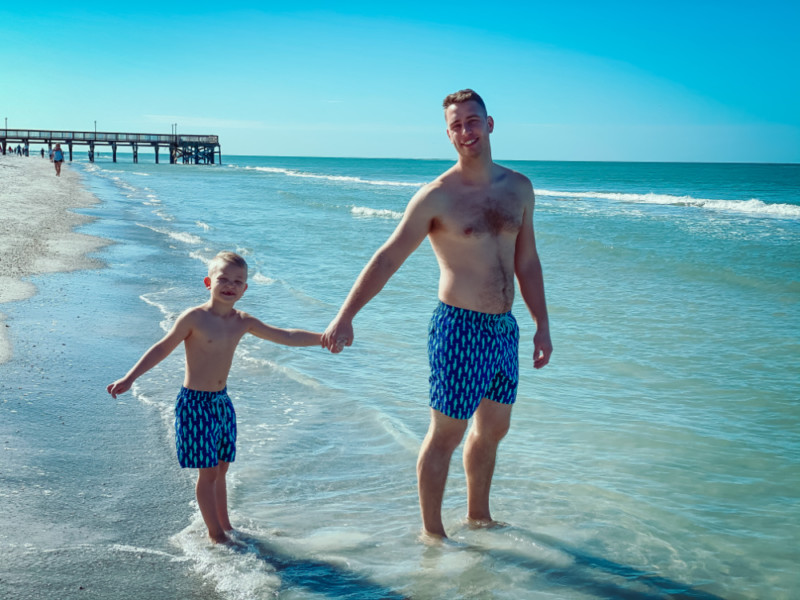 My boys love their matching swim trunks and I hope they'll let me get them identical clothes for years to come! I can't get over how high-quality these shorts are and the huge variety of designs they offer. They're very true to size, also, and the drawstring makes up for a couple inches if you (or your kiddo) is in between sizes. Lincoln is 5 and is wearing a 5-6. Tyler is wearing a men's large.
We're already missing the beach and can't wait for our next trip. Every winter I wonder why we still live in Minnesota and not Florida (especially because DISNEY!) but family and friends keep us here for now. I hope we'll eventually be snowbirds but until then I'll dream of the warm weather and look forward to Tyler and Lincoln wearing their Tom & Teddy swim trunks this summer!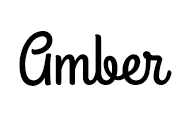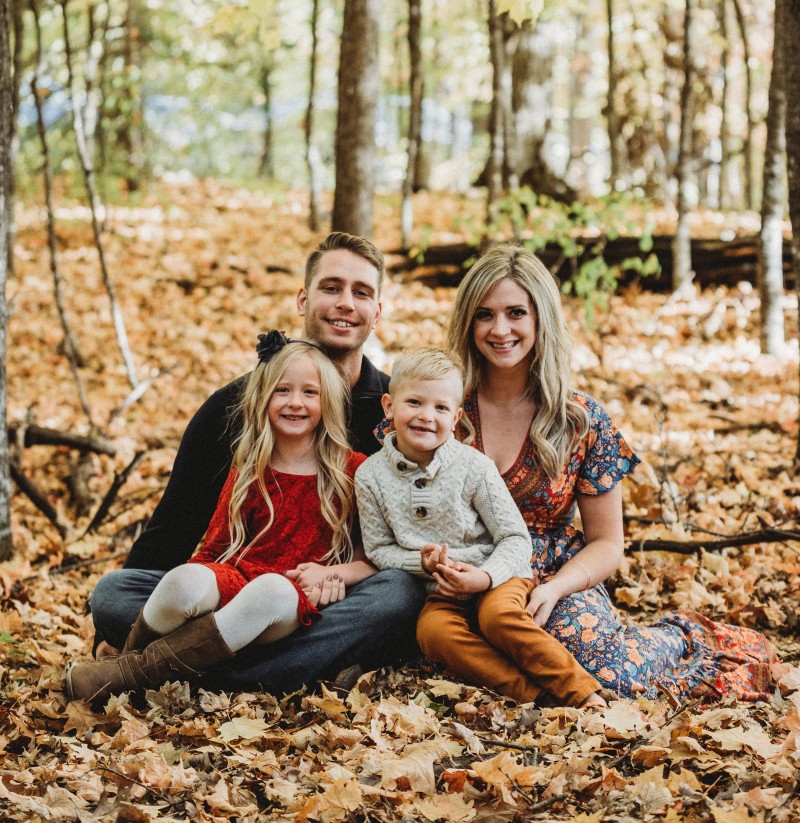 Hi there! I'm Amber, a 34 year old wife and mom of two from central Minnesota. I love to be outside with my family anywhere the weather is warm (which means I spend half the year freezing). We're a homeschooling family that loves to travel as often as possible! When I have a spare free moment, I love to read, take photos, and scrapbook. I'm interested in anything that makes life more fun; I also love socializing and sharing about my favorite products!
This post currently has 8 responses.