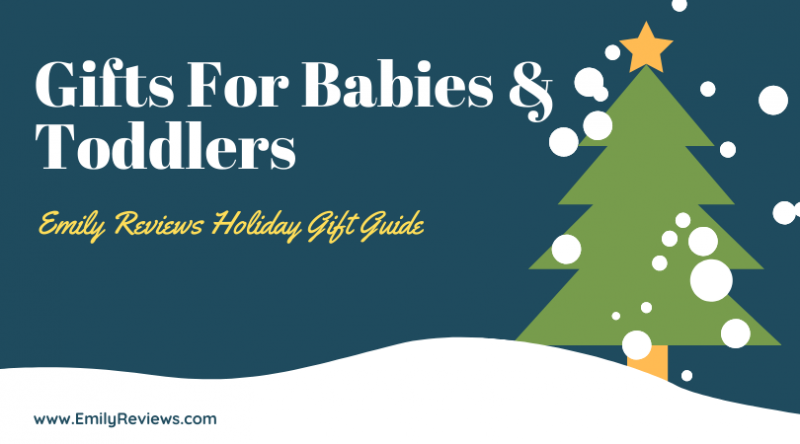 Emily Reviews writers were sent products in exchange for inclusion in our gift guide. All opinions are our own. There are affiliate links in this post.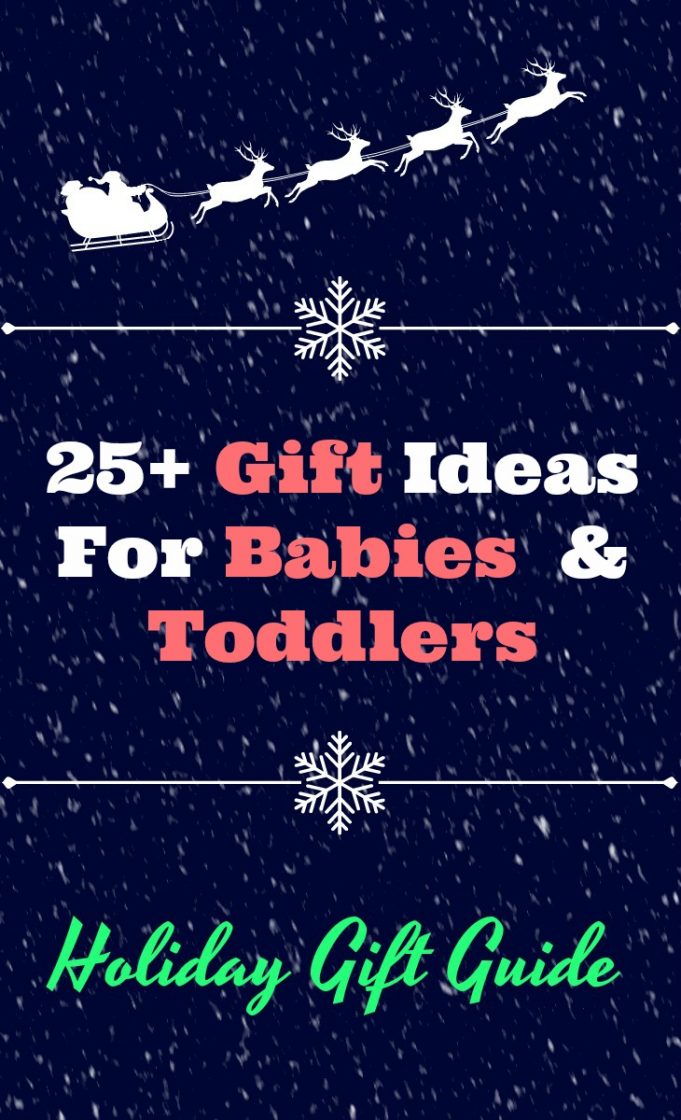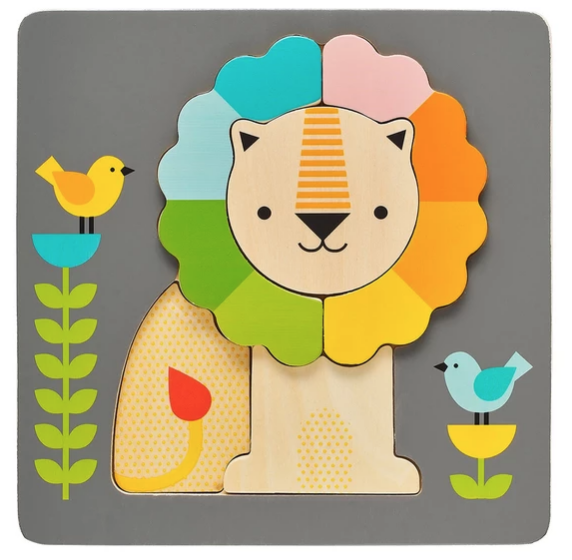 Kids can get ready to build the friendly lion!  Complete with his cheerful rainbow mane, this Little Lion Chunky Wooden Tray Puzzle is a friendly face for any toy shelf.  Little ones can easily grab onto the five chunky wooden pieces and work to create their little lion friend in his colorful scene.  The bright shapes encourage creativity and free play.  It's a perfect fit for problem solving toddlers!
Buy It:  PetitCollage.com
DISCOUNT CODE: Be sure to use the exclusive discount sale code EmilyReviews when you place your order and you'll receive 15% off your total!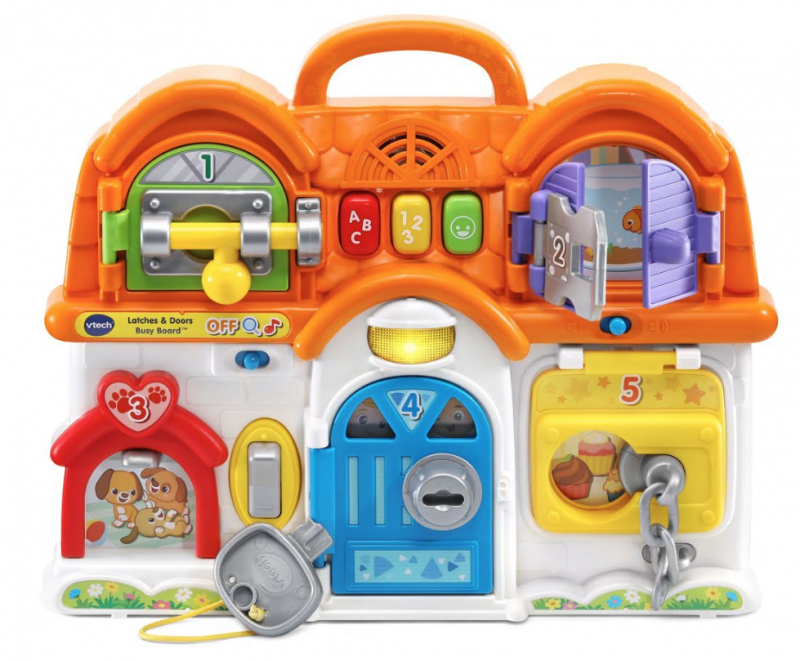 Kids will be so excited to learn what's behind the doors and windows of the Latches & Doors Busy Board!   Interactive play includes getting to slide, press, twist, or turn to unlock and open the doors and windows of the colorful house to build motor skills. Toddlers will open to find pictures of an adorable family, pets, or a birthday party. This activity board reinforces learning by introducing numbers and animals. Three colorful buttons play the Alphabet Song, a number song, or a playful song about the house. This busy board also includes a handle for play at home or away.  Full of hands on play, kids won't be able to put it down!
Buy It:  Amazon.com and also available at all major retailers including Walmart and Target.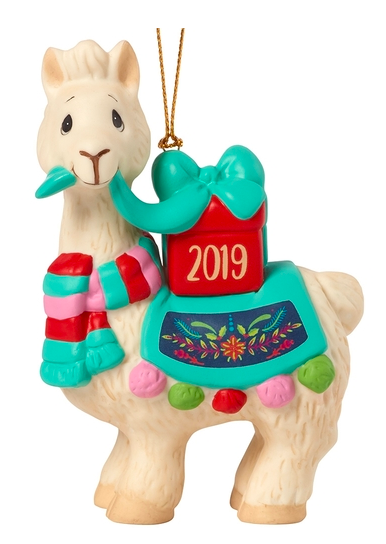 Gifting a child an ornament each year is such a fun tradition! This I Llove You Llots, 2019 Dated Porcelain Ornament is perfect for Baby's First Christmas or for the llama loving little one on your Christmas gift list. It features a cute llama adorned with a colorful saddle and a 2019 gift box. Approximately 3.5 inches high, expertly hand-painted and sculpted of fine bisque porcelain. Sure to bring a smile when placing it on the tree, year after year.
Buy It:  preciousmoments.com

Did you know Freshly Picked now offers adorable clothing too!?  Now introducing the newest addition to their clothing line-up, the Cream Stars Babydoll Dress.  Made from the same super soft cotton french terry as before, but now with long sleeves to help you get through the Fall and Winter.  This adorable dress features a soft and relaxed fit your babe will love!  Available in sizes up to 5t.

Today, I have the answer to all of those hard to shop for people. GiftTree.com! GiftTree has items for the home, men, women, kids, and babies. They have gifts that are very reasonable in price all the way up to luxury items. Cute as Can Bee is an assortment of all-natural award-winning products made in the USA by Burt's Bees. It arrives in a dual-handled basket decorated with a hand-tied satin ribbon and your personal message. To learn more about GiftTree, read Laurie's full review.

These Baby Bogs Camo boots are so, so cute! What makes them even better is that they are made from 3mm Neo-Tech insulation for warmth and have a cozy plush lining with DuraFresh bio-technology that activates to fight odors. They are 100% waterproof and feature Bogs Max-Wick to keep little one's feet dry. They are also machine washable and Comfort rated to 14F/-10C. Also available in pink camo for the little ladies!

Ditty Bird Books, including Ditty Bird Learning Songs, are educational and fun to read for both children and adults! Reciting and singing songs is a great way to support children's language learning. The engaging music buttons help build early language ability and fine motor skills, and the easy-to-turn pages and simple layout promotes manual dexterity, and early reading concepts. At the same time, these books promote lap time, bonding, and help to build relationship with your little one.

If you want soft, comfortable, adorable, and heirloom all in one gift, look no further than this Feltman Brothers Pique Collar Dot Knit Set and Dot Knit Bonnet.  These pieces are perfectly timeless and classic for your baby boy!  The 2-piece top and pants ensemble is available in three beautiful color options: Heather Blue, Grey, or Light Blue.  The matching Dot Knit Bonnet is also available in those same colors.  The bonnet features pointelle diamonds and dainty embroidered dots, along with hanging strings for beneath-the-chin fastening.  This is one outfit that will be a show-stopper everywhere you go!

Wrap your little one up in the cozy comfort of this Minky Blanket from Adorology. Great for swaddling, play time, tummy time and more. At 30″ x 40″ it's the perfect size for use at home or on the go. The double layer minky fabric provides the perfect amount of comfort and warmth while still being lightweight. Matching nursing pillow covers are also available from Adorology. Comes packaged and ready for gifting!

For your baby's nursery, consider gifting an Alen BreatheSmart 45i HEPA Air Purifier this holiday season. Featuring an LED control panel, smart laser to identify air quality, and WhisperMax technology for near silent air purification, this is a gift that will improve air quality in any room up to 800 square feet. This purifier is recommended for allergies, dust, mold, bacteria, light odors & chemicals. With multiple designer panel options, it will fit with any decor and can be moved from room to room with the built-in carrying handle. Give the gift of clean air to babies and toddlers this year!

The Lovevery team delivers fresh play for all your child's developmental stages from 0 to 24 months. Makers of The Play Kits, The Play Gym, and more. Their goal is to help every parent feel confident in their role.  So they offer play products that have been designed by child development experts and distilled to their simplest, purest purpose: to be exactly what children need at each stage.  Every play kit features toys, books, and activities geared for a particular developmental stage.  They work to engage children as they explore and learn.  High quality, these toys will last for years to come!

Veyo makes kids clothing and accessories that make outdoor play easier and more fun. Their items go on and stay on so that playtime can last longer. Mittyz are specially designed and patented snow mittens, perfect for babies and toddlers. Mittyz are 100% waterproof, fleece lined for warmth and easily reversible for quick drying. They feature an oversized gauntlet to easily fit over any cast sleeve, and a gauntlet since strap to seal out snow and ice. They also feature a double pull wrist strap for quickly securing the glove on the children's hands, an integrated thumb pocket for ease of putting on, and a quick release wrist buckle for easy removal after outdoor play.

This adorable Merry Christmas book from Hooray Heroes is brand new for siblings! It will make the best personalized gift this holiday season. With complete customization including the option to edit hair, skin, eyes, gender (and more!) it can be made specifically for a set of siblings on your shopping list! Plus, you get to choose which ten stories to include in the book, making it even more personal. Kids will love reading a story all featuring THEM as the main characters!

A special Christmas story where you get to choose the name on the book!   If you could choose four wishes for a child this Christmas, what would they be?  As you customize this story, you can choose from: Compassion, Adventure, Strength, Friendship, Wisdom, Joy, Patience, Wonder, or Laughter.  Take time to choose the four Christmas gifts you think matter most for a child, to guide them for years to come.  This book is a timeless, enchanting personalized story with a lifetime of meaning. High quality, great illustrations, and a fun read.

The

Magical Tales Black & White Gymini 

from Tiny Love is an activity gym that grows with baby. Starting at birth, this gym's contrasting black & white colors, textures and sounds stimulate baby's senses. Perfect for tummy time, you can lay baby on the Gymini and place the soft book in front of baby; it was created with unique contrasting graphic elements to help attract baby's attention so they stay in tummy time for longer periods of time. The Gymini helps baby develop their gross and fine motor skills. It features satin ribbons, a plush cloud and crinkly flaps to encourage grasping. The adorable critters and neutral colors make this mat perfect for boys and girls, and it will fit in with almost any home's decor.

Maxi-Cosi recently introduced the Zelia Max 5-in-1 Travel System, which makes travel with infants a breeze! Designed by car seat safety experts, the Mico Max 30 Car Seat provides superior safety for your baby with Air Protect Side Impact Protection and an anti-rebound bar to make every ride safer. The Zelia Max Stroller features stylish details including ultra-soft materials in the stroller seat and supple textured vegan leather trim on the bars. For baby, the carriage mode offers a snug space to nap comfortably, no matter where your day takes you.

Everyone loves babies!   So kids love to find and match these adorable baby animals to their mothers!  Twelve creative puzzles feature a large matching element for young problem-solvers. Children are also free to mix and match unique parent and child pairs for added (and silly) fun.  Matching the pieces develops manual dexterity and inspires logical thinking.  The pieces are sturdy and easy for small hands to grasp.  A perfect puzzle for the littlest family members.

Give the gift of sleep this holiday season! With a unique starfish design, the Zipadee-Zip from Sleeping Baby provides babies the comforting, enclosed feeling of a swaddle, and helps decrease their startle reflex, but doesn't limit baby's full range of motion. Baby can push up, roll over, and wiggle safely, but can still soothe themselves back to sleep. There are summer and fleece lined winter versions of the Zipadee-Zip available and many adorable designs. There are also organic versions for sensitive babies and parents. The Zipadee-Zip is perfect for babies three months to three years of age.

The Exergen SmartGlow Temporal Scanner is ideal for parents who are caring for a sick child of any age. This thermometer comes with four ways to make it even easier to take a temperature. It has a softly illuminated display for easy reading in any light, like checking the temp of a sleeping infant in a dark room. You can choose to keep the beeping sound on or turn it off to avoid waking a sleeping child. This smart thermometer retains the last eight readings to recall and check on fever progression. Switch between Fahrenheit and Celsius depending on your needs.

A fun toy that features colorful, chewable, bendable loops babies love.  Because of the well-thought out design, this toy is easy to grasp which makes it easy for babies to explore.  A soft tinkling rattle makes it fun to shake as well.  This Winkel teething toy spans and enhances developmental stages including grasping, tracking, mouthing, and throwing.  A must have for every baby!

Baby Jack & Company Learning Lovey teach children about ABC's, 123's, shapes and colors. They are unique in that the ribbon tags are sewn shut for safety, so little fingers do not get trapped. They also have included a toy link so that the lovey can be attached to a car seat handle or stroller. The Learning Loveys are made out of super soft fabrics – perfect for cuddling any time of the day or night. They are available in lots of cute designs including Polar, Wizard, Farm, Unicorn, Mermaid, Dinosaur, Jungle and more!

Every detail of this Sleepea Swaddle is focused on baby safety and parental sanity. Made from 100% Organic Cotton, this ultra-soft and breathable swaddle helps babies be happier and sleep longer. A unique double-zip allows for easy middle-of-the-night diaper changes and an inner arm wrap means that even the trickiest of Houdinis can't sneak out an arm in the middle of the night. Plus, the special Velcro is designed to be extra quiet.

Meet the multi-award winning Bilibo.  This toy is widely regarded as one of the most innovative and versatile open-ended toys available on the market.  While it seems deceptively simple and magically attractive, you'll find that the Bilibo's iconic shell shape and bright colors immediately appeal to children of all ages.  Made from a nontoxic, shatterproof polyethylene, this toy is incredibly durable and shock-resistant as well as safe for water play, making it appropriate for both indoor and outdoor play.

A True Growth True Tot Tower is a gift that will grow with your baby or toddler. These towers help little one watch and be included in activities such as cooking, baking, food preparation, washing dishes, arts and crafts, and much more! True Growth True Tot Towers are handcrafted and proudly made with sustainably sourced New Zealand Pine. They provide a safe, stable structure where you can spend quality time with your little one. They are adjustable as the child grows and they also fold for easy storage.

In the adorable book Yum Yummy Yuck, Amanda and Cree Jones are sharing about a common parenting experience – the struggle to keep their kids from putting everything they see into their mouths. Using simple, bright illustrations and colors, gentle repetition, and a lighthearted tone, this stylish board book teaches babies and toddlers what they should and shouldn't eat. Delectable treats are interspersed with not-so-yummy things kids find irresistible like coins, boogers, and sand. Designed to appeal to modern parents, this durable and attractive book will have kids and their parents going back to it and sharing in the fun of all the delicious and disgusting things kids like.

Now available, you can grab the brand new Bari Koral Relax and Be Happy CD: Mindfulness for Children (Teachers & Parents).  This enchanting new Mindfulness for Children CD can help bring instant relaxation to many young children and the adults who care for them. Inside, you'll find a double CD with 25 tracks that can be used with multiple age groups from toddlers on up.  The impact of this CD goes well beyond its playing time!

These adorable Buttercup Moccasins from Softstar would make the perfect gift for early walkers on your shopping list! These buttery-soft booties are made with the absolutely softest leather for a cozy, lightweight, sock-like shoe that your baby will love. The Buttercup moves and bends with the foot, providing excellent feedback to encourage natural steps and a confident sense of balance. Inner elastic hugs the ankle, ensuring the shoe stays securely, yet comfortably, on the foot…no more searching for kicked-off socks! Inside the shoe, luxurious sheepskin innersoles keep your child's feet protected, dry, and oh-so-comfortable.

After doing tons of research, Lovevery has built The Play Gym for you and your child!  This award-winning debut product includes everything you need and want in an activity gym—from batting to teething to learning to focus.  It's perfect for an entire year of play.  Designed by child development experts, it features sustainably-sourced wood legs, 2 minute setup and take down with no tools necessary, and baby-tested removable accessories.  The play mat even includes five different development zones.  You won't find another gym like this!

Little kids love to play with cars.  Zooming and zipping around is appealing to both girls and boys.  So I the Simplay3 Carry & Go Garage is a great little toy to add to your collection.  The design makes it easy to pack up, carry, and take anywhere for hours of imaginative play.  Featuring an open roof-top for easy access, kids can wind around 4 levels of front and back play and make a fast exit to the city street.  And just like in real life, the tunnels and ramps add to the adventure.  Lightweight and sized for quick portability, kids are able to transport this garage easily.

Enter a world of imagination with the Mirari myStorymaker.  The beautiful colorful icons actually allow children to create a story by pressing one from each section: hero, adventure and happy ending!  Sections then light up to guide children in creating their story.  Children can create more than 100 different stories, and each one contains fun sounds and expressive voices to engage children.   Then, pressing the Mirari logo triggers a lovable giggle and the narrator!  A neat feature is that parents can also record the child's name so the narrator will announce who made the story!

If you want something bigger and better than ever, the Ebony Classic City Pack is it!  Perfect for keeping your life stylish and functional, this diaper bag is for Y-O-U.  Made from Freshly Picked's super lightweight, durable, and wipeable vegan leather, you will love thatThe City Pack comes complete with even more storage space than before!  Now you can fit everything a mom on the go needs, plus a 15″ laptop!   Features padded shoulder straps for added comfort and a double zipper main compartment.  Plus, metal hardware and a plated FP logo on the front are set off beautifully by the Ebony colored leather.  A must have you'll be using long after baby has grown!

Need more gift ideas for babies and toddlers? Check out our gift guides from previous years!

Babies & toddlers gift guide 2018

2017 babies & toddlers gift guide

2016 babies & toddlers gift guide

2015 babies & toddlers gift guide

2014 babies & toddlers gift guide
Hi there! I am Emily Evert, the owner of Emily Reviews. I am 28 and live in a small town in Michigan with my boyfriend Ryan and our two pugs. I have a large family and I adore my nieces and nephews. I love reading memoirs, and learning about child development and psychology. I love watching The Game of Thrones, Teen Mom, Sister Wives and Veep. I like listening to Jason Isbell, John Prine, and other alt-country or Americana music. I created Emily Reviews as a creative outlet to share my life and the products that I love with others.
This post currently has 11 responses.