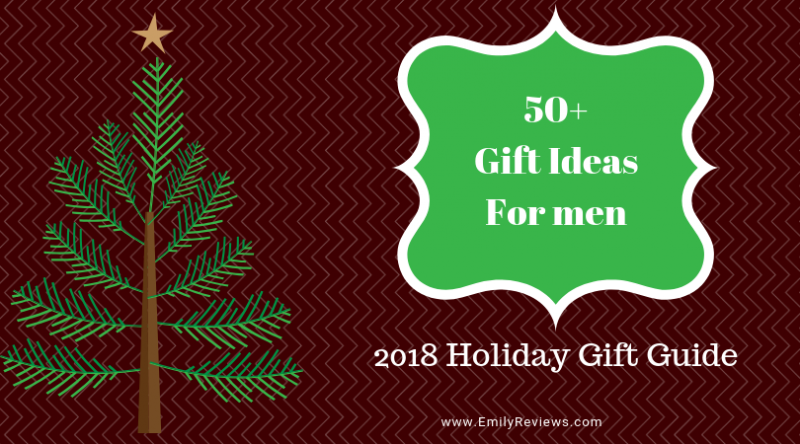 Emily Reviews writers were sent product samples in exchange for our holiday gift guide. All opinions are our own. There are affiliate links in this post.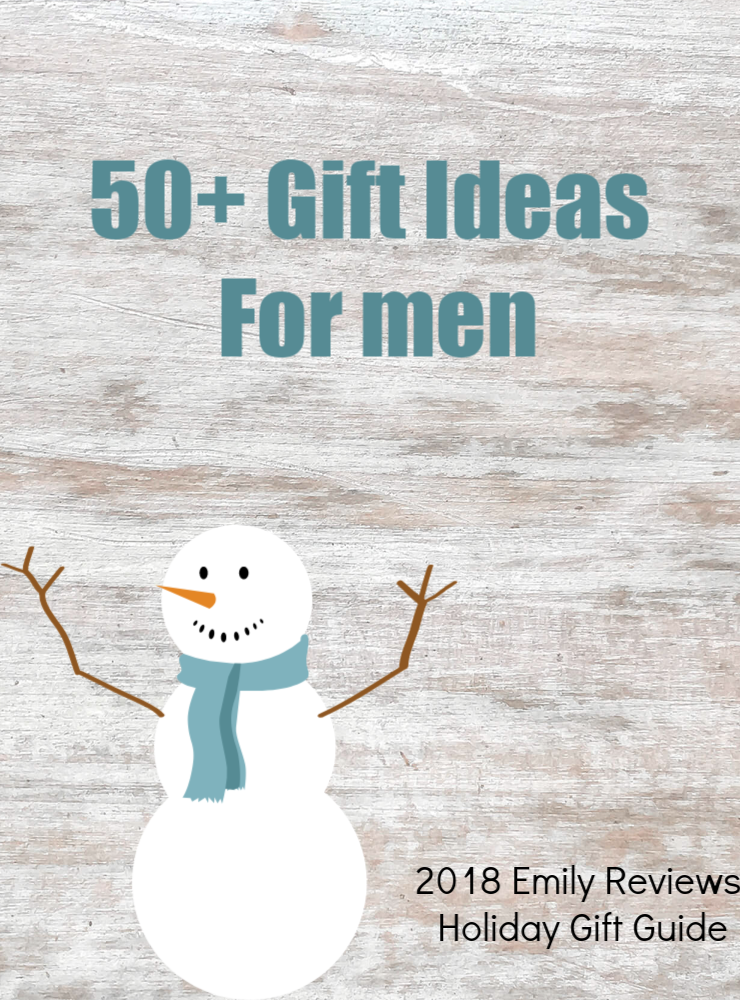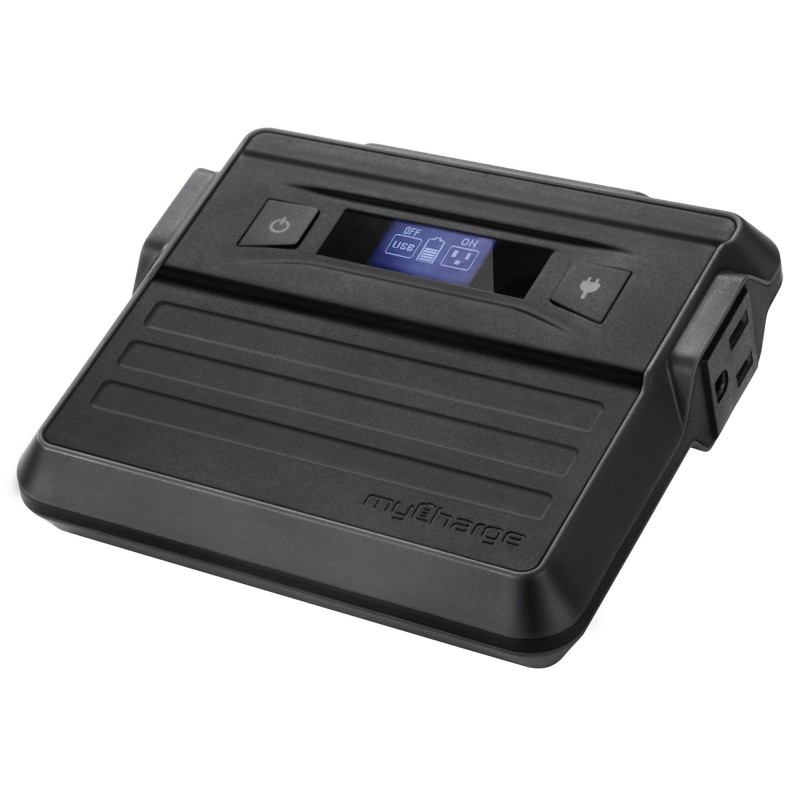 The MyCharge portable power bank can power a 34 inch TV for up to four hours! It has the ability to charge devices like laptops or slow cookers that have an AC (wall) outlet as well as USB devices like tablets or phones. It can replace your generator use for camping or tailgating, or just keep all of our devices going while traveling, working or when your power goes out during a storm. Men who love their gadgets or who like to be prepared will appreciate this gift.
Learn more: MyCharge Review & Giveaway.
Buy it: Amazon.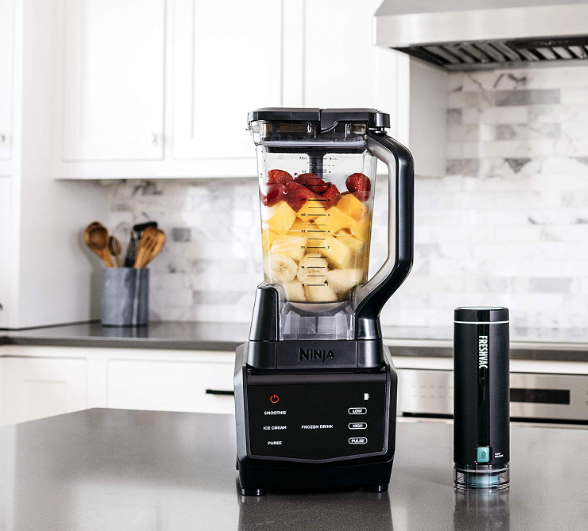 The Ninja Smart Screen Blender DUO with FreshVac Technology doubles as a full-sized countertop blender and a single-serve, personal blender!  This amazing combo features the newest FreshVac™technology to give you the best results possible. The FreshVac™ Pump is compatible with both the pitcher and the cup, just use it to pump oxygen out before blending and it helps you lock in vitamins and keep drinks fresh overnight.  Along with that, you'll find it also features: 7 pre-set Auto-iQ programs, touchscreen display, 1400-Peak-watt motor base, and is easy to use.  Grab one for the foodie in your life today!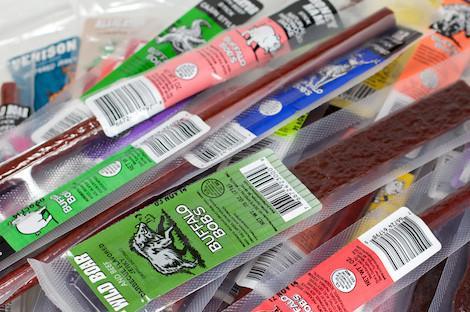 Jerky Dynasty is the place to go for all your jerky needs, including exotic jerky, gourmet jerky, and bacon jerky! Not sure what to get him? Grab The Ultimate EVERYTHING Jerky Gifts for Men. This set has twenty-seven different varieties of Buffalo Bob's wild game jerky. Buffalo Bob's products are farm-raised and have been mixed with beef to earn a USDA seal of approval. The Ultimate EVERYTHING Jerky Gifts for Men is a fun way to allow him to sample products and find his favorite flavors.
Buy it: www.jerkydynasty.com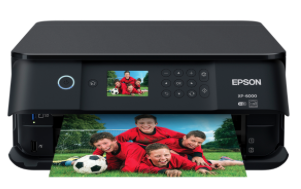 Who doesn't love photos? For many, the trouble is that the photos never get printed, they just sit on their SD card or smartphone. With the Epson Expression Premium XP-6000 wireless Small-in-One printer you can quickly print out photos right at home. This printer delivers superior photo quality and fast print speeds. 4″ x 6″ photos print in as little as 15 seconds. You can print stunning borderless photos up to 8″ x 10″, as well as sharp text. The Epson Premium XP-6000 includes built-in USB and memory card slots, a 2.4 inch color LCD and dedicated photo/DVD trays. You can also easily print from a tablet or smartphone — with or without a router. This printer also includes a built in scanner.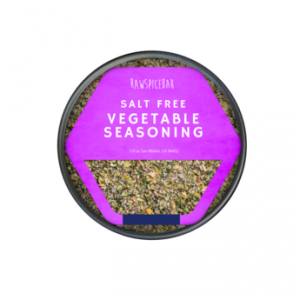 For the foodie man in your life be sure to stop by Raw Spice Bar to pick up a gift set of spices. Specialty spice mixes, and single spices Raw Spice Bar has any spice you could need to add intensity to your dishes. If the man in your life is vegan rest assured there are vegan variety spices to gift as well. Head over to Raw Spice Bar to season up this holiday season!
Buy It: RawSpiceBar.com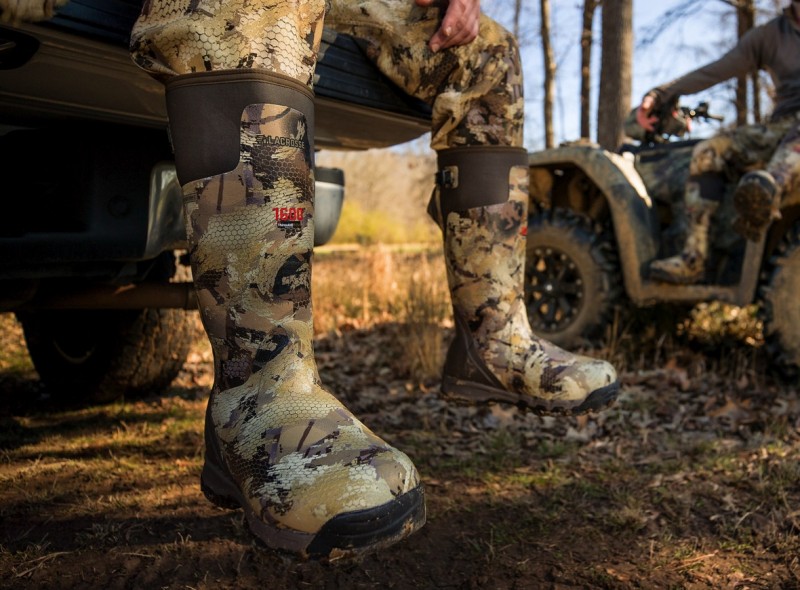 LaCrosse Footwear's Alphaburly Pro Optifade Marsh 1600G Boots are the perfect gift for the avid hunters in your life! With 1600G of Thinsulate insulation, they're rated for -70 to 30°F. The Optifade Marsh pattern is designed to trick avian eyesight and to keep hunters well concealed. With a natural rubber body and adjustable neoprene gussets, these Alphaburly Pro Boots are easy to move around in and can be customized for comfort. Built tough and dependable since 1897!
Buy it: LaCrosse Footwear or Amazon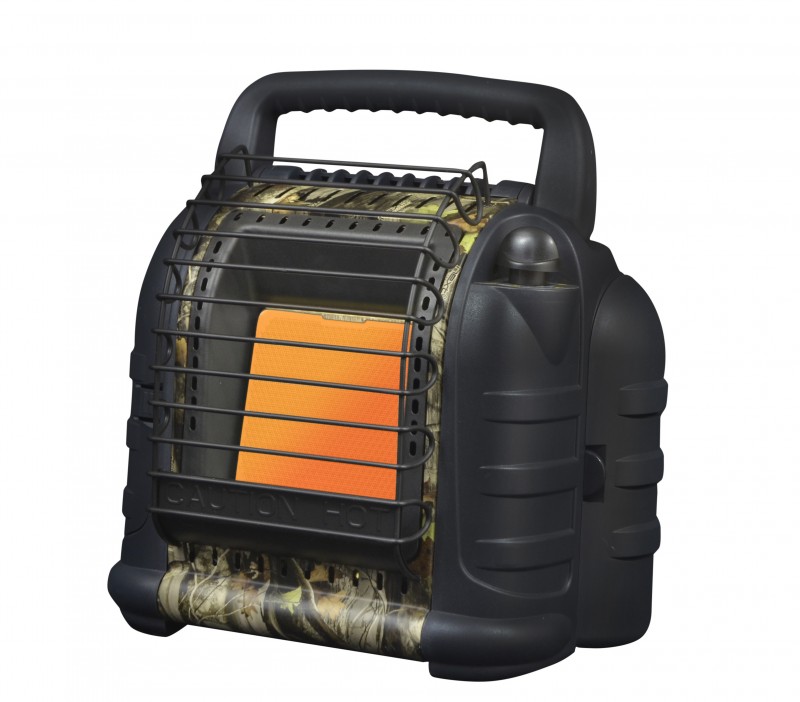 The Hunting Buddy Portable Heater from Mr. Heater is the perfect gift for any man on your list who enjoys the outdoors. It puts out the perfect amount of heat for a small cabin or fish house, and can be connected to a 1lb propane tank or a 20lb propane tank with an optional hose and filter purchase. With a built-in silent electric ignition, it's as quiet as you can get. It has a built-in Oxygen Depletion Sensor and accidental tip-over safety shut-off, you can enjoy comfortable, safe heat for years.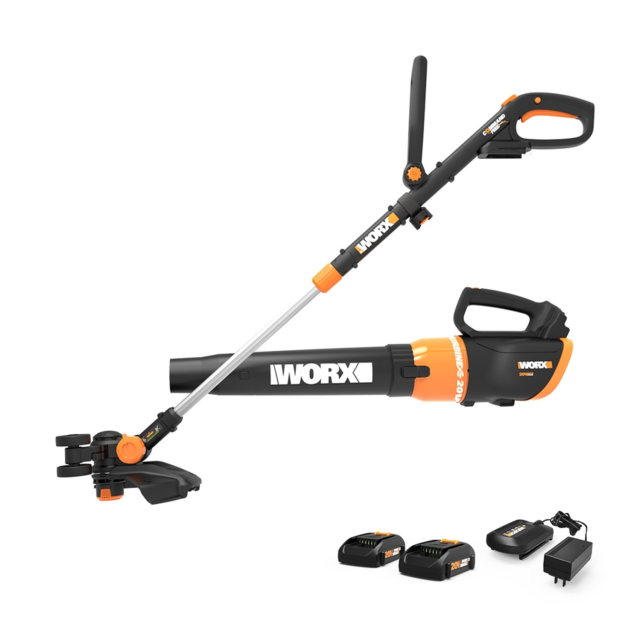 Worx's GT Revolution trimmer/blower combo will save you about $50 over buying both separately. This combo allows you to clear your lawn of leaves and to rid your lawn of weeds in all those tight spaces, from around fences and patios, to working around delicate plants or brushes, to getting under tables, decks and more. In a sense, this combo is giving the gift of a beautiful lawn for years to come!
Learn more: Worx blog post.
Buy it: Worx.com.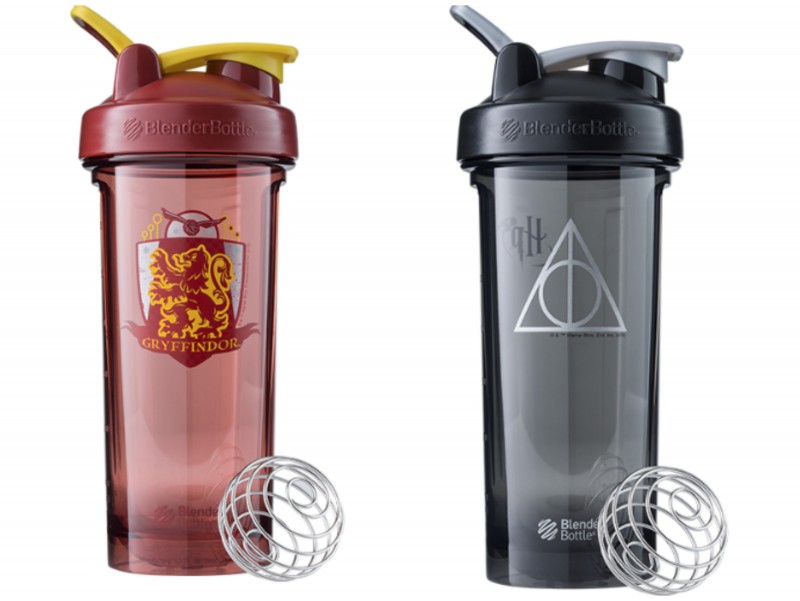 Calling all Harry Potter Fans!  The new BlenderBottle Harry Potter line up includes the Quidditch-version emblems of the houses of Gryffindor, Slytherin, Hufflepuff, and Ravenclaw.  With a 28-ounce capacity and rounded base, which further enhances the patented mixing system, this shaker also incorporates the new SpoutGuard.  Which enables users to easily and quickly open the flip top without having to touch the drinking surface. This bottle also features an adjustable carry loop, which adds hands-free convenience.  Finally, the durable odor-resistant Eastman Tritan plastic works hard to keep stains and lingering flavors at bay.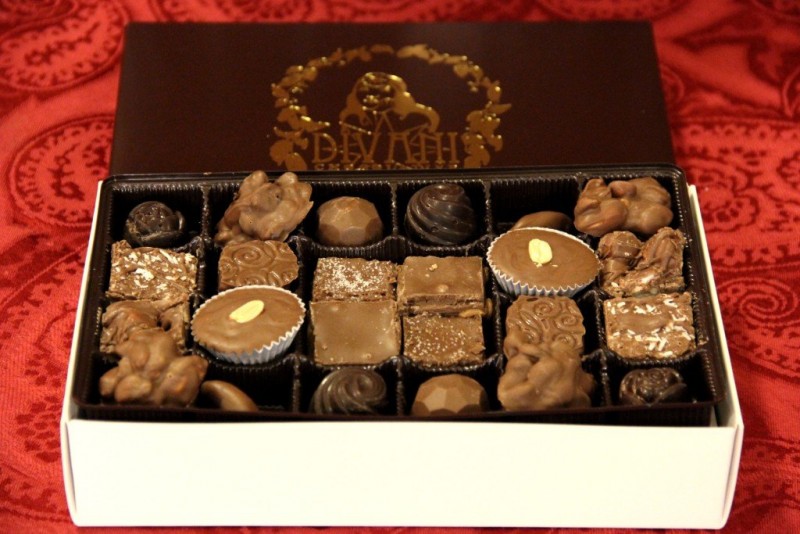 When you have a hard-to-shop-for man on your list, you can turn to Divani Chocolatier for a variety of delicious gift ideas! After all, the way to a man's heart is through his stomach, right? This 48-Piece Treasure Box Assortment makes the perfect gift for any sweets lover on your list this year. Twelve varieties of confection are offered in this assortment, including sea salt caramels, peanut butter cups, double chocolate truffles, and more! Choose between Belgian dark or milk chocolate.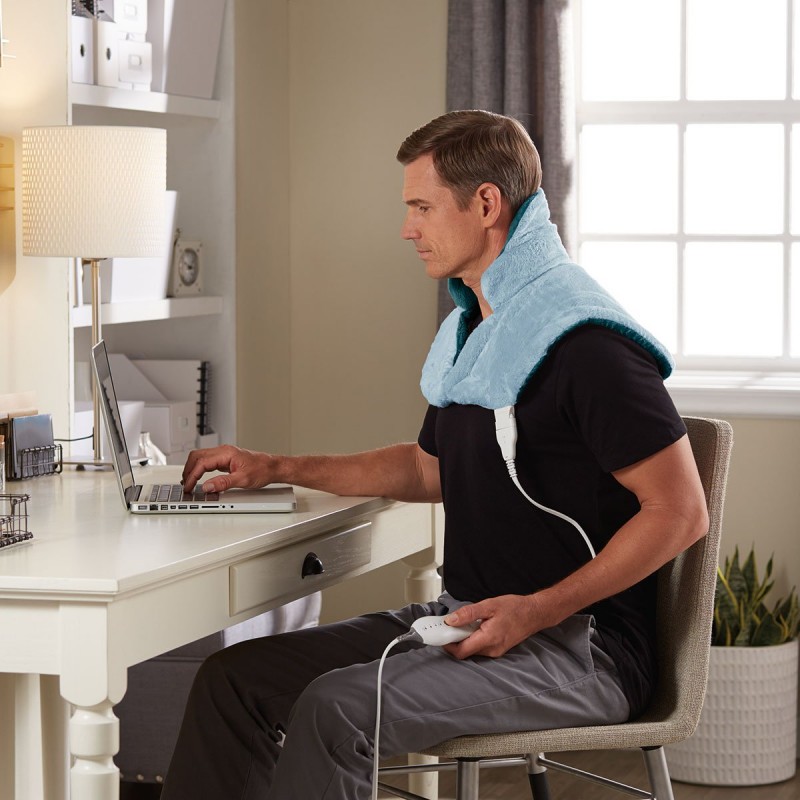 The Sunbeam Renue Neck Wrap was designed to envelop you in a therapeutic heat to help soothe sore tired, and stiff shoulder muscles. It has four heat setting for you to choose from and a two-hour auto shut off. The Renue Neck Wrap has an adjustable fit. It features a comfortable collar that contours to the shape of your neck, secure magnetic closure, and lightly weighted ends to help keep the wrap in place. The Renue Neck Wrap is machine-washable.
Buy it: sunbeam.com or Amazon.
Win it: Follow this link to enter to win a Sunbeam Renue Neck Wrap.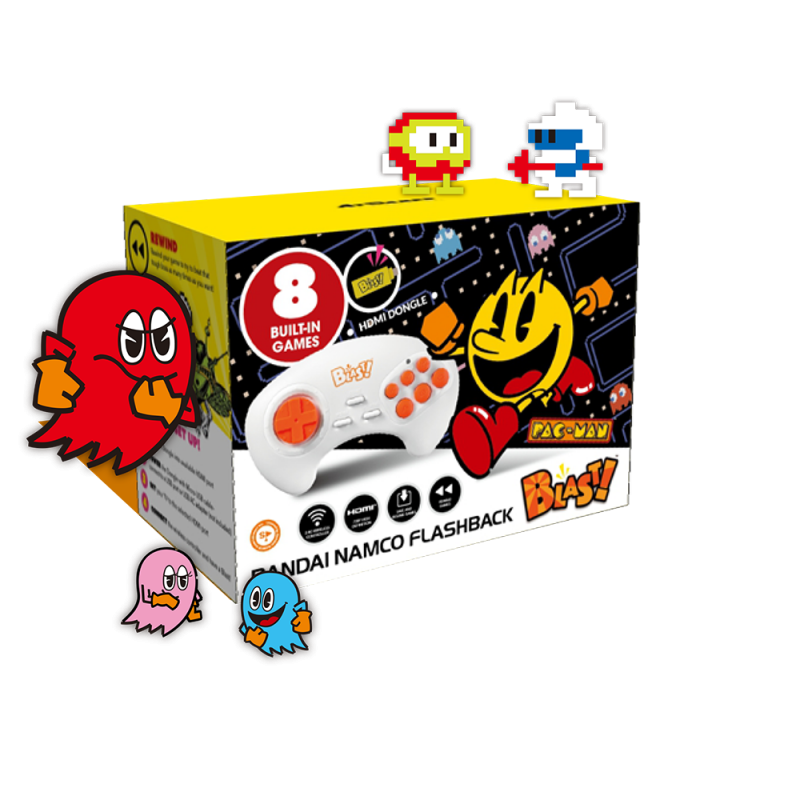 Have a Blast! with the home versions of the greatest arcade classics of all-time! The Bandai Namco Flashback Blast! features eight built-in games including Play Pac-Man, Dig Dug, and Mappy. You can blast into outer space and take on attacking alien hordes with your Galaxip starfighter in Galaxian! Fans of classic arcade games will love these timeless video game favorites.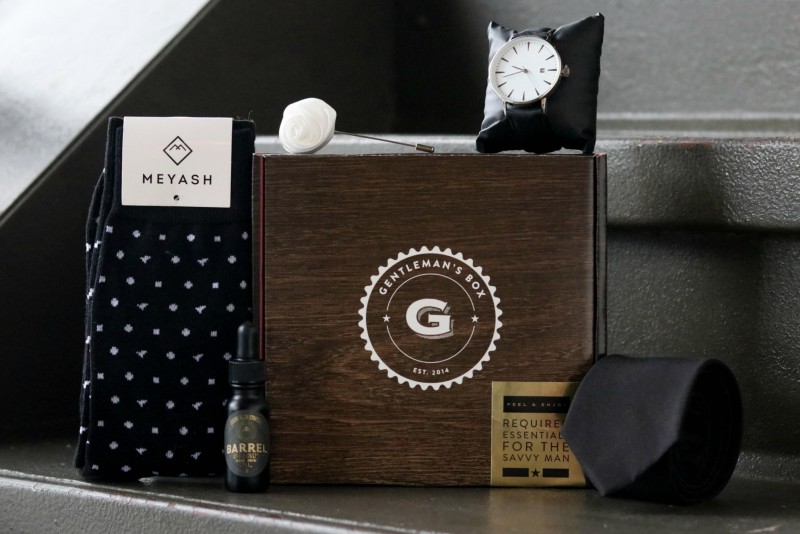 Searching for a gift for that hard-to-buy-for man on your list? Check out a Gentleman's Box premium subscription! Each season, Gentleman's Box delivers high-quality lifestyle items to your door. Past premium boxes have contained grooming products, electronics, high-end ties and socks, and more! Choose from 1, 2, 3, or 4 quarter options. The Winter Premium Subscription box comes out in December so it would be the perfect time to start a subscription for your loved one! Use the code EMILY5 to save $5 off your first order!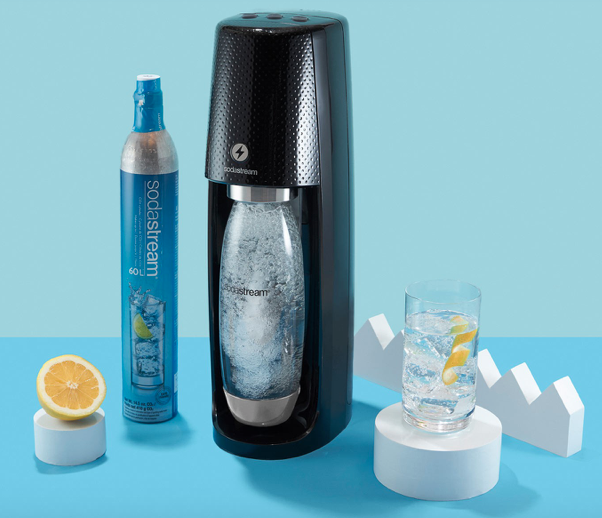 The SodaStream One Touch provides fresh sparkling water with just the touch of a button. This electric sparkling water maker takes tap water from flat to fizzy in just seconds. There are three levels of carbonation to choose from. Sparkling water is a healthy alternative to soda for those that like carbonated drinks. SodaStream users drink 43% more water on average. Flavors can be added to the sparkling water to 'spice it up' as well.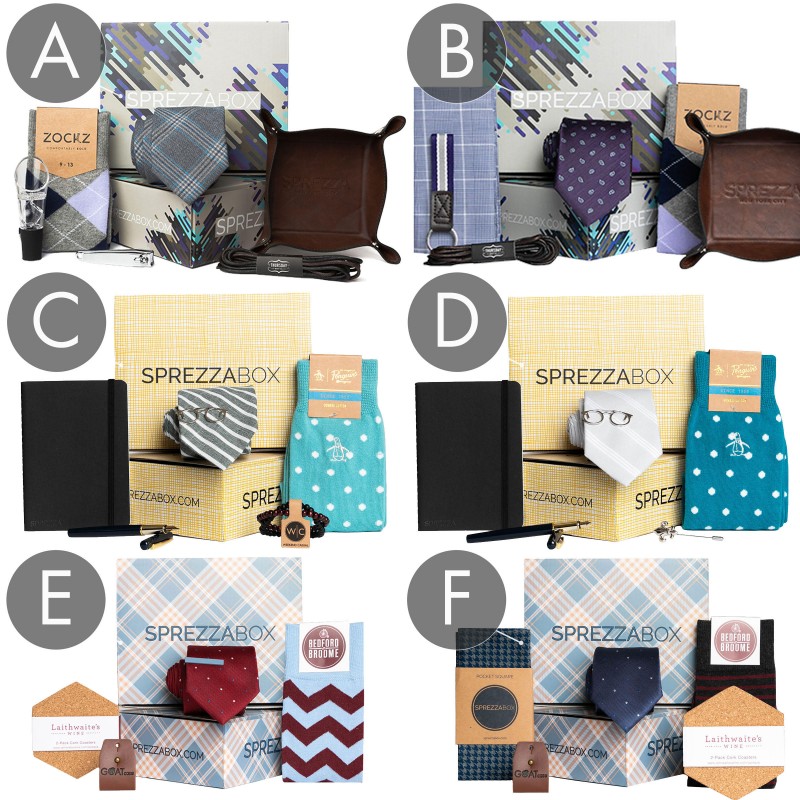 SprezzaBox is a men's subscription service that sends 5-6 fashion and lifestyle products right to your door each month. Each box is guaranteed to be worth over $100 and contains a variety of products to supplement daily outfits. Some of the items in the monthly boxes include ties, tie clips, sunglasses, watches, socks, cuff links, and more. SprezzaBox would make a fantastic gift for any fashionable man (or man who needs a little help with fashion!) this year.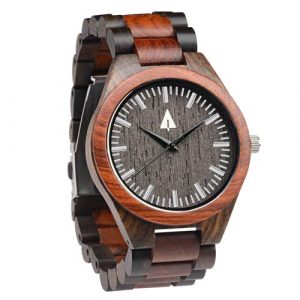 TreeHut's beautiful watches provide the perfect accessory for any style. Whether the man in your life wears a more casual style or a more suit and tie wardrobe you can be sure the Redwood and Ebony Theo watch will fit right in. Rich redwood and elegant Ebony are the perfect compliments to each other. Minimalist design with high attention to detail TreeHut watches are sure to impress, check them out and design your own!
Buy It: TreeHut.com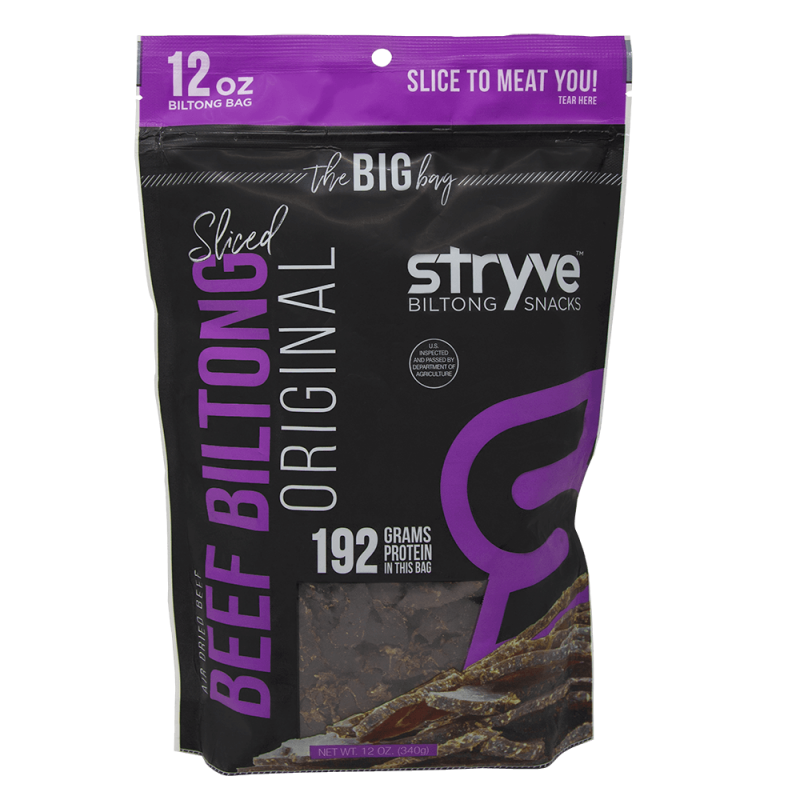 Stryve Biltong is an all-natural, clean-ingredient meat snack that is low in sugar, extremely high in protein, and free from additives. Differentiating itself from jerky and other meat snacks, Stryve Biltong is never injected or soaked in sugar-laden marinades and it is air-dried to retain more of the natural nutrients. It was founded with the passionate purpose of creating delicious and nutritious high-protein snacks that help curb cravings and achieve fitness goals.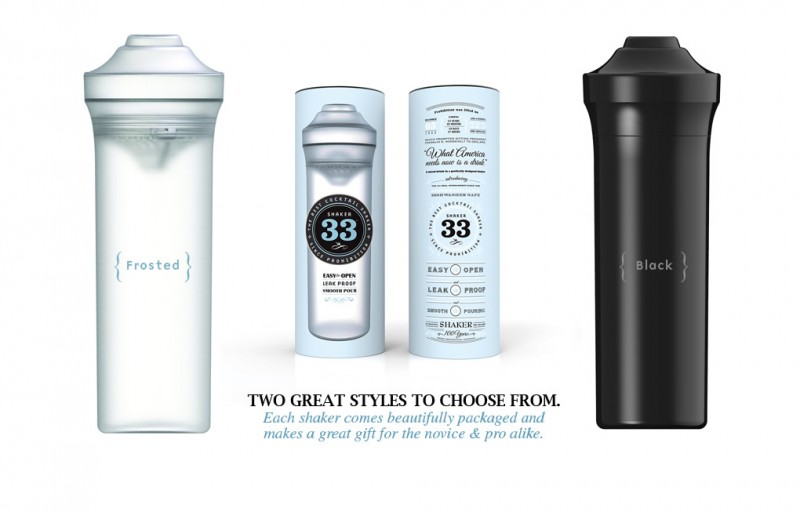 Touted as the "Best Cocktail Shaker Since Prohibition", Shaker33 is an innovative new take on the classic cocktail shaker. Shaker33 has a  locking top that's easy to remove while still eliminating spills. Choose between two strainer sizes depending on whether you'd prefer a fast pour or a finer strain. The patented design chills your drink but not your hand, and the nesting top will keep your counter from getting sticky. Made with quality materials, this cocktail shaker is lightweight, shatterproof, BPA-free, and made in the USA. A great gift for any man who likes to whip up his own cocktails!
Buy it: Shaker33.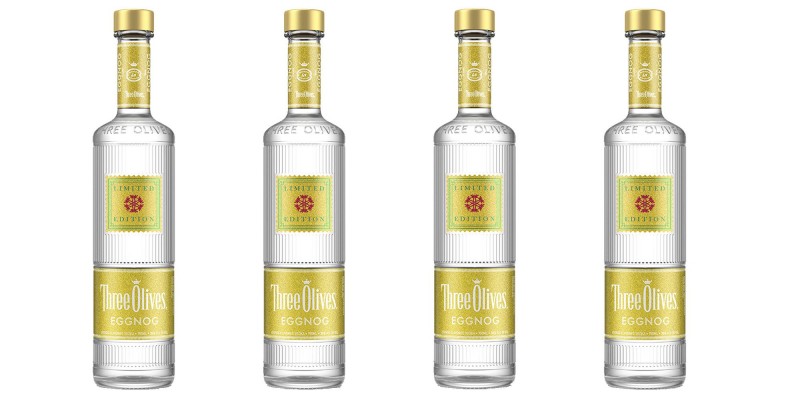 Know someone who loves the holiday season because of eggnog? This year Three Olives Vodka has a limited edition eggnog flavor! It can add a fun twist to your classic eggnog drinks. It would be a nice gift for anyone who lives spirits but it would also work to have on hand for holiday entaining, or as a hostess gift.
Buy it: Use this locator tool to find where Three Olives products are sold near you.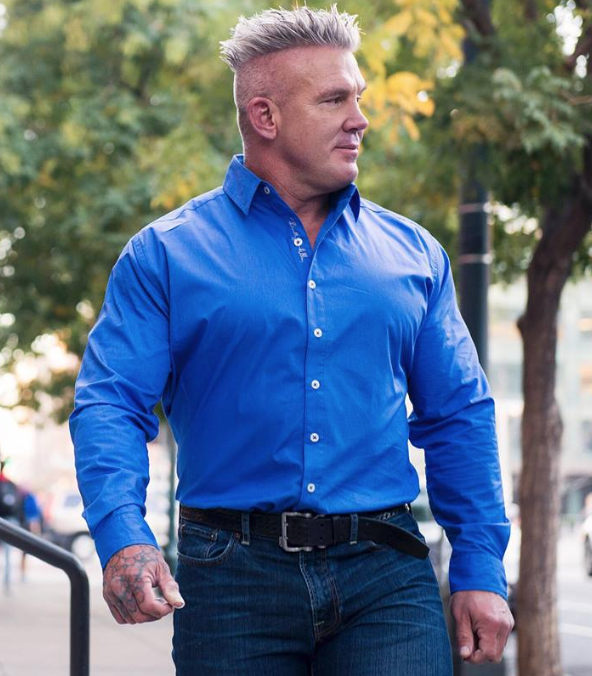 Bradley Allen dress shirts for muscular men offers their formal clothing line specifically made for anyone with a muscular, V-shaped body type.  Perfect shirts that complement a muscular physique and leave men feeling and looking great.  Made from an athletic performance fabric, their timeless and distinguished style is sure to be a wardrobe staple for years to come.  Currently available in black, white, or blue color options.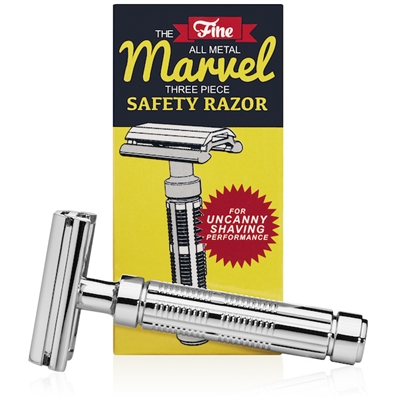 Fine Accoutrements offers customers an assortment of men's grooming supplies. New to the Fine product line-up is the Marvel Safety Razor. The Marvel safety razor is a double edge safety razor. The top of the razor features an arched blade suspended over an oversized safety bar while the handle of the razor has a comfortable and easy to maneuver handle. The Marvel utilizes a traditional design with modern technology, flawlessly.
Buy it: https://www.fineaccoutrements.com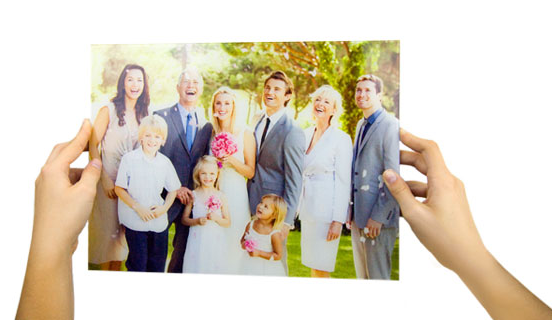 Fracture specializes in printing photos on glass. Just upload your favorite photo and choose the size Fracture you would like – sizes range from small 5 x 5 inches or 4.8 x 6.4 inches up to extra large 21.6 x 28.8 inches. Fractures come in portrait, landscape or square. Fracture prints are frameless. They come ready to hang on the wall, but you can also choose to get them with a stand. A Fracture would be perfect for an office wall or to set on top of a desk.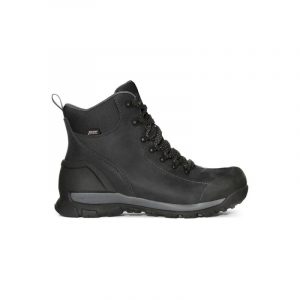 Whether the man in your life works in a  building or outdoors you can be sure that BOGS Foundation Leather Mid Composite Toe boots are sure to keep feet safe, warm and dry. Hundred percent waterproofing and Biogrip outsole are just some of the awesome features of these boots made for hardworking men. No amount of comfort is sacrificed in the design of these shoes. Grab a pair for the hardworking man in your life!
Buy It: BogsFootwear.com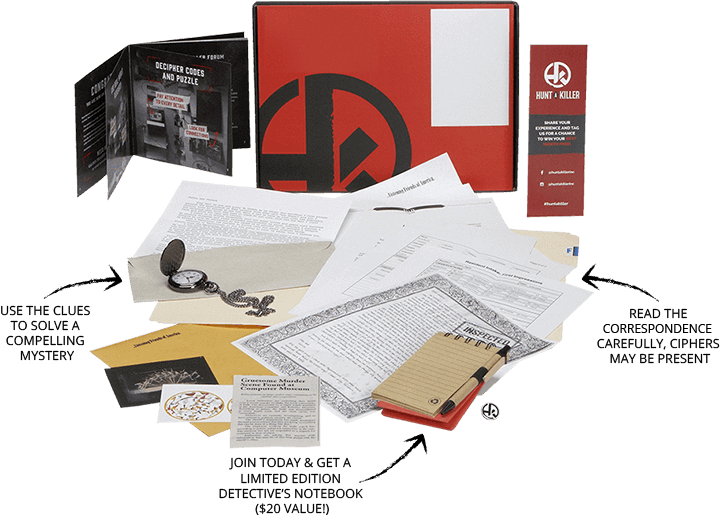 Hunt A Killer is a new take on the subscription box craze, and it's sure to provide hours of entertainment! Each month a fictional serial killer sends you cryptic clues, objects, and letters that you use to solve a crime in real time. The clues are so interactive and convincing that they look and feels real. Hunt A Killer is perfect to play solo, as a date night, or for a game night with friends so you can exchange theories. You can even join the online Facebook community, working with other people who are at the same point in the story as you. This would make a great gift for anyone on your list who loves thrillers and crime stories, or doing their own detective work! Get 25% off your first order with the code HOLIDAY25.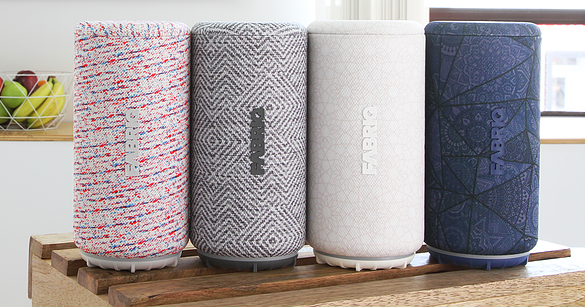 The FABRIQ Chorus is a smart speaker that can connect via WiFi and is enabled with Amazon Alexa. You can connect up to ten FABRIQ speakers to project music throughout your home! Compact and portable, the Chorus is great for a trip to the beach or a backyard barbecue, while also being a great in-home speaker. The battery lasts up to six hours and the Chorus is available in multiple patterns!
Buy it: FABRIQ
Save: Use the exclusive code emily20 at checkout to save 20% on your order!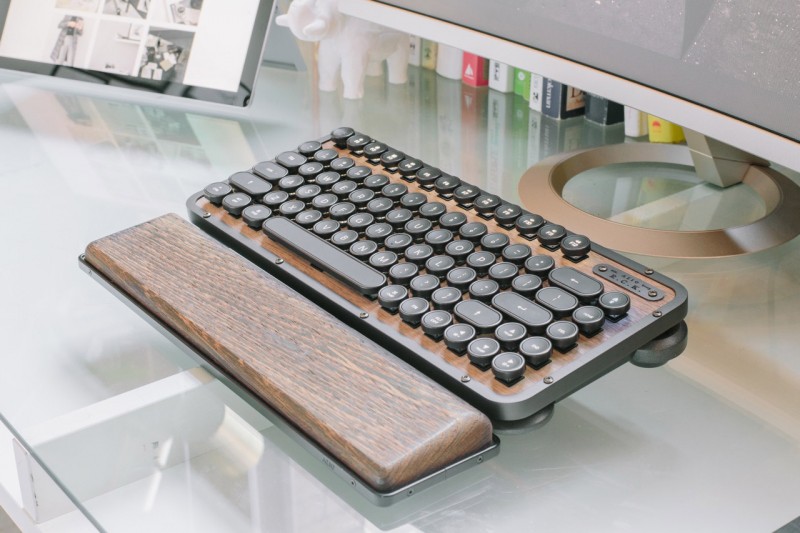 A mechanical keyboard was high on my programmer and PC-gamer boyfriend's wish-list. The Azio retro compact mechanical keyboard looks cool, types smoothly with a satisfying sound, and is solidly built with wood and leather. This compact keyboard is small but contains the all the necessary keys my boyfriend wanted for his computer which he uses for everything from work to gaming to social media.
Learn more: Azio review.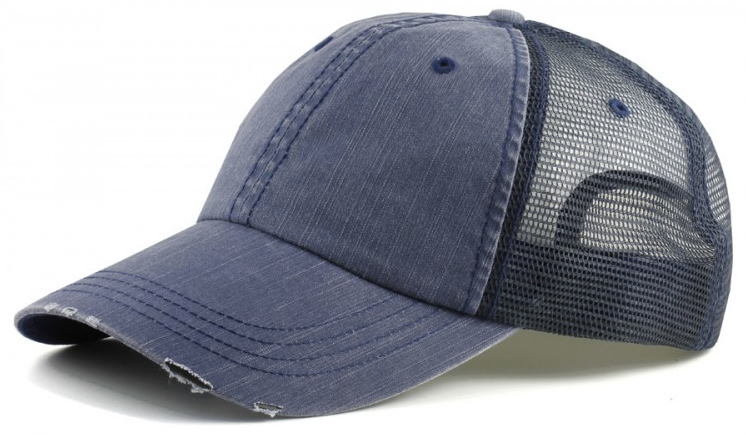 Big head?  No problem!  This Lamood Big Hats Vintage Low Profile Big Head Navy Trucker Hat will fit the bill.  Made from a lightweight, comfortable cotton, your head will stay cool no matter what the weather.  And the relaxed look makes it ideal for almost any occasion.  The "bigger in the crown and wider all around" construction offers a comfortable fit that most men are seeking.  Featuring an adjustable velcro strap in the back, this hat comes in oversized and super oversized options.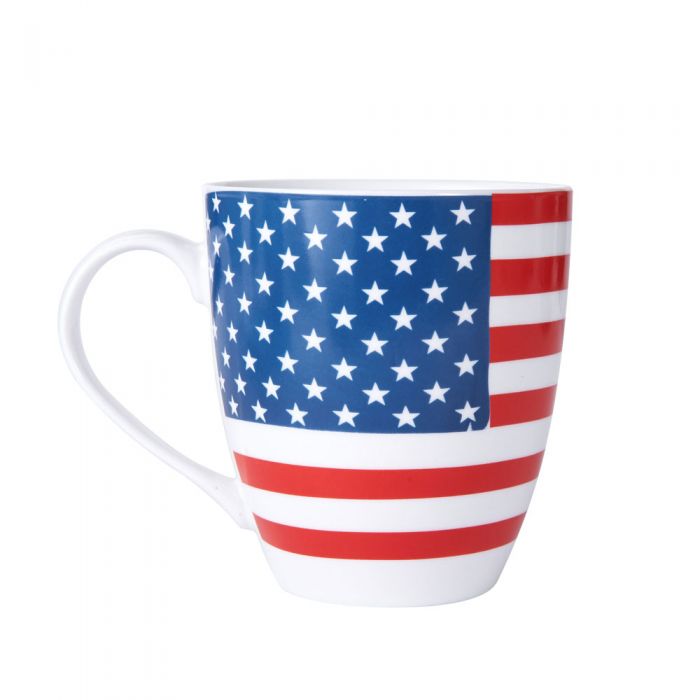 The Pfaltzgraff American Flag God Bless America Mug is the perfect way to show your Patriotism. Ths American Flag image hugs around the mug. Inside the mug, you will spot the saying "God Bless America." The American Flag God Bless America mug is microwave and dishwasher safe. It measures 4-1/2 inch high and holds 18 ounces of your favorite beverage. For a complete gift idea, give the American Flag God Bless America Mug along with a container of coffee, tea, or hot chocolate.
Buy it: pfaltzgraff.com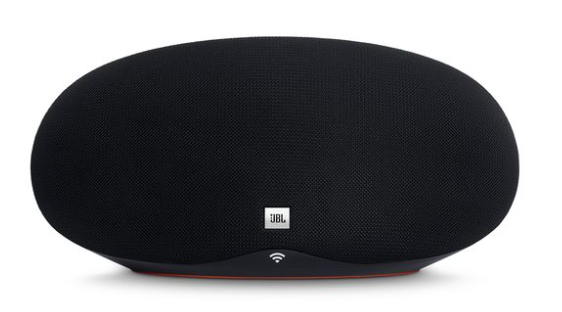 If wanting to gift a speaker to be used in the home, the JBL Playlist is a wonderful choice. The Playlist is the first Google-Cast enabled home speaker in the JBL family. Using only Wi-Fi, users can access their favorite music through listening services such as Spotify and Pandora without the added need of Bluetooth capabilities. The cast button on each of these streaming services allows music to be played through the control of the smartphone without interruptions from texts and phone calls. The JBL Playlist takes the music experience one step further with the ability to connect to other JBL Google-enabled speakers, creating a JBL ecosystem of sound.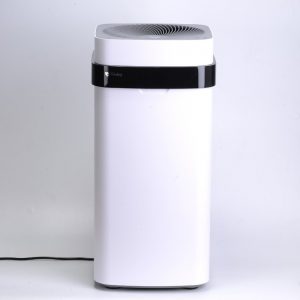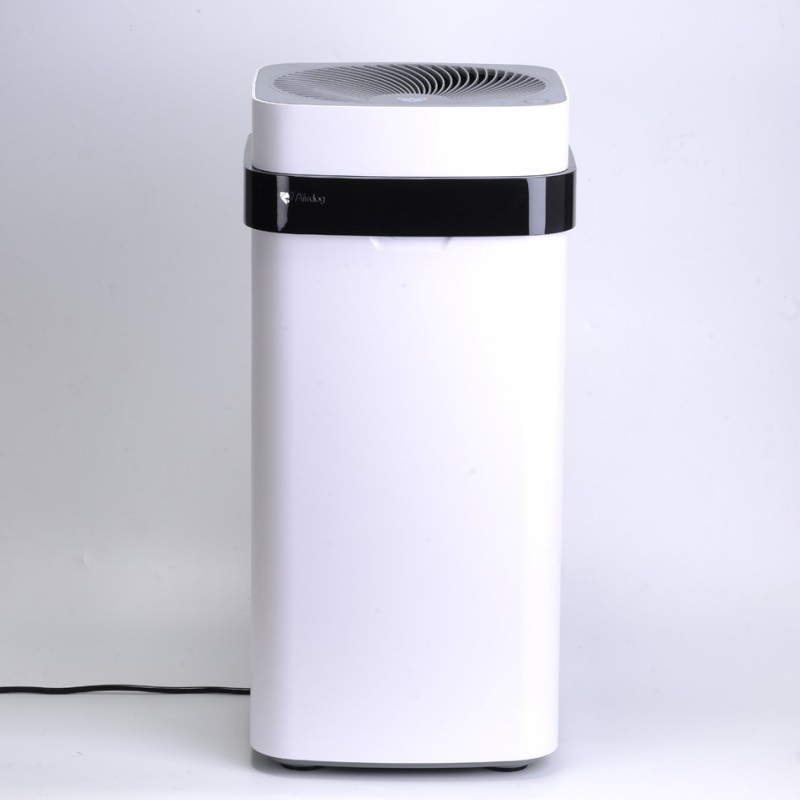 Give the gift of fresh air to the men in your life with Eden Pures AirDog portable home air purifier. With technology that can connect to your smart phone the AirDog is sure to provide men in your life with fresh air whenever its needed. Five stages of air purification will keep the man in your life from breathing dust, smoke, dander, bacteria, pollen, viruses, odors, germs and more. Grab the AirDog and gift fresh air!
Buy It: edenpure.com

Sleeping with a Luxury Weighted Blanket from Rocabi is like getting a giant hug all night long. Weighted blankets have been proven to help problem sleepers looking to get a better nights sleep, and can also be a huge benefit to people who suffer from anxiety or ADHD. In addition to helping with these issues, weighted blankets can also help with insomnia and make you feel relaxed, calm, and secure. They can help you fall asleep faster and stay asleep longer. Engineered to be about 10% of your body weight, Rocabi's blankets come in a variety of sizes to fit your needs. The warm Minky cover is SO soft and the blanket is 100% hypoallergenic with non-toxic glass beads as the filler.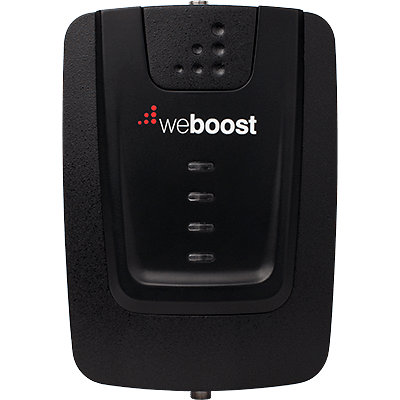 The weBoost Connect 4G is an indoor signal booster. If you don't get strong signals to your phone at home or at your office, this can help. It can increase cell signals up to 32x and enhances 4g LTE and 3G signals. It's not limited to any particular carrier, it works for all cell phone carriers in the US. Giving a WeBoost Connect 4g means you are gifting more reliable cell signal and more consistent data speeds, improved voice and data signal, faster data downloads and up to 2 hours of additional talk time in weak signal areas. Who wouldn't want that?
Learn more or purchase: weBoost.com.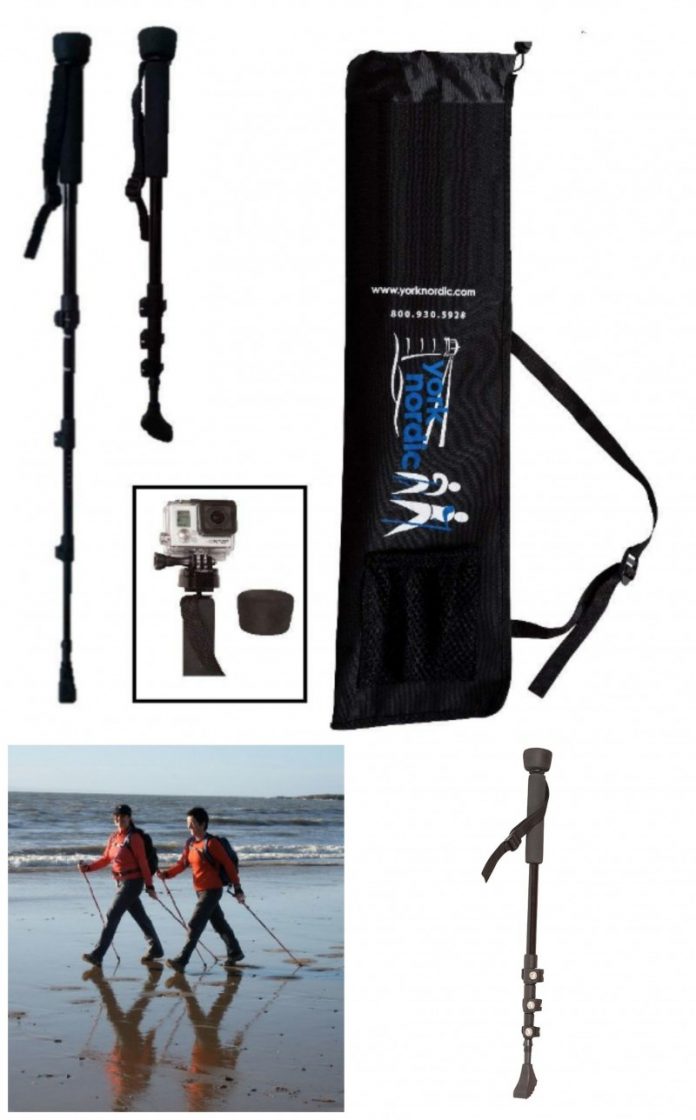 If you're looking for a unique set of walking poles, these York Nordic Collapsible Trekking and Hiking Poles are it.  Featuring high quality engineering with an elegant design, these adjustable lightweight poles are made from high grade aluminum.  The exclusive flip locks quickly snap and stay in place.  And more than just a walking pole set, they also have a built in camera mount.  Each set comes complete with: 2 poles with grips and camera mount, detachable rubber feet with tungsten steel tip underneath, and screw on snow baskets.  They won't disappoint!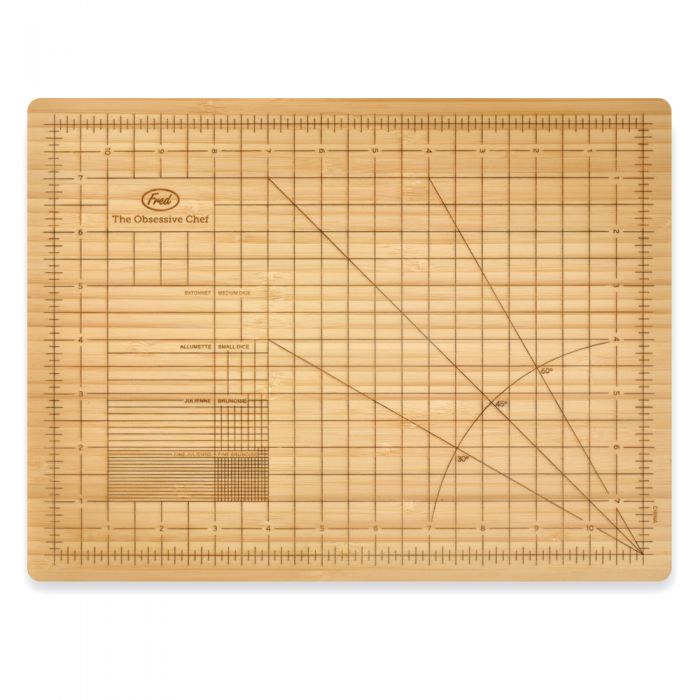 Genuine Fred's Obsessive Chef cutting board is perfect for the passionate chef. This 9×12 inch cutting board features a variety of measurements for exacting detail. The Obsessive Chef cutting board is made of strong and sustainable bamboo. For a complete gift idea, give the Genuine Fed Obsessive Chef cutting board along with a set of chef's knives.
Buy it: genuinefred.com

Personalized gifts can't be beat. At Album Envy you can make personalized photo books and photo albums. The Album Envy site is super easy to use. Just download your digital or scanned photos. Album Envy can auto design your album with their intuitive design software, then you can make changes and add wording as you wish. Album Envy's expert printmakers use gold-standard photographic printing on portrait-grade paper, ensuring your images display true-to-life colors and ultra-sharp clarity.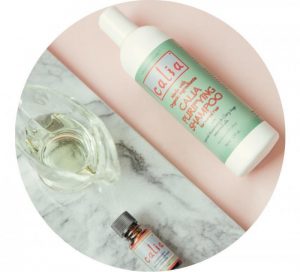 If the man in your life cares about the products he puts on his body be sure to make a stop over at Calia. All natural shampoo and body wash are perfect gifts that not only clean but clean in a nontoxic way. Fragrance free and fragranced varieties are available as well as skin care too! All natural bodywash is the perfect gift for any man this year go grab some from Calia.
Buy It: calianatural.com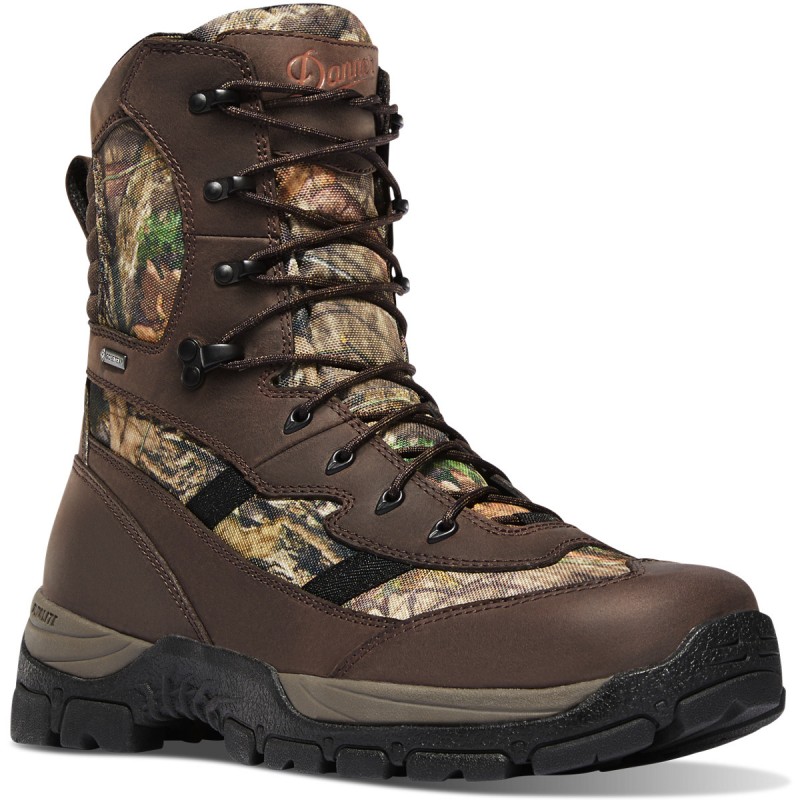 These Alsea Mossy Oak Break-Up Country Boots are sure to impress any man on your list who enjoys spending time outdoors. With 600G PrimaLoft Gold Insulation, these boots offer best-in-class insulation for repeated compression and durability, making them the go-to choice for insulated footwear. With Gore-Tex waterproof protection, this boot is also perfect for unpredictable weather. The speed hook lacing, Danner Plyolite™ midsole and the grippy traction of the Alsea outsole mean that there's no terrain too intimidating. This boot provides an excellent fit and lightweight technologies. Using dramatically larger limbs, leaves, bark, branches and other digitally enhanced natural elements, the Break-Up Country pattern helps you blend into your terrain. Choose to purchase with or without insulation depending on your needs.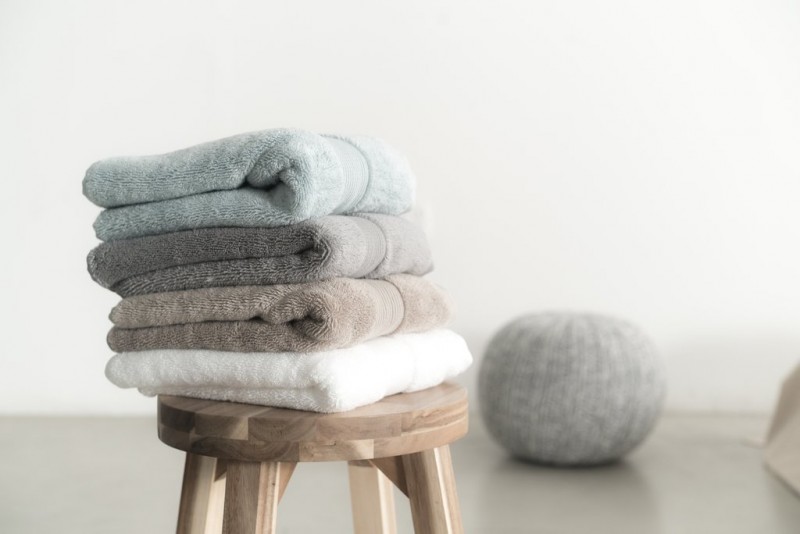 Normal towels are a breeding ground for bacteria which can cause odors and acne. Thanks to the silver in Miracle brand towels, 99.9% of bacteria is eliminated through ionization. They also dry twice as quickly making laundry easier. You can purchase towels, hand towels or wash cloths, or buy a 6-piece bath towel set to save 15%! They come in four colors.
Buy it: Miracle brand. Use code HOLIDAYMIRACLE to save 15% on your whole order!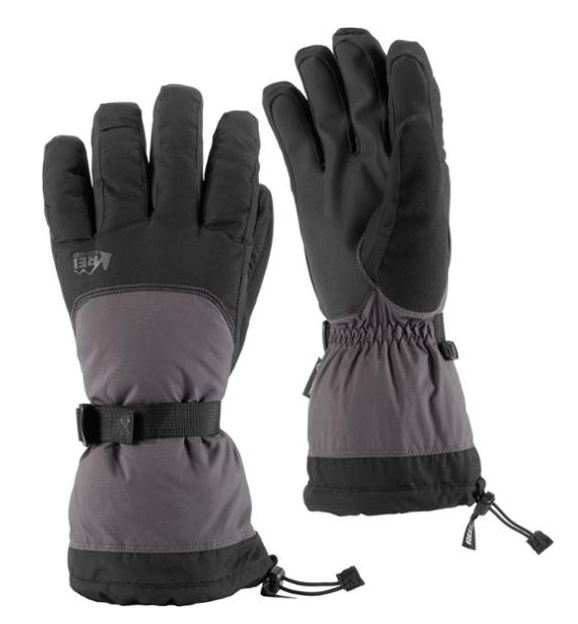 Every man needs a pair of high quality gloves and look no further than the REI Co-Op Gauntlet GTX Gloves.  These gloves feature a waterproof, windproof, and breathable Gore-Tex® shells.  But on the inside, you'll find lightweight synthetic insulation and breathable fleece linings.  Plus, the long cuffs keep wrists warm and dry while the drawcords allow for a custom fit.  And for those techies out there, you'll also find that the Gauntlet GTX Gloves have touch-screen compatible finger and thumb.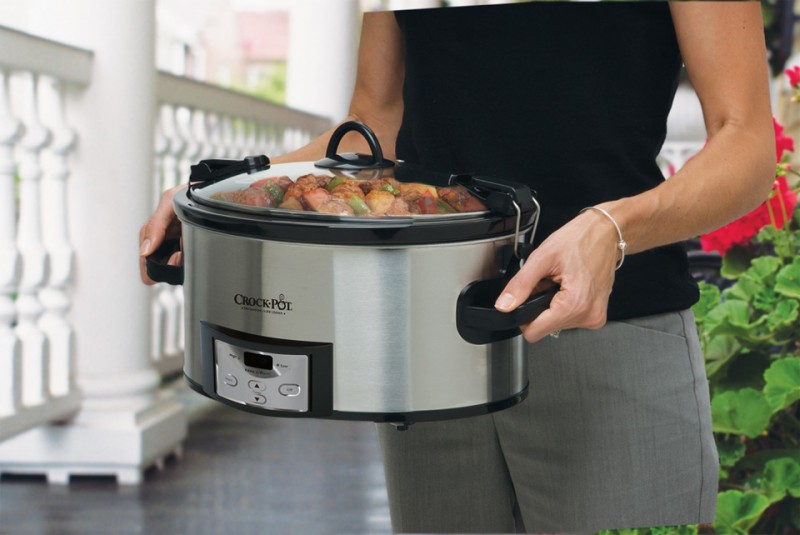 With a Crock-Pot 6.0-Quart Cook & Carry Slow Cooker you can take your slow-cooked meal with you where ever you go. The Cook and Carry Slow Cooker has a digital control that allows you to easily program cook-times. Once the cook-time is complete, the slow cooker automatically turns to the warm setting. The Cook and Carry Slow Cooker has a locking gasket lid that keeps your meal secure and reduces messes. It also has two carrying handles that make transportation easy. Once you arrive at your destination, the removable oval stoneware doubles as a serving dish.
Buy it: crock-pot.com or Amazon.
Win it: Follow this link to enter to win a Crock-Pot 6.0-Quart Cook & Carry Slow Cooker.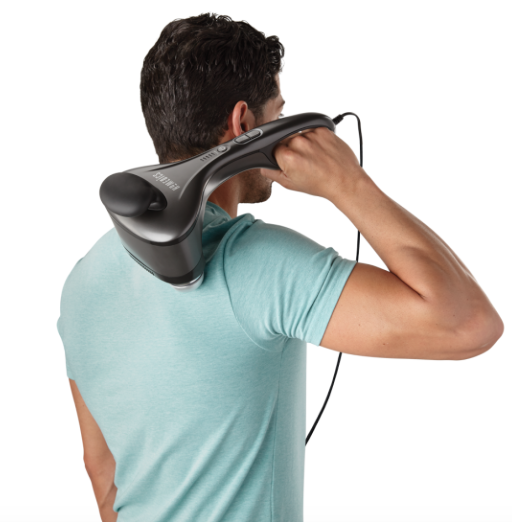 For the guys on your gift list, how about the HoMedics Dual Temp Percussion Pro Hot & Cold Massager? It features hot and cold Peltier technology to deliver instant cold or heat and enhance the massage experience. The dual head percussion delivers a deep, targeted massage, while the three interchangeable massage nodes offer customization. The Dual Temp's front-grip handle and ergonomic design make it easy to reach hard-to-get spots. The nodes go to work on stress and tension knots, loosening them while simultaneously invigorating and rejuvenating the entire body.
Buy It: HoMedics or Amazon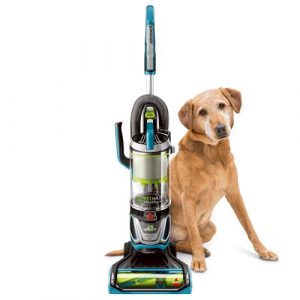 If you know a man who loves pets but doesn't love pet hair be sure to check out Bissell's Pet Hair Eraser Lift Off Upright Vacuum. With so many features including a febreeze scented filter you can be sure pet odor and hair won't be an issue for the man in your life. Small crevice tools and a powerful suction leave no stray pet hair floating around on couches or floors. Gift the gift of a pet hair free home to a man you know!
Buy It: bissell.com or Amazon.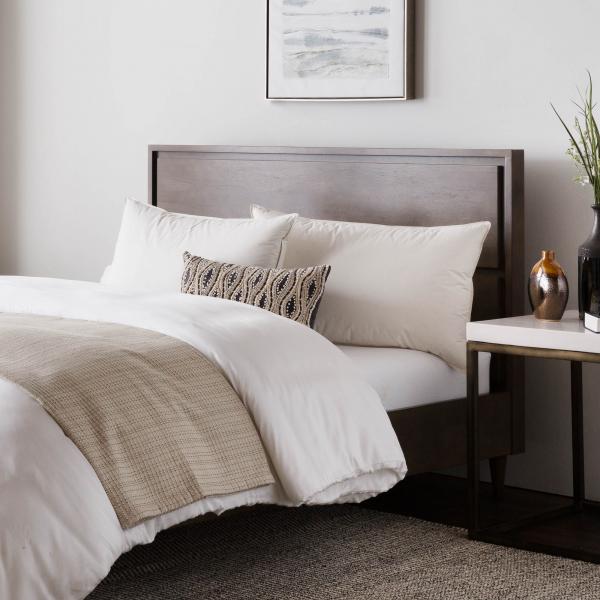 If you know a man who needs to get better sleep at night, consider getting him a Z TripleLayer Down Premium Pillow from Malouf Sleep! Filled with plush down clusters and a feather support core, this pillow is the stuff of dreams! The top and bottom layer are both 90% down and 10% feathers, and are responsibly harvested products. The gorgeous, natural cover is 100% unbleached, undyed cotton with a breathable percale weave.
Buy it: Malouf Sleep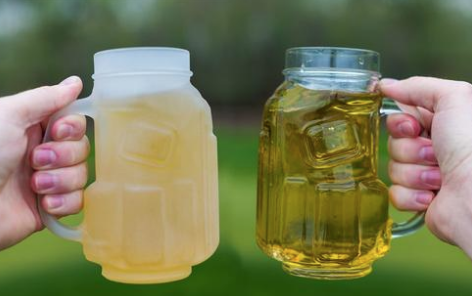 Grab a set of these GimmeeGolf Bag Beer Mugs for a unique gift this year.  This patented glass comes designed in the shape of a golf bag and features intricate details.  It's a beer mug that is truly worthy of the 19th hole celebration!  You'll find a perfect combination of style, function, and quality, all wrapped into these awesome mugs.  Definitely a great gift for all the golf lovers in your life this year.  Buy them in singles or in pairs.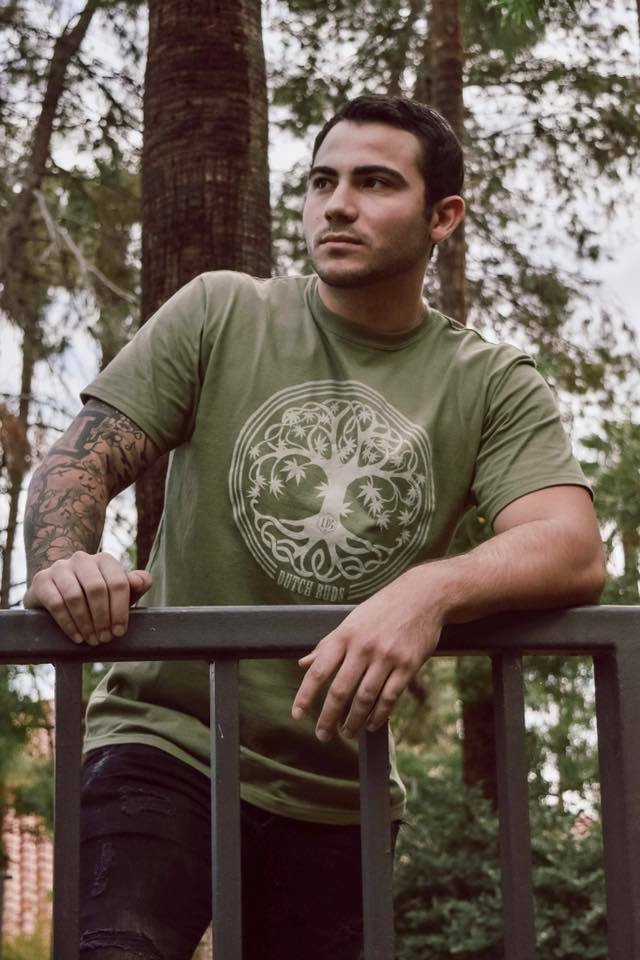 .
Dutch Buds specializes in organic, hemp, and recycled clothing and accessories. One of their best selling items is the Plant Of Life t-shirt. The Plant Of Life is a symbol of growth and strength. It is about embracing every stage of life. The men's Plant Of Life t-shirt is made with 100% Organic cotton. It is available in olive or charcoal colors.
Buy it: https://www.dutchbuds.com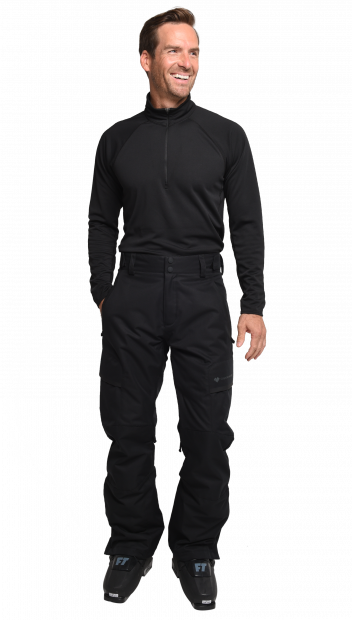 Rough and tumbling in the snow you can be sure the Orion Men's Snow Pant will keep the men in you life not only dry but warm as well. 100% polyester strong weave waterproof fabric is durable enough to last you many seasons of winter fun. Reinforced seat and knees mean that the areas that take the hardest hits won't be fazed! Gift a pair of these snow pants from Obermeyer and be sure that the men in your life are warm on the coldest of days!
Buy It: obermeyer.com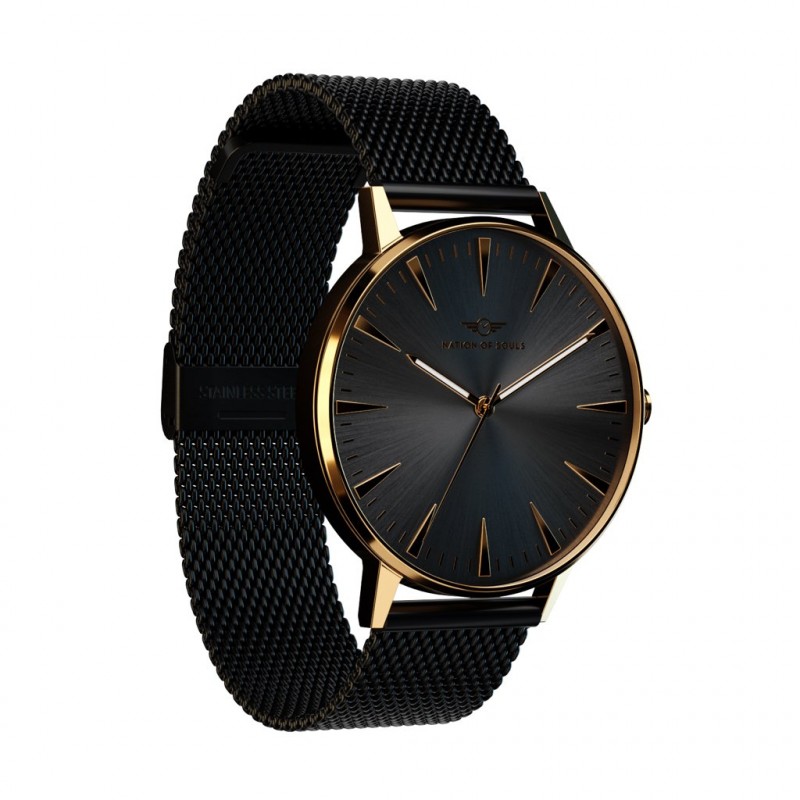 The Argo Watch in Gold Gloss-Jet Black from Nation of Souls has a classic design with a contemporary twist. It features a sunray dial as well as diamond cut 3D hands, with Swiss Super Lumi Nova® luminosity. With a Swiss Ronda Quartz movement and Premium Sapphire Crystal, this gorgeous watch will please any man on your list. This timepiece has a stainless steel band that is easy to adjust for comfort. It also comes with a beautifully crafted case to put under the Christmas tree!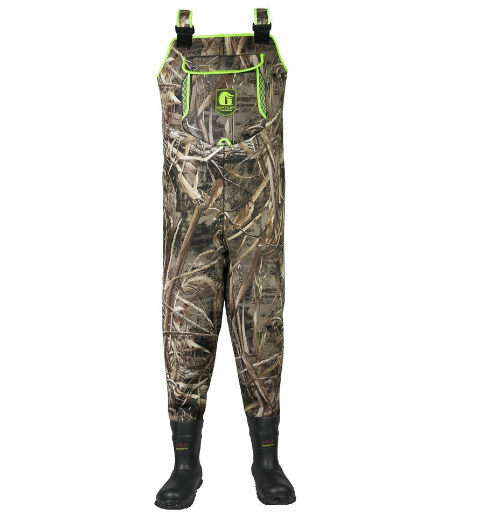 Do you have a hunter, fisher, or outdoorsman on your list?  Head over to Waders.com to check out their Gator Waders Retro Series Neoprene Waders – Realtree Max-5/Lime.  New to their 2018 line up, these neoprene waders will not disappoint.  Featuring adjustable neoprene straps, high-rise design for maximum coverage, large chest pocket with velcro closure, and a hoodie style hand warmer pocket, these waders are packed with potential.  Super comfortable too, they offer an extended inseam for maximum mobility.  You won't be disappointed!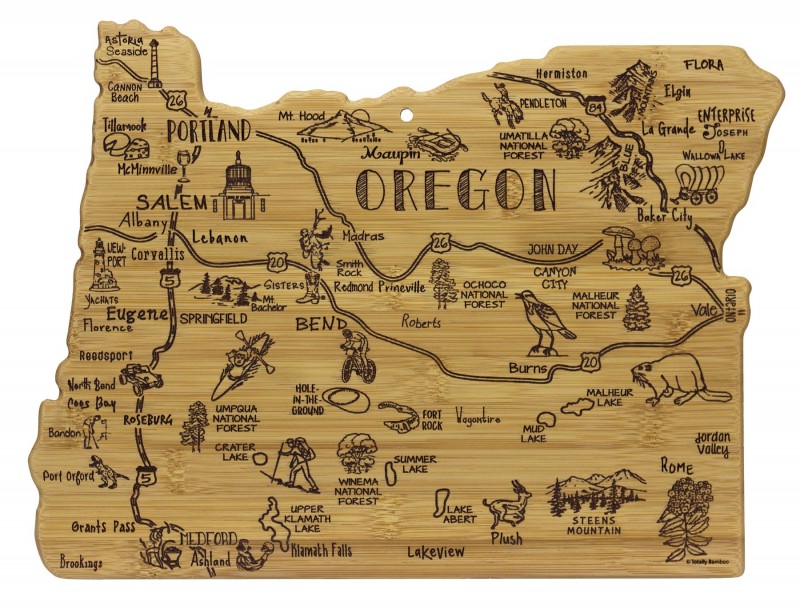 Totally Bamboo specializes in sustainable and high-quality bamboo products. Totally Bamboo has a new line of destination cutting boards. Each board features a different state and its recognizable points of interest, cities, historic landmarks and noteworthy roadside attractions. Give him a destination cutting board from his home state or a state with special meaning. For a complete gift idea, give a destination cutting board with a chef knife and/or other kitchen tools from Totally Bamboo. To learn more about Totally Bamboo, read my full review and enter to win the giveaway.
Buy it: totallybamboo.com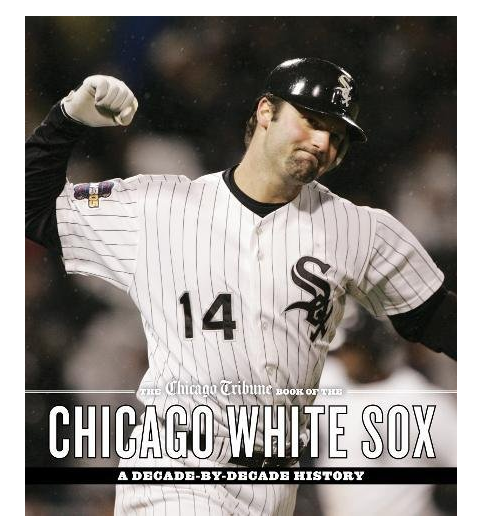 Baseball fans take note!  This "The Chicago Tribune Book of the Chicago White Sox" is a decade-by-decade look at the history of one of the American League's original eight teams!  Start right back at the beginning of the story when franchise's Windy City beginnings first came to light.  Back then, in 1900, they were known as the Chicago White Stockings.  Travel through time as you turn pages and you'll end with the current team.  This nicely constructed book includes pictures and facts and will enthuse any baseball fan.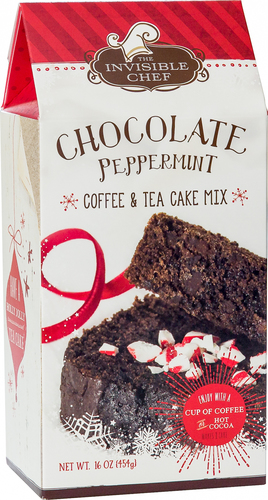 The Invisible Chef creates wholesome baking mixes. One of the seasonal favorite flavors is the Chocolate Peppermint Coffee & Tea Cake Mix. You may choose to give him an already baked Chocolate Peppermint Coffee & Tea Cake or give him the box mix to prepare himself. Either way, he will love the cake! For a complete gift idea, give The Invisible Chef baking mixes in a mixing bowl with an Ichef Spatula. To learn more about The Invisible Chef, read my full review and enter to win the giveaway.
Buy it: shop.theinvisiblechef.com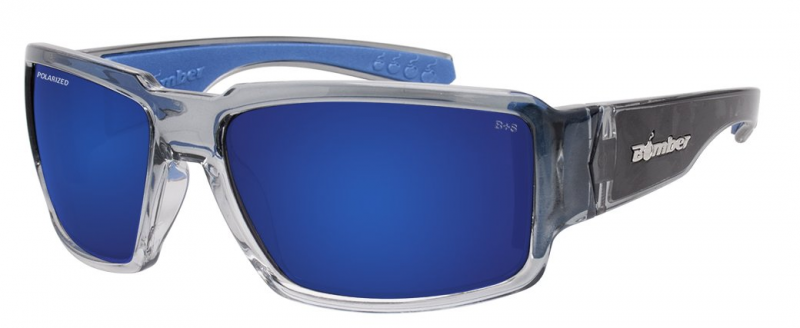 No longer will the outdoorsman in your life have to worry when near the water.  The Bomber Floating Eyewear Boogie Sunglasses will keep him covered.  Stylish and fun, they features a 2-tone smoke frame, blue mirror polarized lens, and blue foam.  They feature a patented technology and no other floating eyewear provides the same superior buoyancy of EVA foam, period!  And designed to prevent dry eye, they feature just enough foam at the hinges which keeps the vortex of dust and dry air from forming near your eyes.  Guys love them!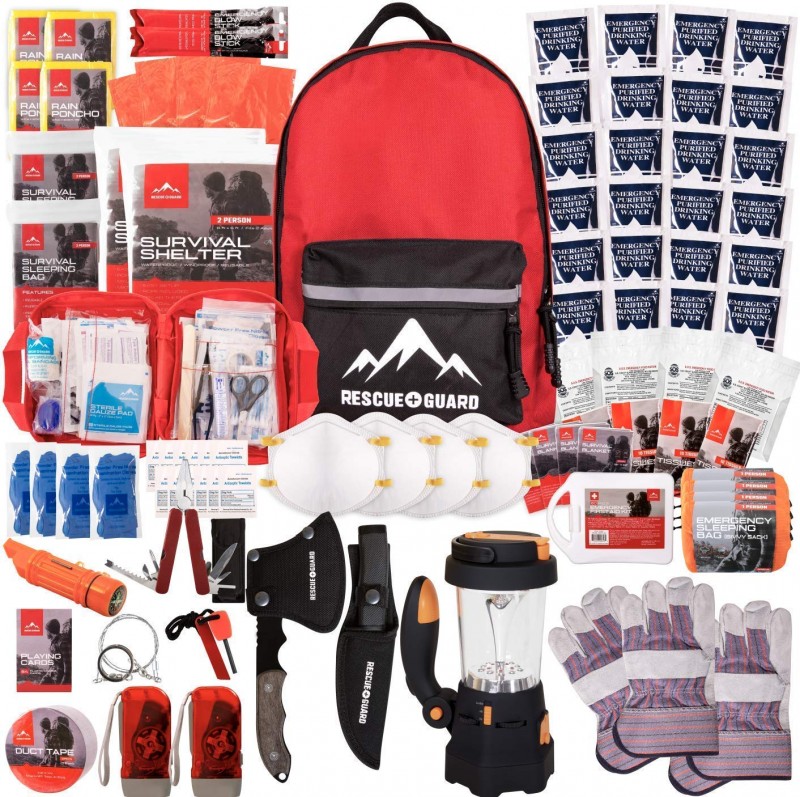 This holiday season, Rescue Guard wants to give you the gift of preparedness and peace of mind. We never know when disaster is going to strike. Being prepared, having a plan, and stocked supplies are the best that we can do. To show him you care, give Rescue Guard's Intermediate Survival Pack. It contains food, water, First Aid kit and all the supplies needed for up to 12 days for a single person or 6 days for 2 people or 72 hours for 4 people. Not only are these packs good for disaster preparedness but, are also great for outdoorsmen. To learn more about Rescue Guard, read my full review.
Buy it: https://www.amazon.com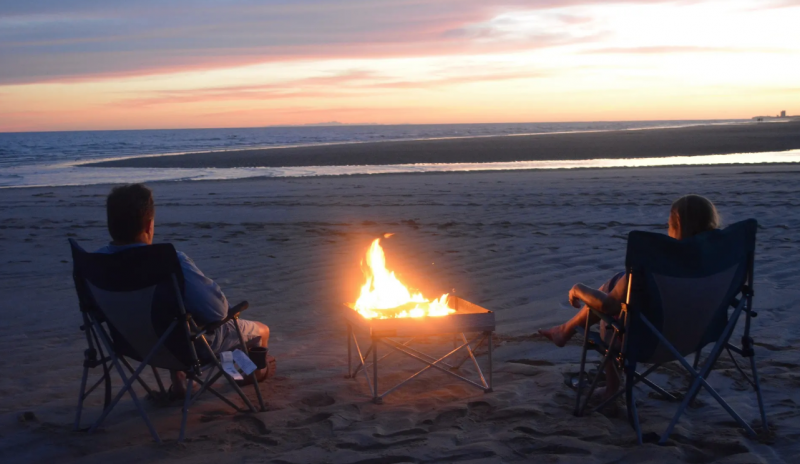 Now you can make a campfire any time and any where with the help of your Fireside Outdoor Pop-Up Pit.  It folds up smaller than a camping chair and weighs in at less than eight pounds, which makes it extremely portable.  Designed to hold full sized logs, it can actually hold up to 125 pounds!  So you can build a big fire that is sure to keep you warm.  And the entirely rust proof design also allows it to cool within 90 seconds which means you can clean up, pack up, and head back out on the road in no time.  Perfect for: RV, Cabin, Camping, Tailgating, and more.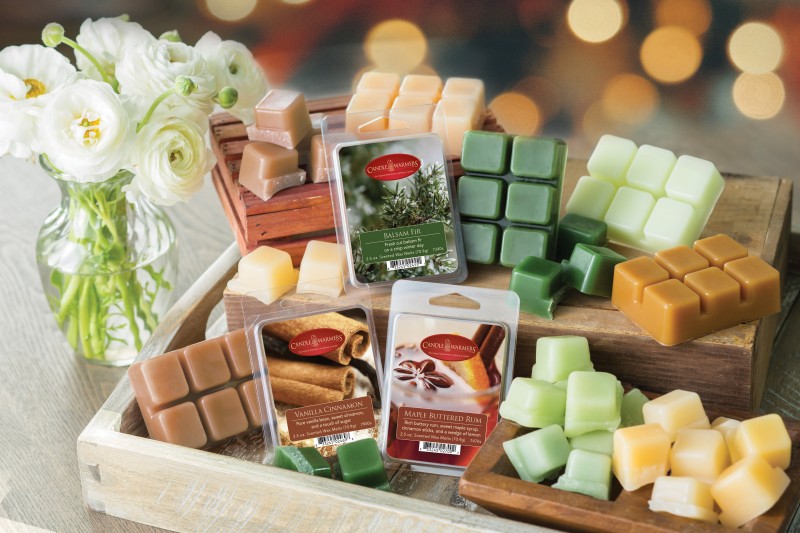 Candle Warmer Etc. offers an assortment of deliciously scented wax melts. The new Mahogany Teak wax melt has masculine scents of mahogany, teakwood, and light floral undertones. Candle Warmer Etc. wax melts are made from high-quality paraffin wax. Paraffin wax provides a clean and long-lasting fragrance. Candle Warmer Etc. wax melts are available in both a 2.5 oz and 5 oz sizes. To learn more about Candle Warmer Etc., read my full review and enter to win the giveaway.
Buy it: Candlewarmers.com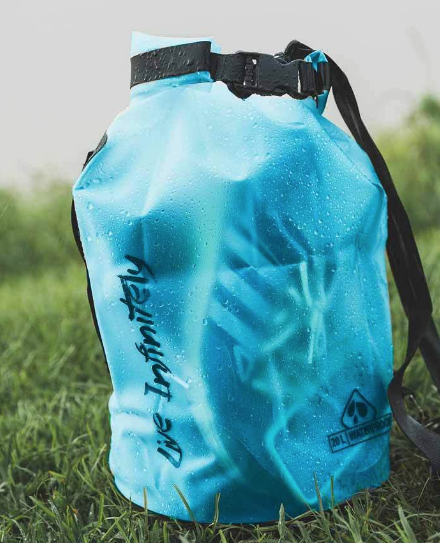 For those water and adventure lovers, this 20 Liter Waterproof Dry Bag will help them along their adventures.  It offers complete water, dust, and snow protection for all your valuables when you head out on the lake, for a hike, skiing, or on any of your outdoor adventures!  Constructed from a durable and flexible TPU material.  This bag provides reliable protection while also giving you the premium, soft feel you want.  The reinforced handles and bottom along with tear proof seals gives you worry free use.  And the transparent material even lets you check on your goods without opening.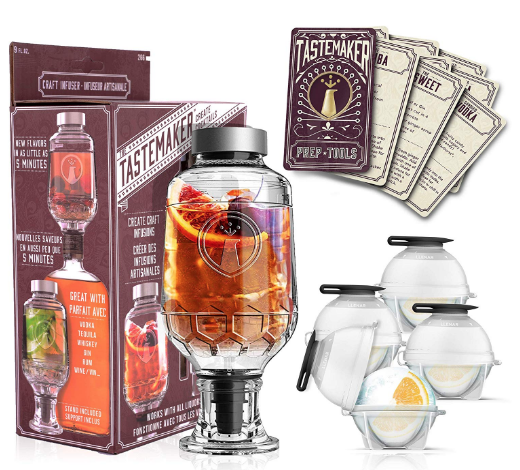 Are you looking for a complete cocktail infusing set?  Look no further!  The Tastemaker Cocktail Shaker Infuser Set has it all!  Everything you need to make your own homemade infused spirits including: infuser with a built in stainless steel mesh filter, perfectly shaped rounded Ice ball molds, + 10 Exclusive Drink Recipes.  This awesome Tastemaker Kit allows users to create their very own spellbinding concoctions all-the-while managing the purity and honesty of the infusion ingredients.  No strange flavorings or additives to worry about.  Personalize it to your own unique taste.

If you're struggling to come up with the ideal gift for the man in your life, ask him to create a Christmas wish list on giftYou. giftYou is a universal registry site. From giftYou, you can create a wish-list with items from retailers all over the web. If he makes a registry, you'll have a wide range of items to choose from that you are 100% sure he will enjoy! Plus, if he shares the list with others, they can mark items as purchased regardless of where they buy from. This way, there is no fear of double-buying gifts.
Looking for even more gift ideas for men?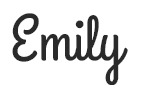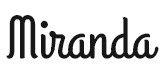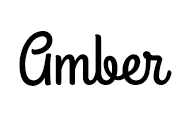 Hi there! I am Emily Evert, the owner of Emily Reviews. I am 28 and live in a small town in Michigan with my boyfriend Ryan and our two pugs. I have a large family and I adore my nieces and nephews. I love reading memoirs, and learning about child development and psychology. I love watching The Game of Thrones, Teen Mom, Sister Wives and Veep. I like listening to Jason Isbell, John Prine, and other alt-country or Americana music. I created Emily Reviews as a creative outlet to share my life and the products that I love with others.
This post currently has 12 responses.