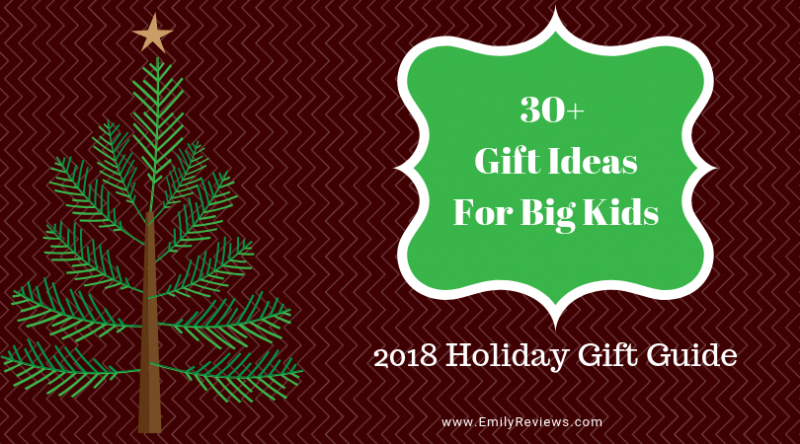 Emily Reviews writers were sent samples from brands in exchange for our holiday gift guide. There are affiliate links in this post. All opinions are our own.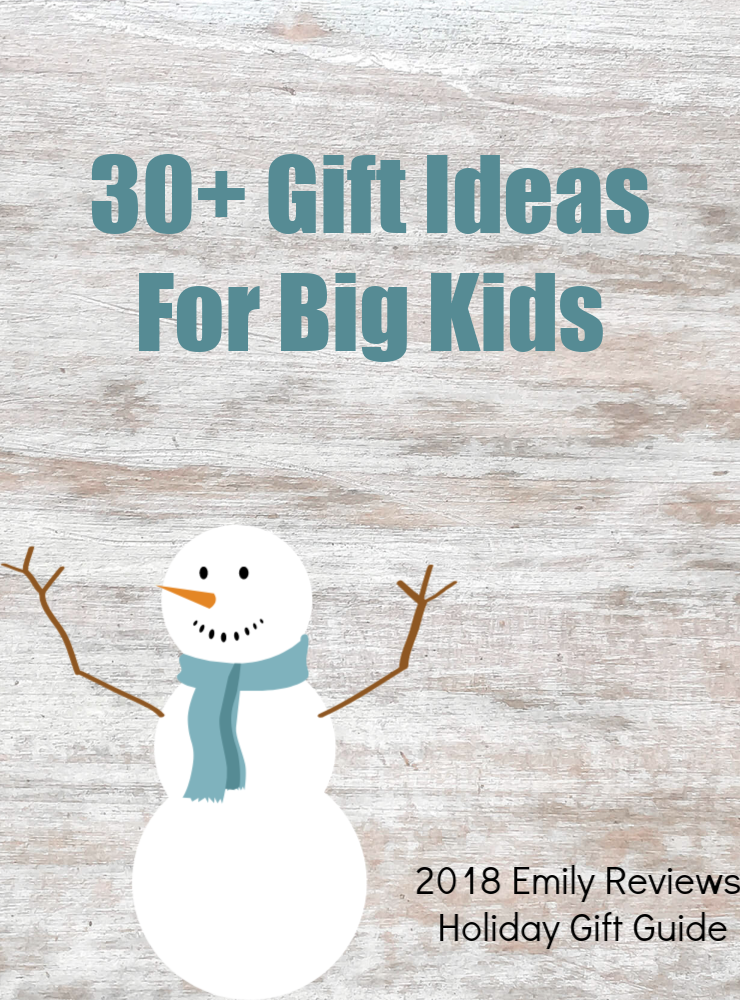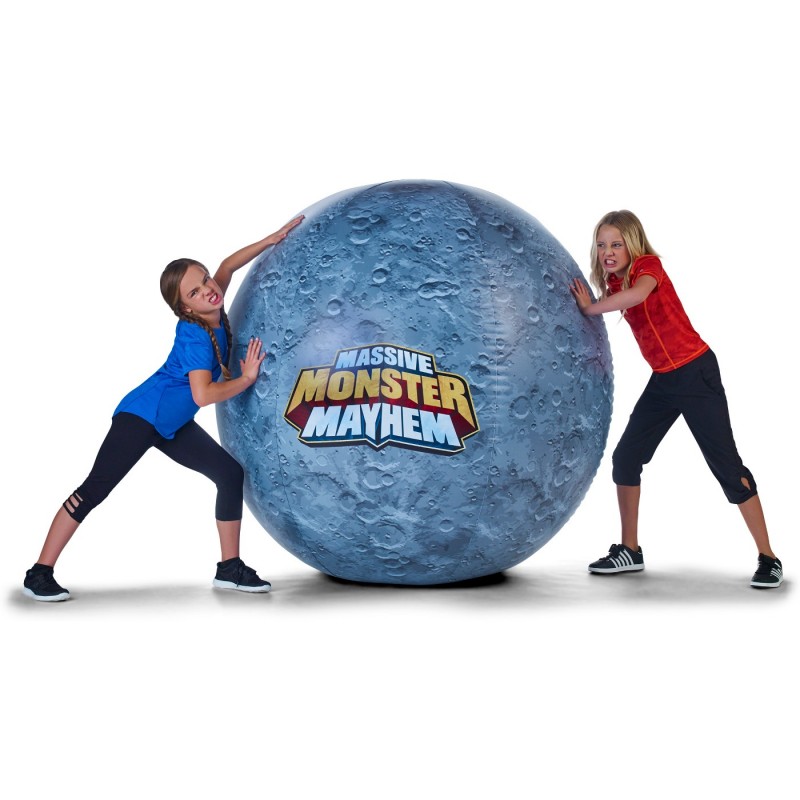 Massive Monster Mayhem is a fun kid's show featuring competitions with part live-action and part CGI animation. It's lots of fun for kids to watch. Massive Monster Mayhem has some toys available at Target stores that take props from the show and make them accessible to kids, including this massive moon ball which is seen on the show. This is 5 feet across when inflated, so it's hard to express how BIG it really is in person. It is a blast to use outside and to roughhouse with. Find it at your local Target.
Buy it: Target

Monkey Moves Game is a card game geared to get people moving!  Based on the idea that movement-based activity is physically and psychologically beneficial.  This is the ultimate game geared to test your trust, coordination, and ability to have fun.  To play, pair up with a fellow monkey and get ready for your body moving to mimic the monkey moves on each card.  There are three different levels of difficulty, with higher level moves being worth more points.  Super fun, get up and get moving today!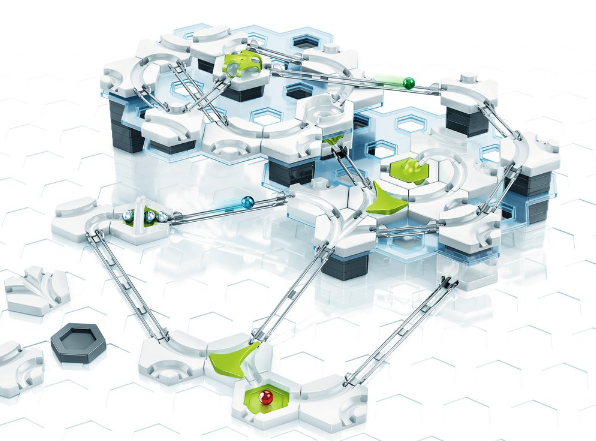 For the creative, hands on kids, teens, and even adults on your list, you are going to want to check out GraviTrax.  With this interactive, innovative track system and marble run, you can design and build your own race however you'd like.  And to make it bigger, better, and even more cool, there are a variety of add-ons and extensions.  Including the Magnetic Cannon, Looping, and Hammer, as well as Building and Trax Expansions.  Endless combinations makes for unending play.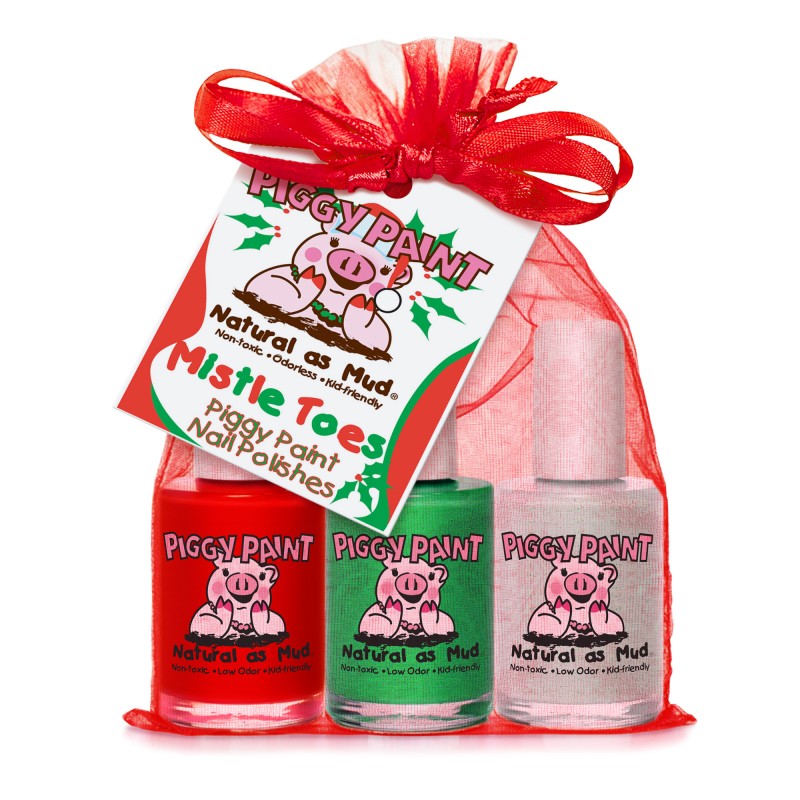 Piggy Paint is a nail polish that is completely free of all the yucky stuff. It is non-toxic, odorless, water-based, hypoallergenic, and kid-friendly. The Piggy Paint Mistle Toes gift set includes three polishes in festive colors- Sometimes Sweet, Glass Slippers, and Eat Your Peace. Piggy Paints come in a rainbow of colors. They also offer nail decals, mani/pedi tools, and other fun accessories. To learn more about Piggy Paint, read my full review.
Buy it: Piggypaint.com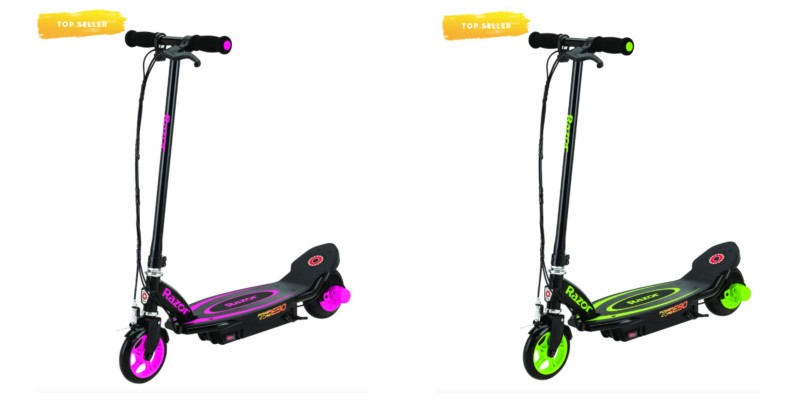 The Power Core E90 Electric Scooter from Razor is sure to get your school-age kids off the couch and outside. This scooter boasts up to 75% more battery life than other electric scooters. Kids can get up to 70 minutes of extended drive time. The Power Core E90 goes an amazing 10 miles per hour! It features a push-button throttle and a kick-start in-wheel hub motor. The Power Core E90 is maintenance free and energy efficient. It has a steel frame is light weight and has increased torque take performance to the next level and please any child. Made for ages 8 and up. Razor also has a wide range of other scooters and outdoor toy options to check out.


Mindware's platform swing is the perfect gift for any kid who love to be in the outdoors. The swing is large in size, so your children can swing, stand or relax and read even on this comfortable tree swaying platform. An attachable cushion also does a great job of making the swing gentle on the body and long staying sit time. So much more versatile than the average tire swing! Grab one for the big kid in your life!
Buy It: mindware.orientaltrading.com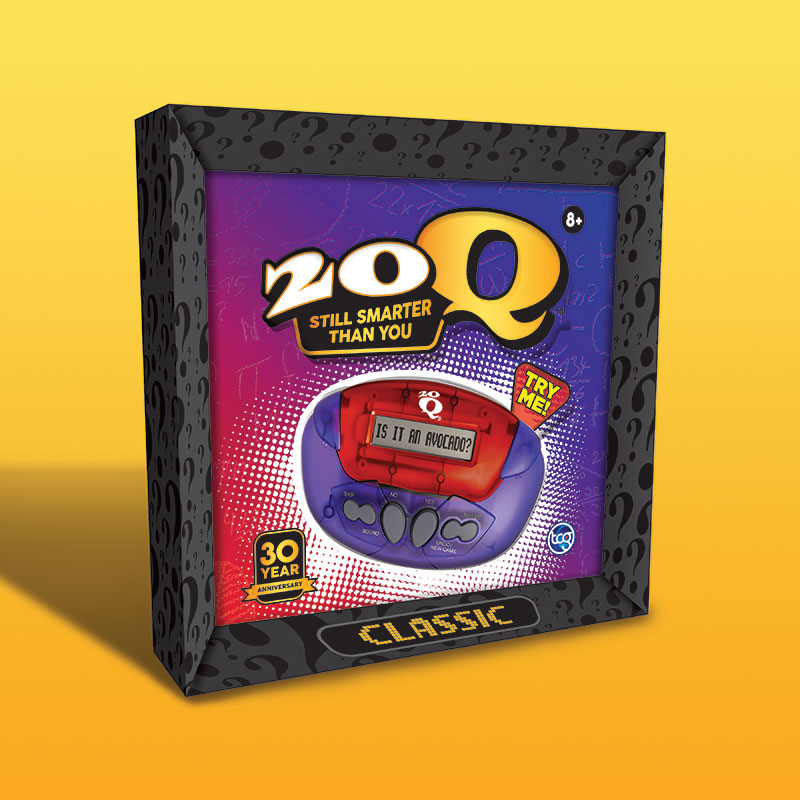 20Q is the game that's still smarter than you and it's celebrating its 30th anniversary! This unique game is powered by up to the minute artificial intelligence. It's exceptionally smart and slightly addictive all at the same time! In this original version, 20Q will guess anything you are thinking. You will be amazed by how accurate it can be!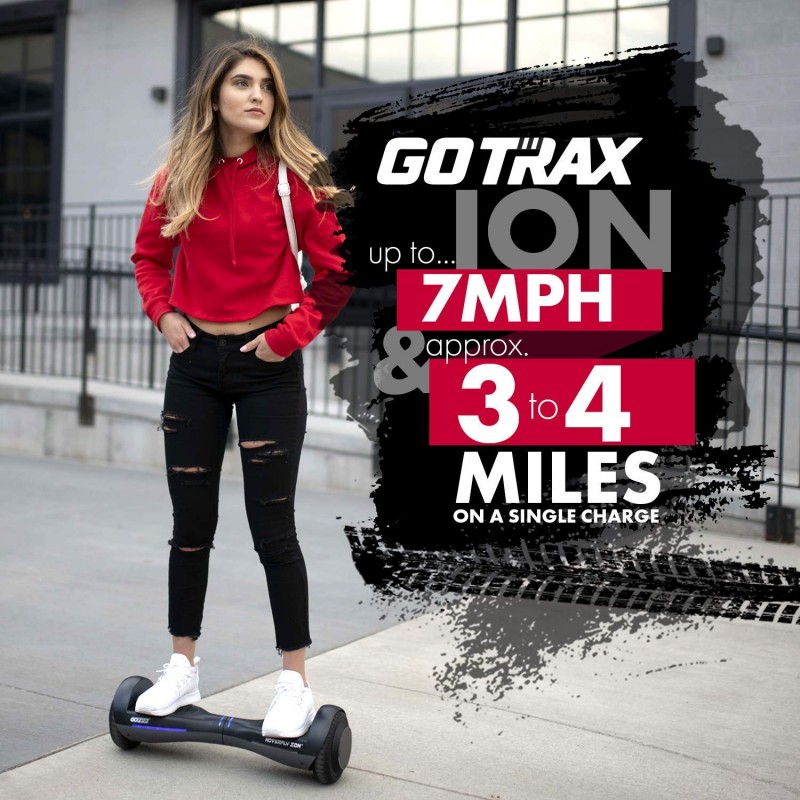 The perfect hoverboard for beginners, the ION Self-Balancing Hoverboard by GoTrax will be the perfect gift for teens on your shopping list this year. With a lightweight frame of only 20 lbs, this hoverboard is perfect for teaching young riders. With a powerful DUAL 200-watt electric engine and 4 miles on a single battery charge you can spend more time riding and less time plugged-in. The ION hoverboard is equipped with intuitive LED headlights and tail lights and a self-balancing feature making it a perfect beginners hoverboard. It's available in nine colors!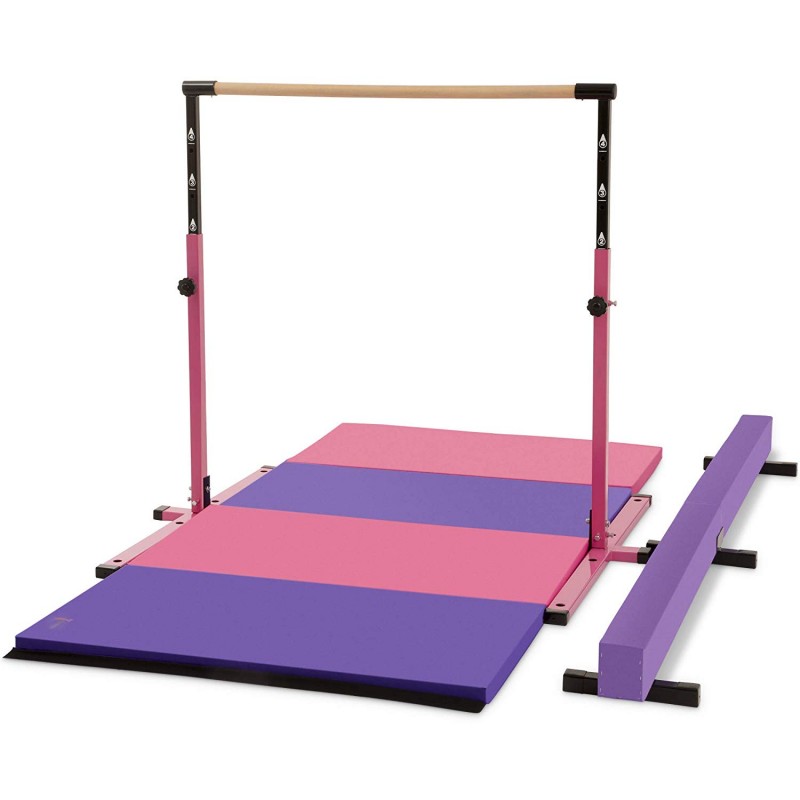 This Joom Beem Gymnastics Combo Set is the perfect gift for any young gymnast in your life. This set offers an 8 foot balance beam that has a quick-release middle bar for easy storage and travel. It also comes with a 4'x8′ foldable mat and an adjustable horizontal kip bar. The bar has height adjustments from 36″ all the way to 60″ and can be used from young children up to 14 years. This combo set is everything you need for an in-home gymnastics set up!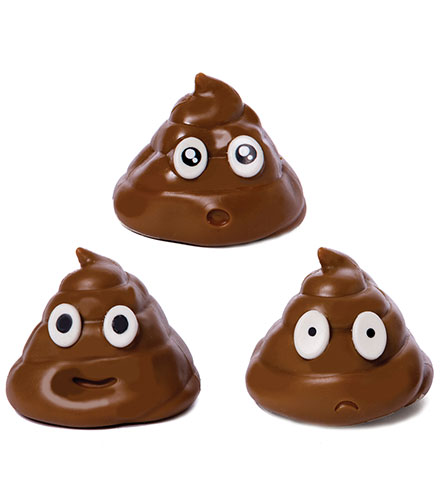 How popular the poo emoji is, says a lot about how kids love "gross" things. Hog Wilds Sticky The Poo is a squishy, slightly sticky feeling ball that can be squeezed, squished and mashed. Hog Wild also makes a stick plunger that can be paired with the poos to set up a game of flinging poo. These are sure to bring lots of giggles!
Buy it: Amazon.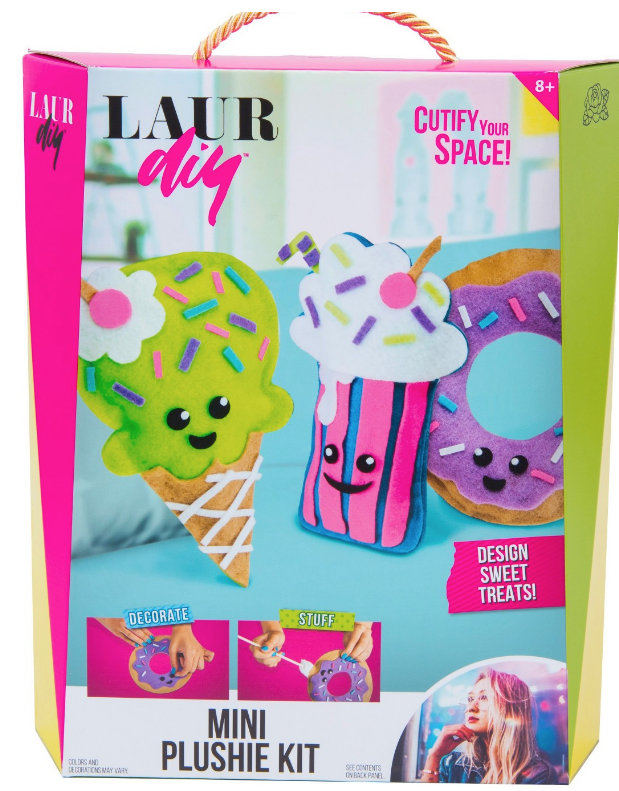 The new  LaurDIY craft kits line up includes this fun Mini Plushie Kit!  Because these adorable, pre-cut, felt pieces come all ready, they make it easy to create your own no-sew plushies right at home.  Then, decorate them up with fun facial feature stickers including eyes and smiles.  This step lets you add your own special touch to these super-soft and lovable sweeties.  The easy-to-follow guide offers step-by-step instructions and images for an easy and fun filled craft.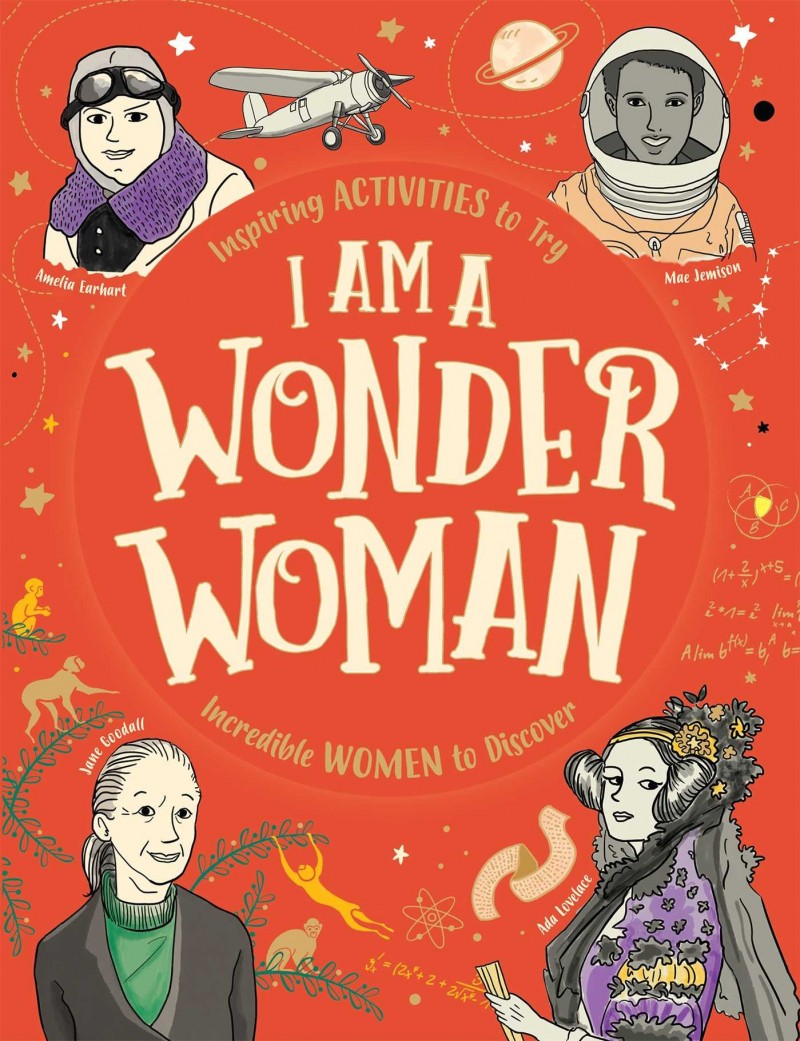 I Am a Wonder Woman
 by Ellen Bailey is an entertaining and inspirational look at some of the most influential women in history, from ancient times to the modern day, including lesser known visionaries such as Annie Londonderry and Britta Tott, to household names like the Brontës, Cleopatra, Hellen Keller, J.K. Rowling, and more. Each page is filled with amazing stories about the women who have shaped the world and inspired others to follow in their footsteps. Readers can step into the lives of these pioneers by completing unique activities and answering thought-provoking questions for themselves. Rated for ages 9-11.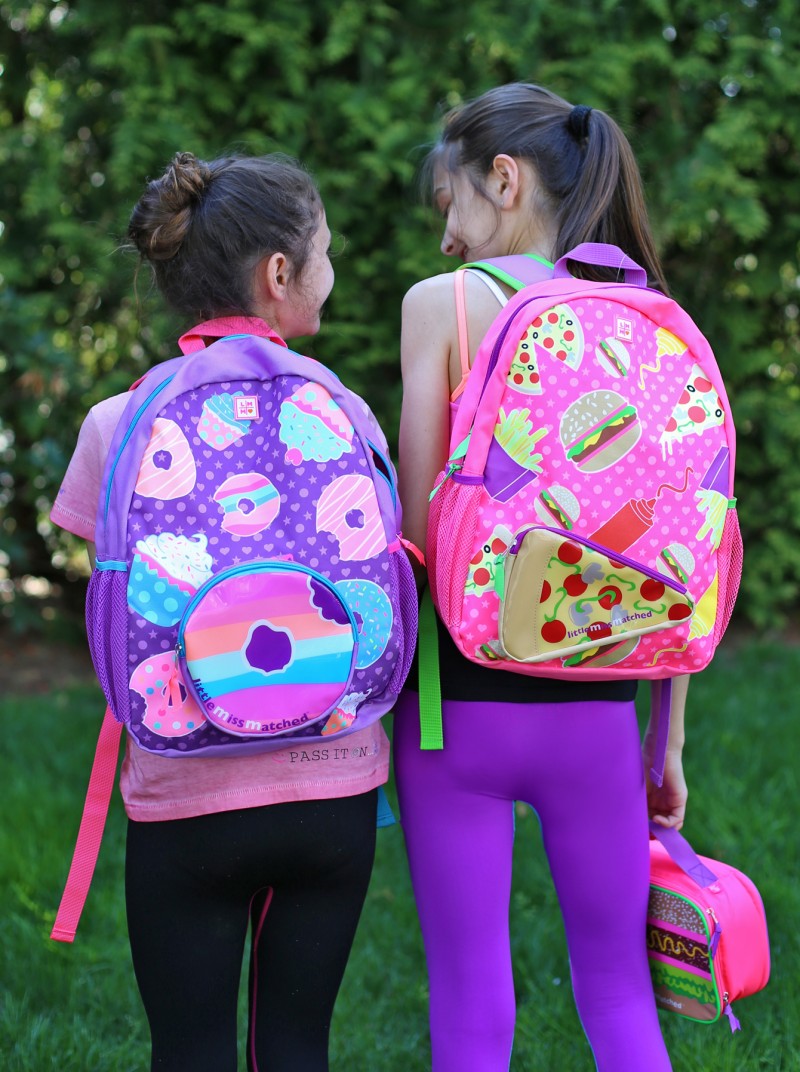 LittleMissMatched is a brand full of excitement! Their products are colorful, meaningful, and always have playful designs. LittleMissMatched backpacks are a fun and yummy way to carry all of your school gear. These backpacks have one large compartment, two side elastic pockets, and a smaller front zippered compartment. In addition to backpacks, LittleMissMatched also offers coordinating lunch boxes, notebooks, and folders. To learn more about LittleMissMatched and to receive a special discount, read my full review.
Buy it: Littlemissmatched.com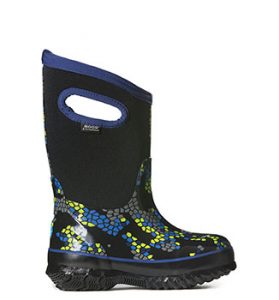 What child doesn't love to play in the mud puddles? My children are in love with their new inter boots that not only keep their feet warm up to -30 degrees fahrenheit but also keep their little toes dry. Cold wet slushy snow is no match for these Bogs winter boots. With sizes from newborn on through adult the whole family can stay warm in Bogs footwear. Grab some puddle stomping Bogs for the kids on your gift list this year!
Buy It: bogsfootwear.com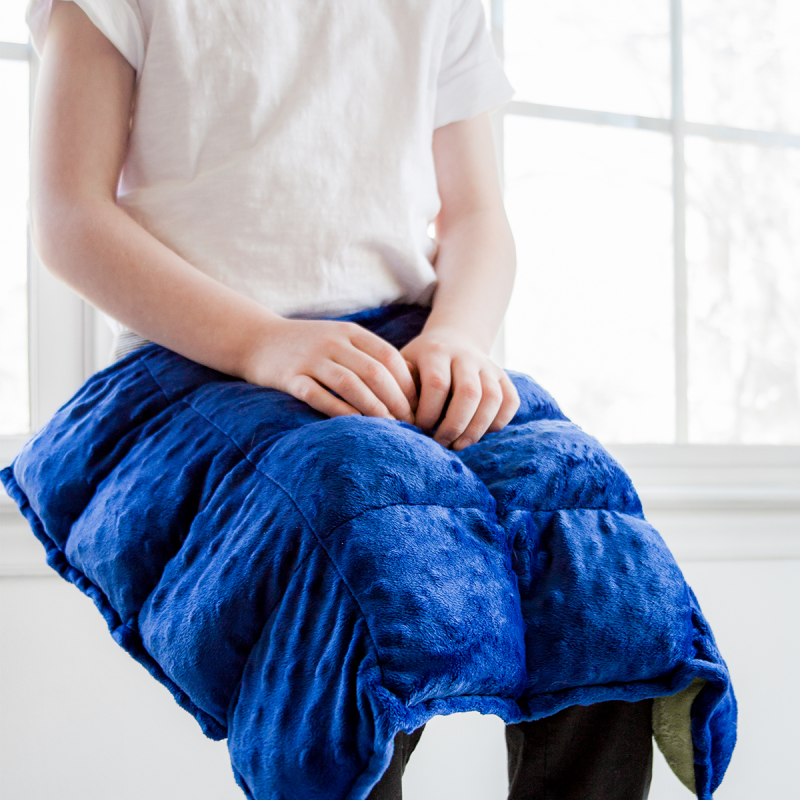 Designed to help kids focus and relax in stressful environments, the Harkla Sensory Lap Pad makes a perfect gift for older kids on your gift list who need a little help calming down. Children can use these weighted lap pads in the car, at school, the movies, and even at home. Harkla's Lap Pads are covered in a soft, minky fabric with dots for the sensory seekers in your life. They're the perfect size to bring along in any situation where kids could use a little calm.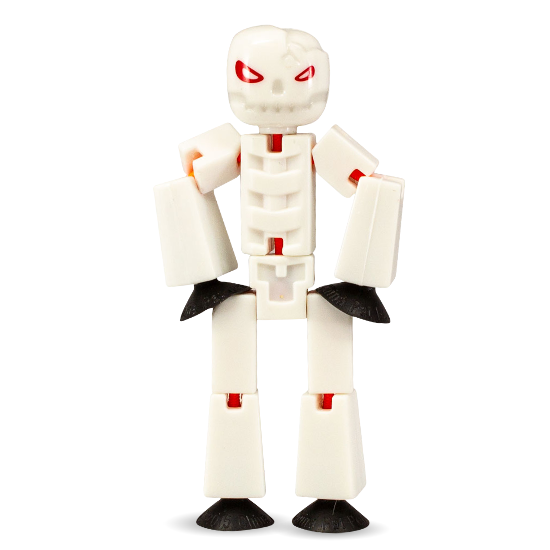 Stikbot is a line of toys designed to assist kids with making stop motion animations. This can be a fun way for kids to learn the basics of making videos, playing with green screens and more. There are a wide range of Stikbot toys available, but their monster surprise kits are extra-fun. Instead of simply selecting a monster, you have to open the package to figure out which one you got. Of course, then whatever monster it is, can be used to assist with stop-motion videos.
Buy it: Amazon.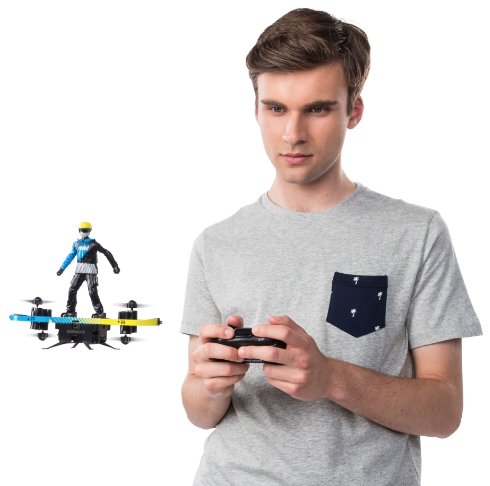 If you're looking to defy everything you know about gravity, limits, and expectations with the brand new Air Hogs Extreme Air Board.   There are two fun ways that you can fly.  Take off in stunt board mode or carve through the sky in paraglider mode! For lift off, just attach the extreme sports athlete figure to the board.  Then use the remote control to catch big air.  Use the stunt button to crush 720-degree spins, 360-degree barrel rolls, and even do backside flips!  Then switch on over to Paraglider mode where the tricks get even wilder.  Amazing fun!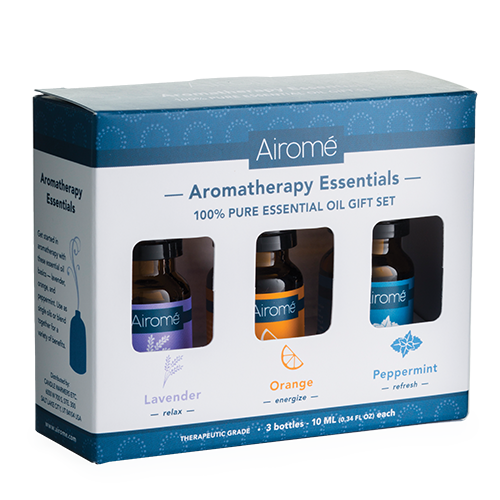 Airomé essential oils are all natural, 100% pure therapeutic grade so they are free of chemicals that you probably don't want in your home. This also means that they are safe to use on your skin when diluted with a carrier oil. Airome´ offers individual essential oils, essential oil blends, and/or essential oil gift sets to choose from. The Aromatherapy Essentials Gift Set comes with Lavender Essential Oil, Orange Essential Oil, and Peppermint Essential Oil. This is a good introduction to essential oils set. To learn more about Airome´ read my full review and enter to win the giveaway.
Buy it: Airome.candlewarmers.com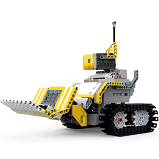 UBTECH  Builderbots Series: Overdrive kit is the perfect gift the children in your life who love to create, build and explore the technology side of robotics. The Overdrive set builds construction styled robots that push, pull and carry objects to your programmed wishes. Rest assured that the robot kits come with an app to assist in building as well as programming and once the two robots are built you're little ones are free to create from their own imagination with the kit. If you need some never ending fun for a child in your life grab a Ubtech Builderbots Series: Overdrive kit today.
Buy It: ubtrobot.com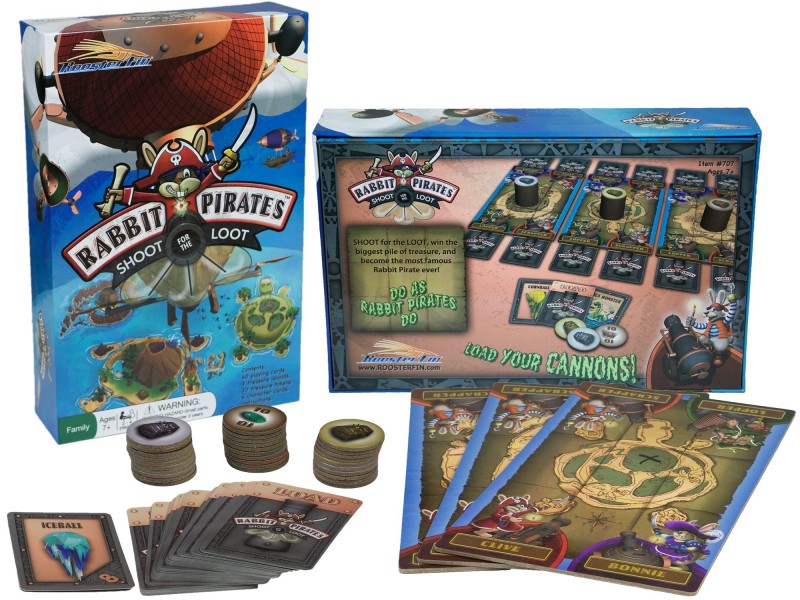 Rabbit Pirates is a fast-paced game of high versus low, and a great option for older kids who like to add a bit of strategy in their gameplay. The goal of the game is to have the highest value in bronze, silver, and gold treasure tokens. You win these tokens by playing higher value "attacks" than your opponents. You need to practice strategy in this game, as you never know where your opponents will lay their higher valued cards. Plus, if there's a tie or a wild card played, there will be special awards given! This is definitely a "fun for all ages" game.
Buy it: RoosterFin Games or Amazon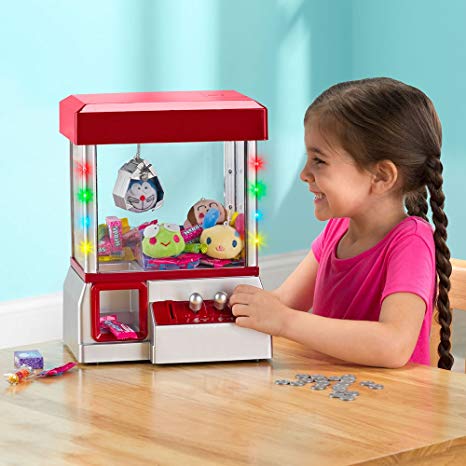 Exclusive to Hammacher is the child's arcade crane machine. Crane machines just capture the imagination of kids, but most parents don't want to sit and spend lots of money in quarters just for a tiny chance of winning a random stuffed animal. This arcade crane machine is an awesome way to enjoy the fun of a crane machine by itself, whenever you want! It comes with four small plush toys but you can also add in small toys that your child already owns to try your hand at catching the toys.
Buy it: Hammacher.com.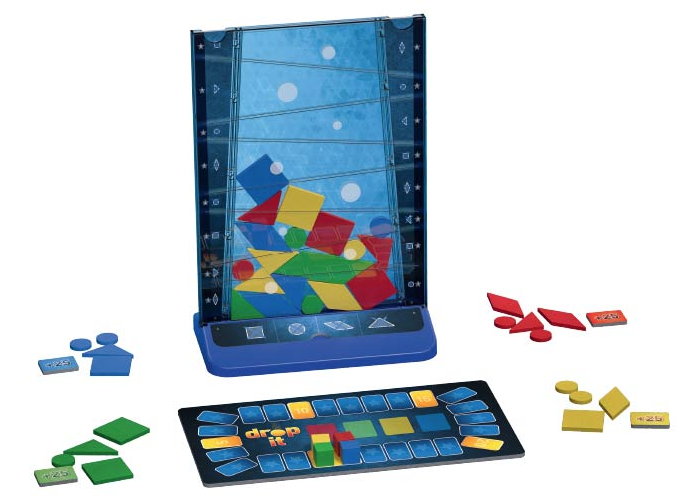 This colorful, inventive Drop It family game is easy to learn but deceptively mind-boggling! One at a time, each player takes a trun and drops a shape into the vertical game board's drop zone. Players get to earn points for the highest level that their shape reaches when it lands.  And also extra points for touching bonus circles. But be really careful: Don't break a landing rule! The shape you dropped is not allowed to touch matching shapes or colors after it lands. And if you break a landing rule, sadly, you will go away empty-handed. The winner is the player or team with the most points at the end.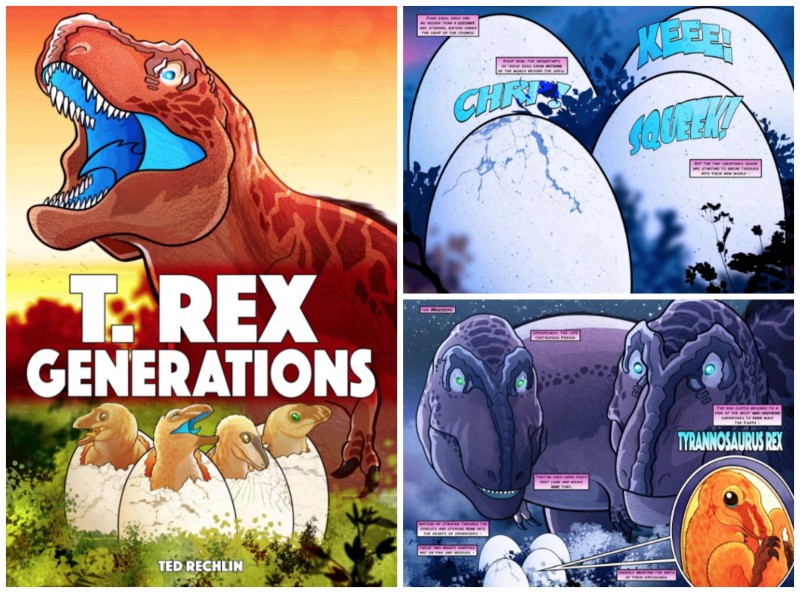 You think it is hard growing up now?  Try stepping back 66 million years into the late CRETACEOUS, during the reign of the king of the dinosaurs.  But now you can follow along as a mated tyrannosaurus pair raise their four hatchlings in the wild and perilous lands of prehistoric Montana.  This epic tale of heroic proportions will keep kids engaged and interested throughout while also being educational too!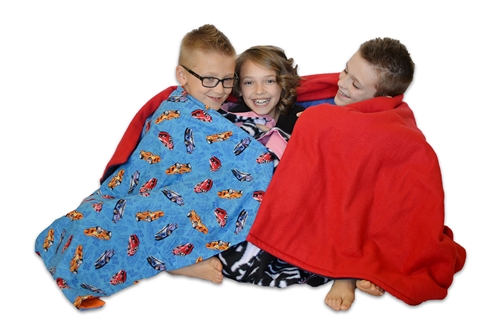 Sensory Goods is a company who tries to meet the needs of those affected by developmental disorders. They provide shoppers with an assortment of products designed to meet autism, sensory integration, and other needs. Sensory Goods is the place to go for weighted blankets. Studies have shown that weighted blankets can be helpful with insomnia, anxiety, and a number of other conditions. Shoppers get to select their size, material, and weight when designing a custom Sensory Goods weighted blanket. To learn more about Sensory Goods, read my full review and enter to win the giveaway.
Buy it: Sensorygoods.com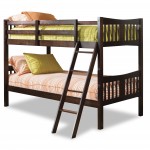 StorkCraft's Caribou Solid Hardwood Twin BunkBed is the perfect gift for siblings sharing a room or for the child who has a ton of sleepovers. Sturdy construction with a front climb ladder and high side rails so no one goes tumbling off the edge helps any parent feel safer with a  bunk bed style frame. If your child or children need some extra space in their bedroom the Caribou Solid Hardwood Twin Bunkbed is the perfect gift this season.
Buy It: storkcraftdirect.com or Amazon.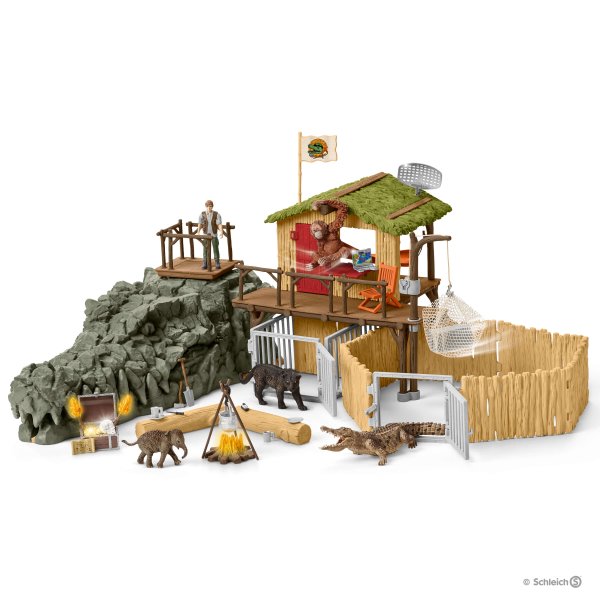 I first bought Schleich animal figurines as gifts for my nieces and nephews over 10 years ago. This brand makes really high-quality toys. Their animal figurines are extremely realistic and I love how easily these toys can be educational, too. I didn't know until this year that they make more than individual figurines or sets of figurines. They also have play sets! This is the Croco Jungle Research Station. The CROCO skull can be opened and there are lots of other neat details, like the net, hammock and look out area.
Buy it:Amazon.
Advent calendars make Christmas time so much fun and this Yu-Gi-Oh! TRADING CARD GAME Advent Calendar is a great choice this year!   Get ready to honour an old-time tradition of counting down the days to Christmas, in a way fit for a Duelist!  This fun calendar contains 24 doors, each containing holiday themed cards to add to your collection and power up your Decks.  Box of Friends, Toy Magician  and many more can be found to get Duelists into the holiday mood!
Legos are a classic toy that kids of all ages enjoy. This year why not combine a traditional Advent Calendar with the classic toy in a Lego Advent Calendar. The Lego Friends Advent Calendar has 24 secret compartments, each holding a buildable surprise. Surprises include a Christmas tree, candy cane, gingerbread man and more. Kids can countdown to the holiday with a new compartment each day. Lego Advent Calendars are available in other themes as well.
Buy it: https://shop.lego.com or Amazon.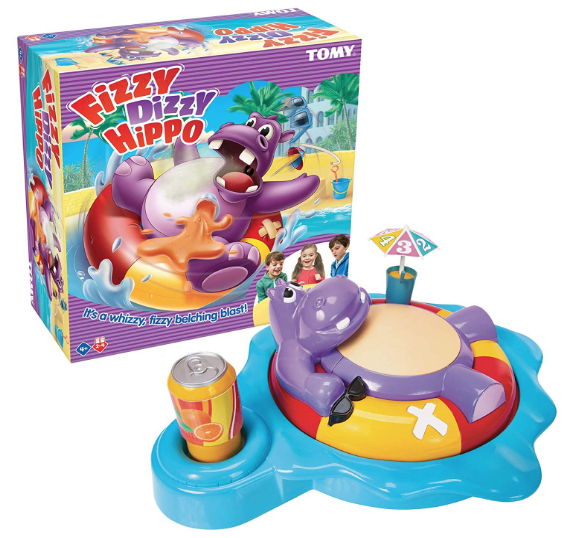 Kids think burping is hilarious in real life so they will get a big kick out of this new TOMY game!  Have a whizzy, fizzy belching blast with the Fizzy Dizzy Hippo game!  Fizzy Dizzy Hippo sure does love his fizzy drinks. So players spin the umbrella and begin to fill Fizzy Dizzy full of fizz by pushing down on the can the number of times shown on the umbrella. Then, Fizzy Dizzy will start to sing a silly tune and you'll hear sounds of the sea. With each player's turn, players enjoy watching as his belly grows and grows!  The player who fills Fizzy Dizzy up with enough fizz is rewarded with a hilarious burping noise.  So who will be the first to make Fizzy Dizzy Hippo burp when you play?! This goofy game will have everyone laughing.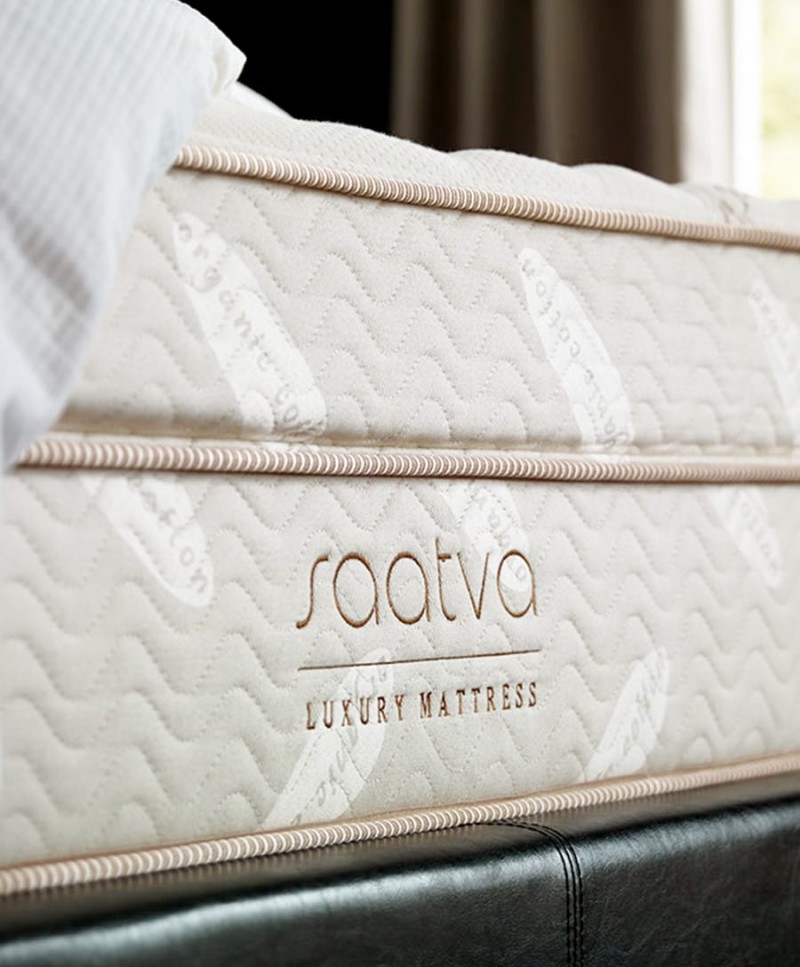 Saatva creates luxury mattresses that have been made with environmentally responsible materials. The Zenhaven mattress is made with pure natural latex. It is designed with advanced 2-in-1 comfort innovation for the ultimate sleep experience. The Zenhaven mattress is available in six sizes. To learn more about Zenhaven, read my full review.
Buy it: Zenhaven.com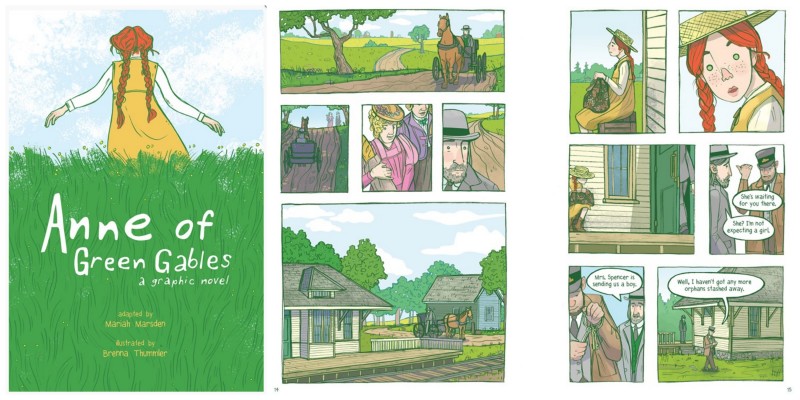 Giving the gift of reading through a children's graphic novel always makes for a cherished gift.  So grab a copy of Andrews McMeel Publishing's Anne of Green Gables this year.  The magic of this classic novel comes alive through whimsically-illustrated, fun graphic novel adaptation.  From thrilling times to troubles, Anne keeps things interesting!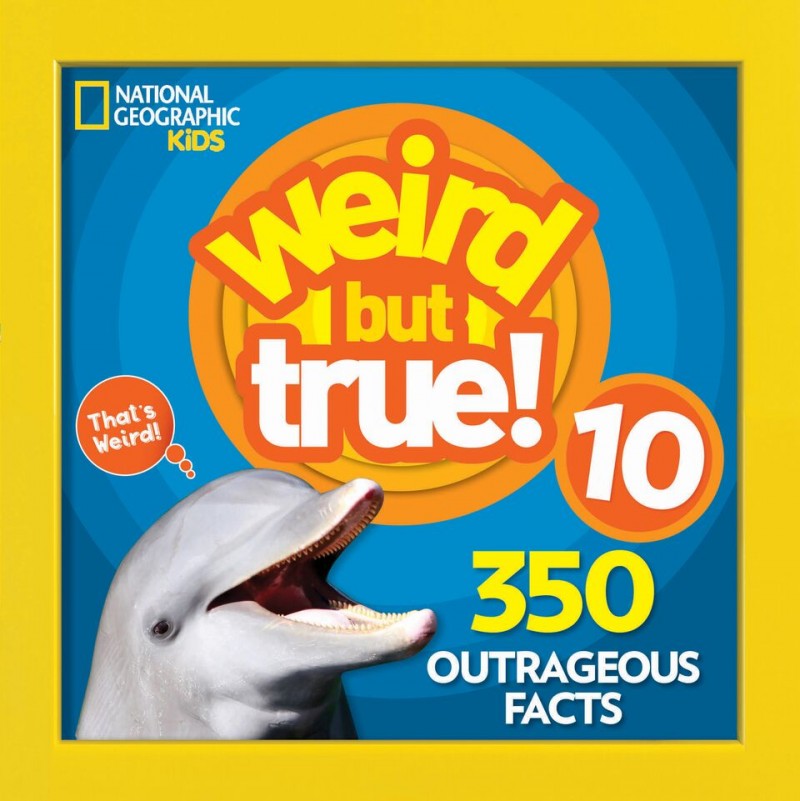 National Geographic Kids has a series of books called Weird But True. Weird But True 10 was recently released. It has 350 surprising facts inside and stories that cover a variety of topics including science, space, weather, geography, food, pop culture, and more. In addition to books, National Geographic Kids has an assortment of items that would make great gifts. To learn more about National Geographic Kids, read my full review and enter to win the giveaway.
Buy it: Amazon.com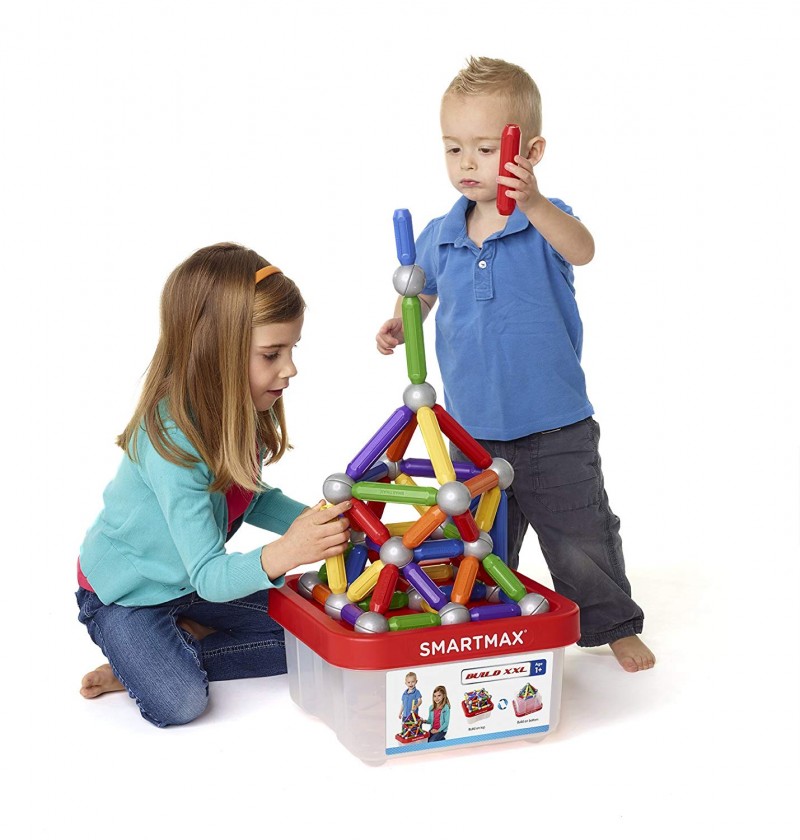 SmartMax Build XXL set will be great for kids of all ages on your shopping list. These magnetic balls and bars will keep imaginations going as kids try to build a variety of structures. Supporting completely open-ended play, this building set will be used for years as your kids work on their fine motor and STEM skills. The balls are large at 3cm and the magnets are extremely strong. The included storage case has designated areas for building on both top and bottom and is perfect for storing all 70 pieces.

This Blue Orange Games Blue Lagoon strategy board game will keep the entire family engaged.  Each player gets to manage a group of settlers that spread out on the islands of the newly-discovered archipelago.  Adventures await as they are discovering its wealth and building villages as they explore. Points are awarded by players for collecting resources and settling on the islands. Smart placement and anticipation are needed to win.  Geared for ages 8 and up, Blue Lagoon can have 2-4 players per game.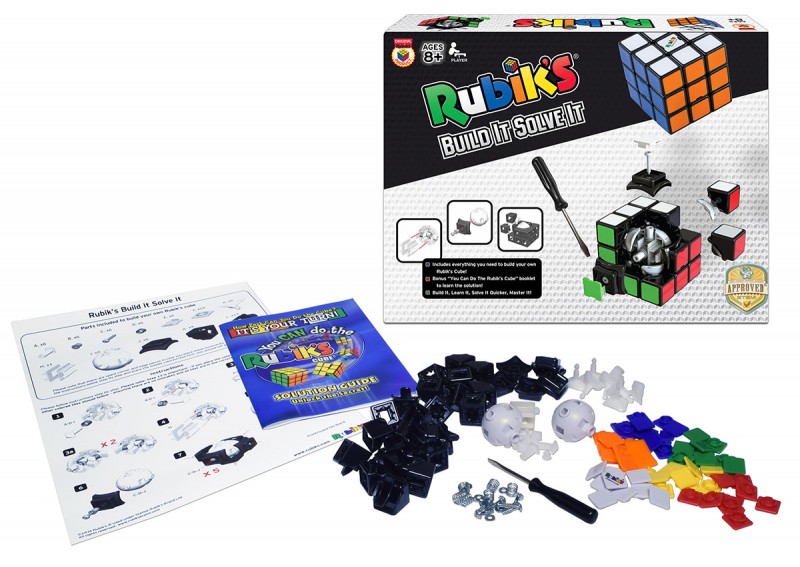 Puzzle Warehouse offers a wide array of puzzles, games, toys, crafts, and more. Puzzle Warehouse carries a Rubik's Build It Solve It! kit that is perfect for budding engineers. The Rubik's Build It Solve It! kit comes with everything needed to construct a real working Rubik's cube. Kids will not only get to build something but, then will also get to play with their creation. What's better than that? To learn more about Puzzle Warehouse, please read my full review.
Buy it: Puzzlewarehouse.com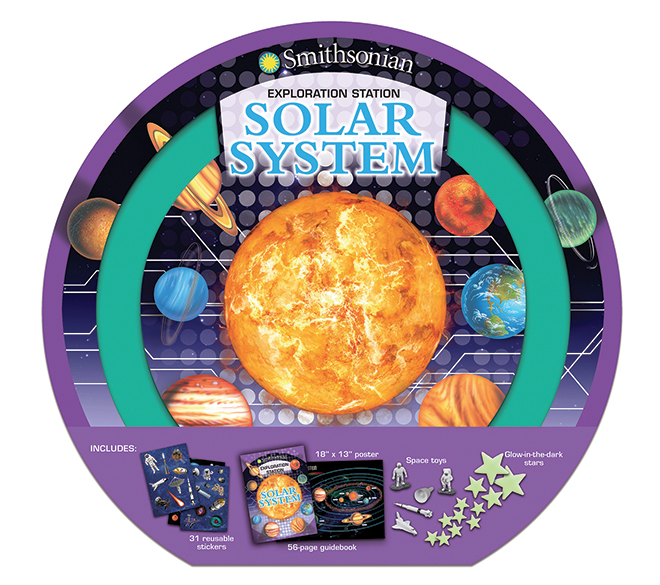 Get ready to give the child in your life a trip to remember into the stratosphere with Silver Dolphin Books Smithsonian Exploration Station: Solar System Space Kit.  Each kit comes packed with items to make this an interactive and engaging experience.  Included is: 56-page fact book, sticker sheets, space figurines to play with, and a variety of glow-in-the-dark stars.  The young astronomers you love will get to learn about the intricate makeup of our solar system as well as distant galaxies and constellations.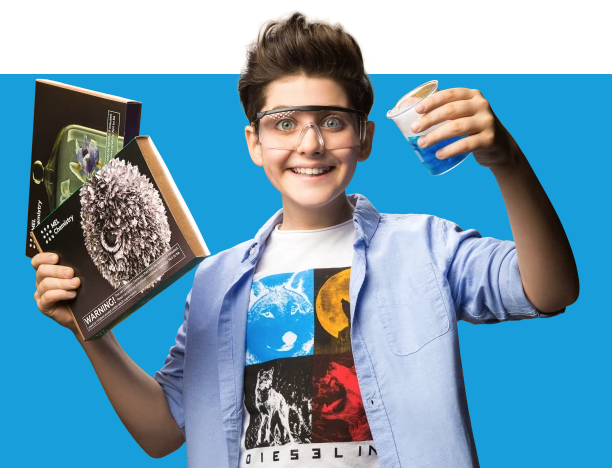 Get ready for learning and fun when you give the gift that keeps on giving through a MEL Science Chemistry Subscription For Kids!  Primarily aimed for kids ages 10-14, kids younger and older also love these kits.  Appealing to both boys and girls, MEL Science kits make it easy to pique children's interest in science and inspire them to create something real with their own hands.  They work hard to offer the safest and most interesting chemistry experiments to keep kids engaged and learning.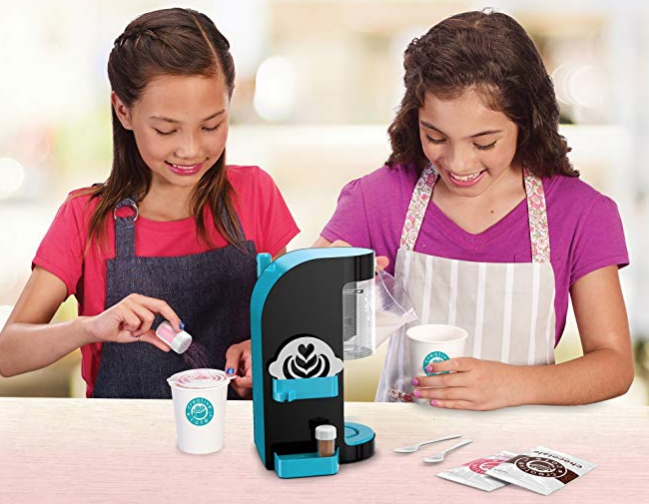 Do you have a barista on your gift list?  Look no further than the RoseArt Creative Café Barista Bar!  Kids can now whip up yummy chocolate or strawberry drinks with real foamy froth on top.  Create custom lattes by adding the powder, mixing in milk, and turning on the frother.  Then, top it off by choosing a stencil and decorating the top with edible sprinkle art!  Kids safe, no heat, and everything you need for tons of fun.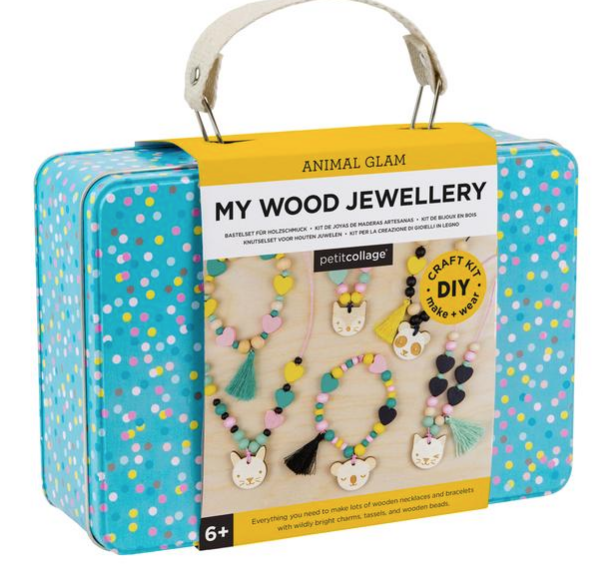 Get creative with the My Wood Jewelry Bead Kit.  This set includes everything your crafty kiddo needs to make wooden necklaces and bracelets including: 120 high-quality painted wooden beads, 25 painted hearts, embroidery thread, 5 colored tassels, a child safe safety needle, 5 laser-etched animal charms, and an illustrated easy to follow instruction sheet.  And everything comes packed in a reusable printed tin
Buy It:  PetitCollage.com
Discount Code:  Use the code EmilyReviews to receive 15% off your entire order!
Kids are ready for this villain bustin', turtle tank that can transport the Turtles wherever they need to go!  Adventures are only an imagination away with the help of the fun Rise of the Teenage Mutant Ninja Turtles Turtle Tank Vehicle.  A 2-in-1 vehicle that goes from the turtle tank mobile ops unit to a Playset in no time at all.  The flip open front cab makes for a super easy entry while the flip down rear hatch offers the easy escape.  Built sturdy with a cool design that kids just can't get enough of.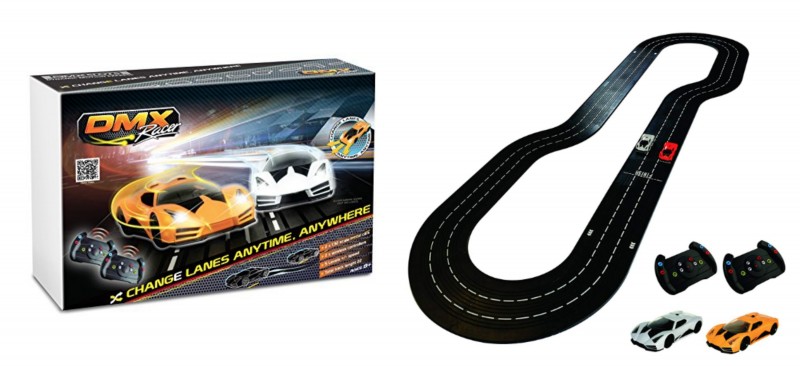 DMXslots is an amazing revolutionary new concept for slot car racing. With DMXslots, car racers can pass, intercept, and block their competitors at any time and at any place on the track.  No more being held back by one-pin methodology!  And the DMX Racer G2 5 Button Steering is awesome!  The DMX racer is a next generation of slot car racing. With the rotating-pin technology, the race cars can change lanes perform like never before. This exciting new racing platform makes you feel like a real racer.  The 1:32 scale cars feature head lights for night mode. Speed pattern chip installed for 5 speed levels with booster.  So now's the time to get your race one!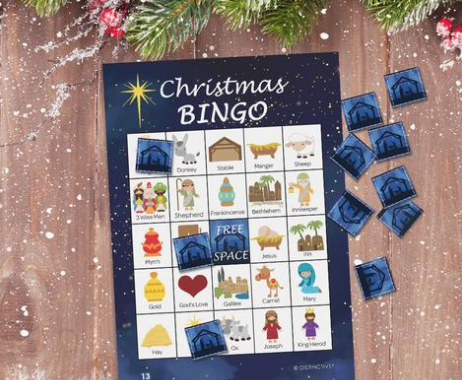 Play this Christmas party Christmas BINGO game with your Christian family, church, or Bible school friends.  Affordably priced, this set comes with 24 bingo player cards, measuring in at 5×7" each.  Each set also comes with 17 Nativity Scene player chips per player.  The best part is that it's reusable.  The game pieces are printed on premium card stock for years of fun.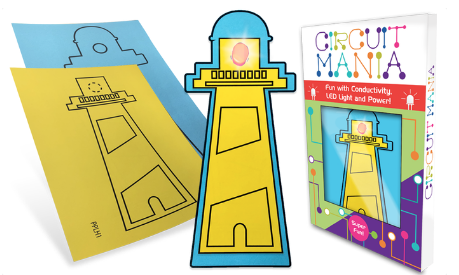 Kids will love that Circuit Mania is a fun, exciting and engaging way for kids to learn about conductivity, circuits and LED lights.  Geared for ages 6 and up, these paper projects help cultivate a host of important skills: problem solving, trial and error, following instructions, and the basics of circuitry and conductivity.  They are available in a variety of different designs and are perfect for encouraging STEM learning!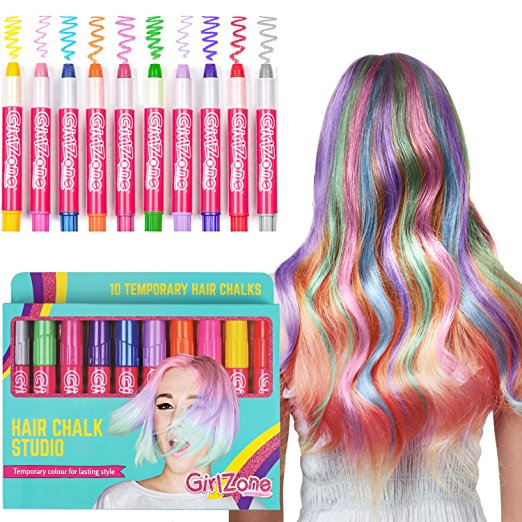 GirlZone is the place to go for colorful beauty products, hair accessories, school supplies, crafts, and more. GirlZone Hair Chalk Studio allows her to add a splash of temporarily color to her hair. The Hair Chalk Studio comes with ten colorful chalk markers, five vibrant colors plus five trendy metallic shades. GirlZone Hair Chalks are made with non-allergenic ingredients. They are water soluble for easy clean-up. To learn more about GirlZone, read my full review.
Buy it: www.amazon.com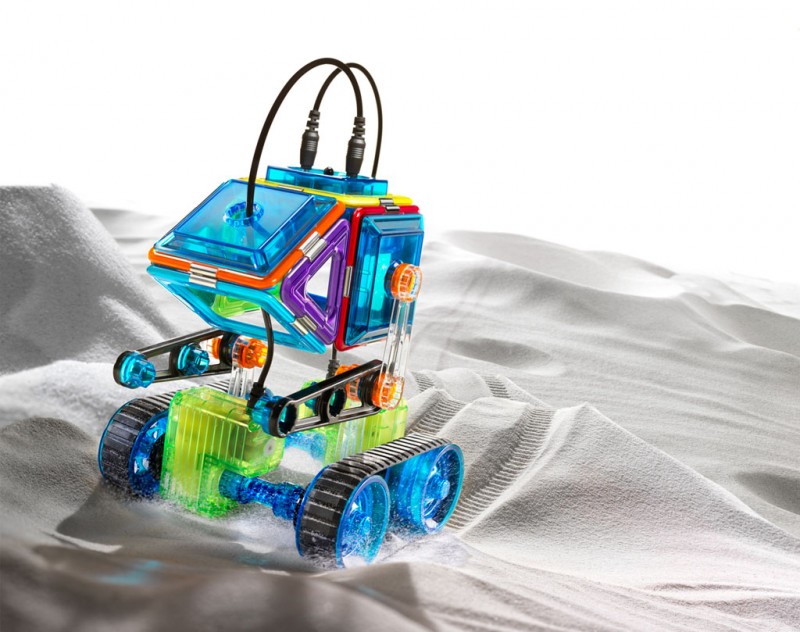 GeoSmart specializes in STEM-Focused Magnetic Building Kits. The GeoSmart Moon Lander kit comes with everything needed to build an out-of-the-world all-terrain vehicle. Once built, the Moon Lander will be able to move smoothly with guidance from the remote control. GeoSmart magnetic building pieces have a patented double-locking system for ultimate safety. GeoSmart has multiple building sets for you to choose from. To learn more about GeoSmart, read my full review.
Buy it: https://geosmartusa.com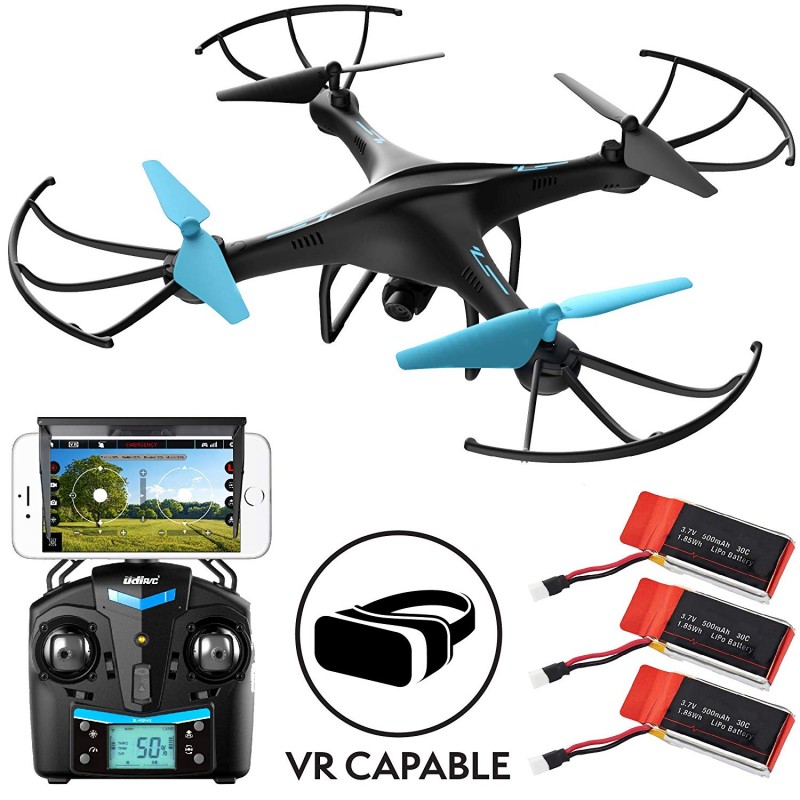 Force 1 U45WF Blue Jay Drone is perfect for big kids. The Blue Jay has Altitude Hold, Headless Mode, and Custom Route Mode. A 2MP drone camera allows you to take aerial photos, videos, and selfies. You may also view live video feed by syncing the Blue Jay with an iPhone, Android or virtual reality headset. To learn more about Force 1, read my full review and enter to win the giveaway.
Buy it: www.Amazon.com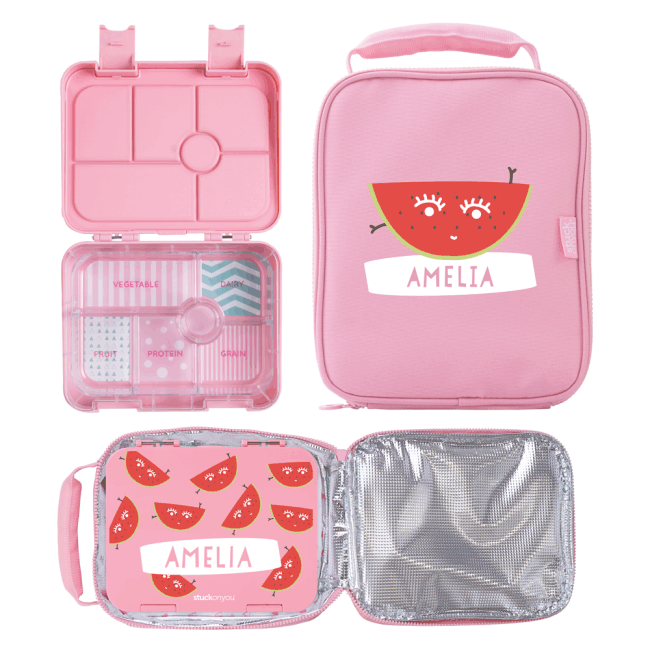 These adorable personalized Bento Box & Cooler Bag Sets from Stuck on You will make such a fun gift this holiday season! With a variety of bright color and graphic options, you can choose the best design for each child on your shopping list. The cooler will ensure food can stay cool throughout the day, and the inner tray has partitioned sections for a variety of foods! The bento box can be taken apart for easy cleaning and is even dishwasher safe!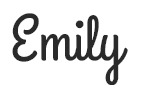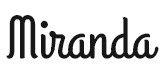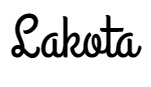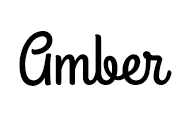 Hi there! I am Emily Evert, the owner of Emily Reviews. I am 28 and live in a small town in Michigan with my boyfriend Ryan and our two pugs. I have a large family and I adore my nieces and nephews. I love reading memoirs, and learning about child development and psychology. I love watching The Game of Thrones, Teen Mom, Sister Wives and Veep. I like listening to Jason Isbell, John Prine, and other alt-country or Americana music. I created Emily Reviews as a creative outlet to share my life and the products that I love with others.
This post currently has 7 responses.