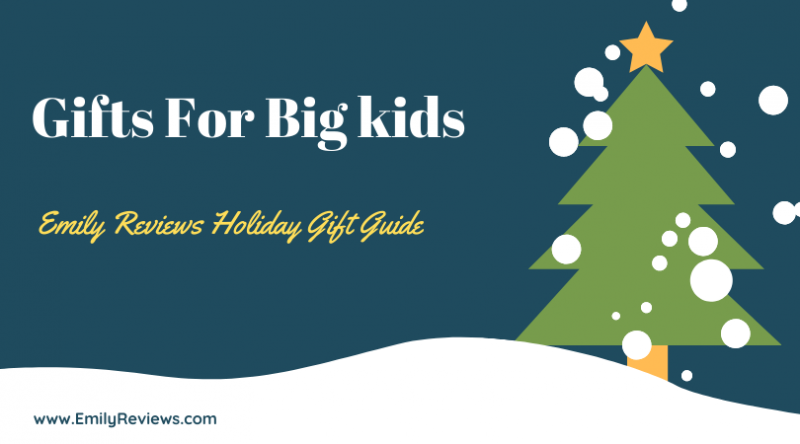 Emily Reviews writers were sent products in exchange for inclusion in our gift guide. All opinions are our own. There are affiliate links in this post.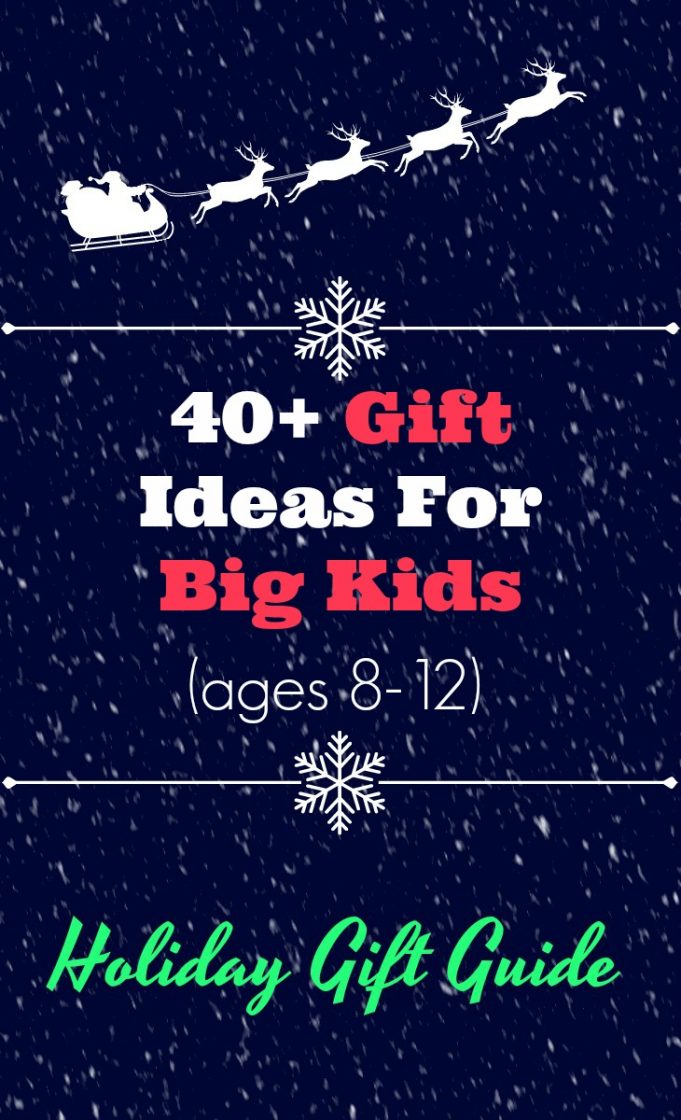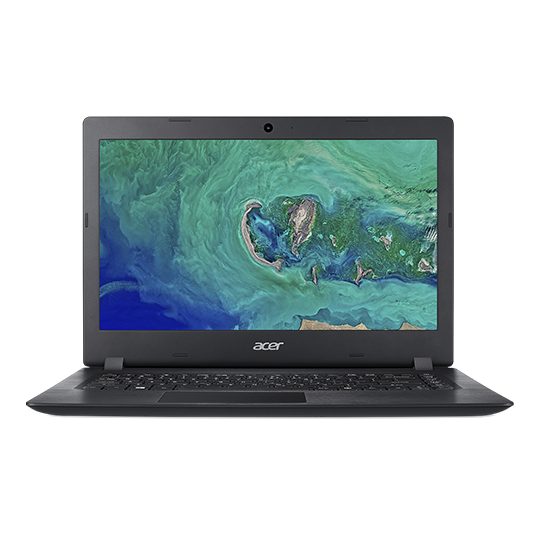 The Acer Aspire 3 laptop runs on windows so it can operate software. This laptop will make it easy for your child to complete school work and do research or play computer games. At just 4lbs, it's very portable. With a 14-inch screen it is a smaller laptop but not tiny. It has a typical laptop keyboard so it's comfortable to use for writing long essays, it doesn't have that crowded feeling of add-on keyboards for tablets. It can sometimes be found as low as $219 at Walmart.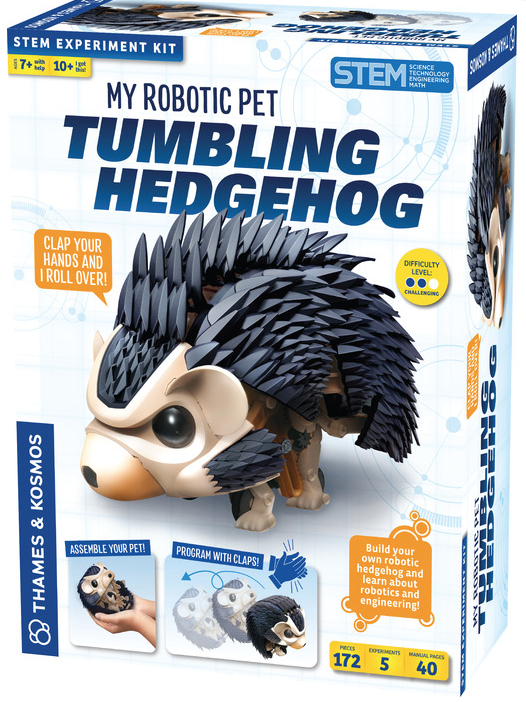 Now you can build your own adorable robotic pet hedgehog with My Robotic Pet Tumbling Hedgehog! This 172 building piece kit allows you to assemble a real robot that looks like a cute hedgehog. The robot has a built-in sound sensor that is programmed to react to different sounds.  After you build your hedgehog robot, you can play with it by making different sounds and watching it tumble, roll, spin around, bristle its spines, and scurry around.  Plus, it's an educational AND fun experience!  By building the robot, you will gain knowledge in the inner mechanical workings that enable the robot to move how it does. Learn about gears, motors, sound sensors, LEDs, and the other components of this funny little pet.
Buy It:  ThamesAndKosmos.com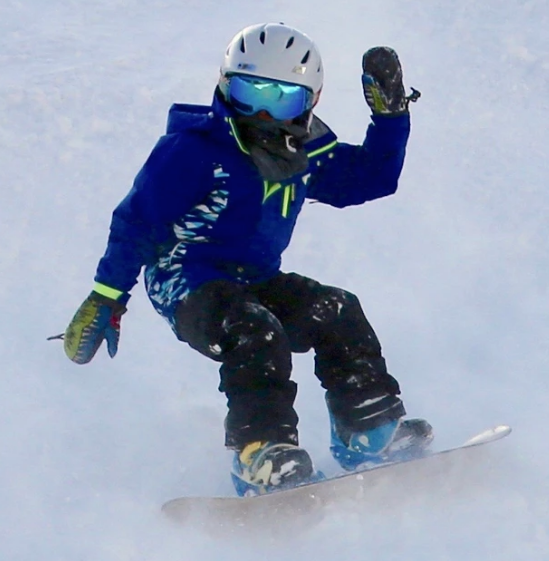 Winter can be fierce but that's why the Shred Dog Ridgeback Convertible Ski Snow Pants are here to help!  They are a versatile, high performance, lightly insulated pant loaded with features and a removable bib module. Ready to weather any storm!  With an Adjust-a-Fit™ pant legs feature, these are the only snow pants that can lengthen AND shorten, which means they will last your child longer!  Featuring a 50% higher performance than the industry average, their high waterproof / breathability rating is essential to keep kids dry.
Buy It:  ShredDog.com
DISCOUNT CODE:  Use the code EMILY25 to receive 25% off your order total!If you're on the hunt for some innovative calm-down tools, this awesome collection from Really Good Stuff helps provide a variety of ways for children to self-calm when emotions threaten to overwhelm.  Perfectly sized, children can grab one of these safe self-calming tools when they need to reset.  They also work especially well in 'quiet bags' to take along to church, appointments, and other places where kids need to stay quietly busy.  This multi-tool kit does come with a sturdy plastic storage bin with a locking lid to help keep things contained and organized.  Kit contents include:~1 sensory ball
~Silly Putty
~1 relaxation therapy tangle
~1 water wheel timer
~foam dough
~1 fidget twist
~1 storage bin with locking lid
Buy It:  ReallyGoodStuff.com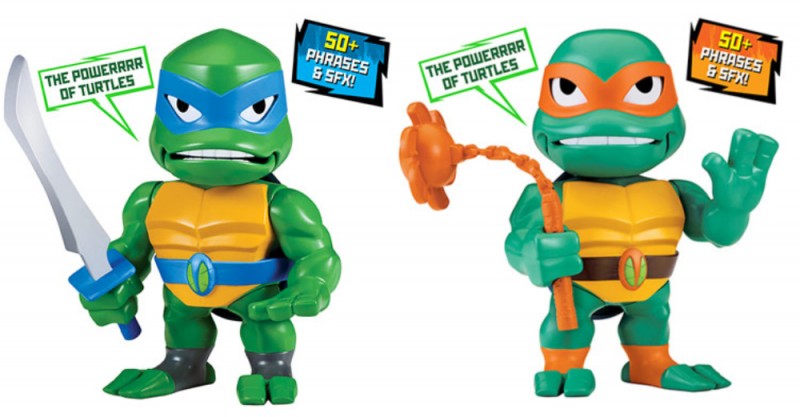 It's time to have fun with Motormouth Mikey and Loudmouth Leo, the fun new Teenage Mutant Ninja Turtles Babble Heads!  These totally interactive, talking, fun, take-along Turtle brothers are irresistible!  They can train, battle, and joke with over 50 phrases and sound effects.   Featuring Train 'N Battle sensors in their shoulders and hands— these two can even recognize whether or not they are holding their kusari-fundo and ōdachi sword!  Talk about cool!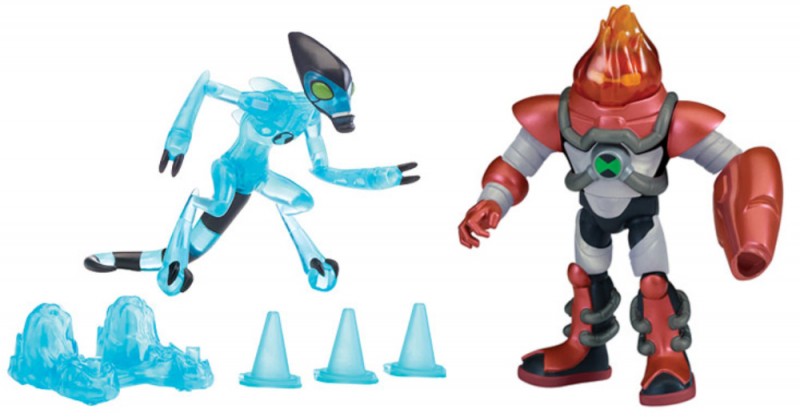 Brand new Ben10 Action Figures now available! Have you ever wondered what your favorite alien species would look like on their home world? Now you'll know! Alien Worlds XLR8 possesses all the characteristics of his natural habitat.  He's fastest alien of them all, with crazy high speeds of 550+ mph, this alien can react in seconds.  —  And when Ben returns to the place where he found the mysterious Omnitrix, he discovers a previously missed "key" that fits into the body of the watch and kicks his alien heroes up to the next level with Omni-Kix Armor!  With his Armor in place, Heatblast is too hot to handle!  So many play scenarios to be had with these fun action figures!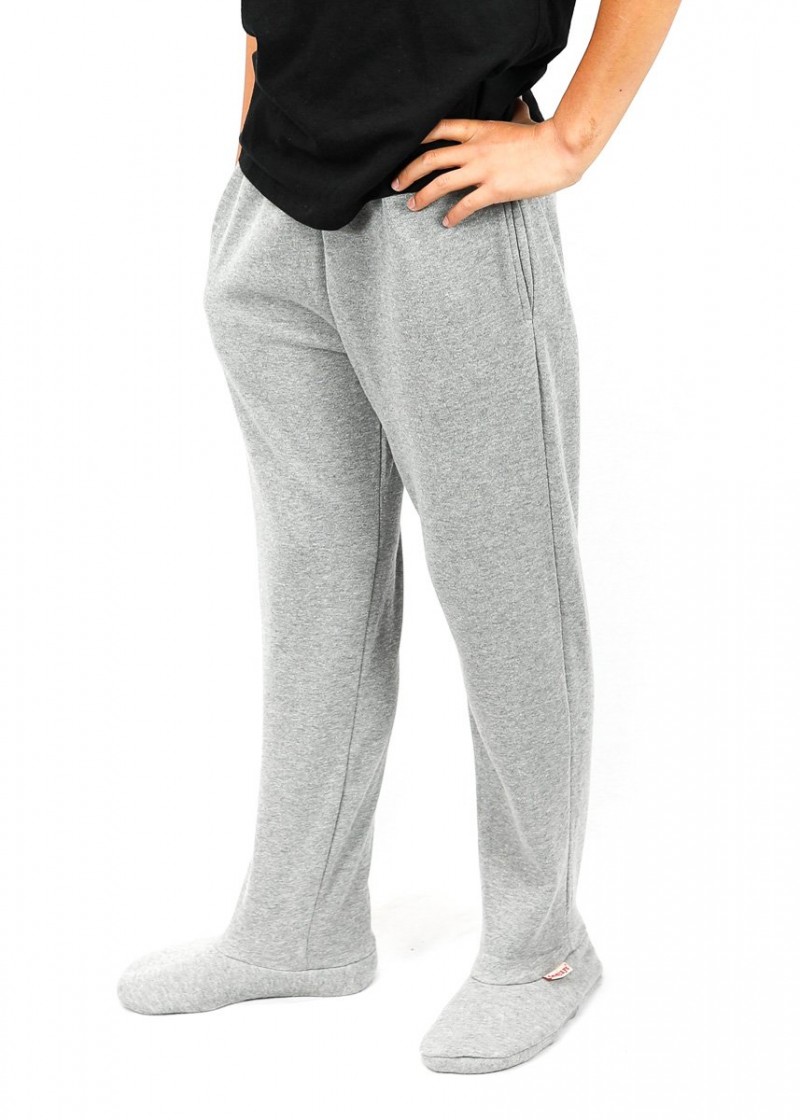 Feejays are the ultimate lounge garments. They are sweatpants with sherpa-lined footies! Feejays can be worn with footies or without. They have cozy hand pockets and a drawstring waistband. Feejays come in a variety of patterns and sizes. To learn more about Feejays, read Laurie's full review.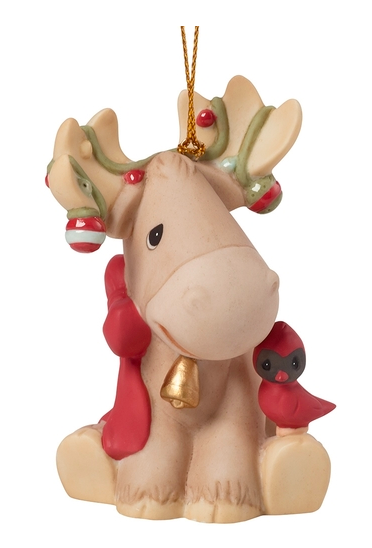 Gifting an ornament each year is a fun tradition, and it can be started at any age. This Precious Moments ornament is called The Moose Wonderful Time Of The Year and is a 1st Annual Animal Series Ornament. This adorable little moose features antler ornaments, a big red bow, and a red cardinal friend.  Hand-sculpted of fine bisque porcelain, expertly hand-painted, and measures approximately 3.25 inches high. Precious Moments also has tons of great other ornament options – one that's sure to be perfect for any child on your gift list.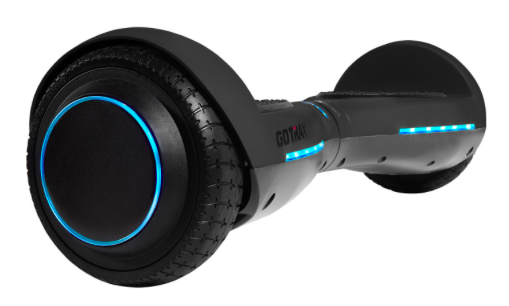 To get your child outdoors and having fun, try HOVERFLY ION SELF BALANCING HOVERBOARD from GOTRAX. With a lightweight frame weighing only 20 lbs, this hoverboard is perfect for young riders. Featuring a powerful dual 200-watt electric engine and up to four miles on a single battery charge. This hoverboard goes up to seven miles per hour and is equipped with LED headlights and tail lights, as well as a self-balancing feature making it a perfect hoverboard for beginners. Available in eight color choices.

This incredible Hogwarts Express Ready-To-Play Train Set will make the perfect gift for any Harry Potter fan on your shopping list. With 32 train track pieces, a steam locomotive, tender, and two passenger cars, this is a toy that will provide hours of entertainment. Run the train with the battery powered remote control, which has buttons for propelling the train forward or in reverse, as well as bell and whistle options! The best part? The train features authentic sound clips from your favorite Harry Potter characters!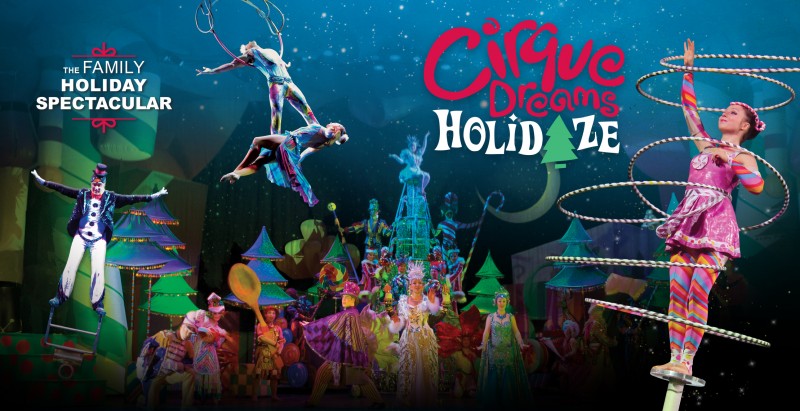 There is no better way to ignite the Christmas spirit than kicking off the holiday season with a magical show from Cirque Dreams Holidaze. Cirque Dreams Holidaze features some of the most beautiful costumes, amazing artful acrobatics performances and more all wrapped up into one show. Songs performed live and full of visionary spectacles are sure to excite the whole family for the Holiday season.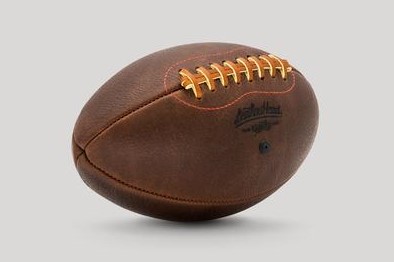 Leather Head footballs are made to be played with, and they've put a lot of thought into the design. The Leather is sturdy and grip-able, and designed for play. This Handsome Dan Football is perfect for hands of all sizes; fathers and daughters, mothers and sons, grandparents and grandchildren. It's the best-selling football from Leather Head and will develop a beautiful patina and just get better with time. Leather Head knows that playing sports is a great way to connect friends, family, and generations.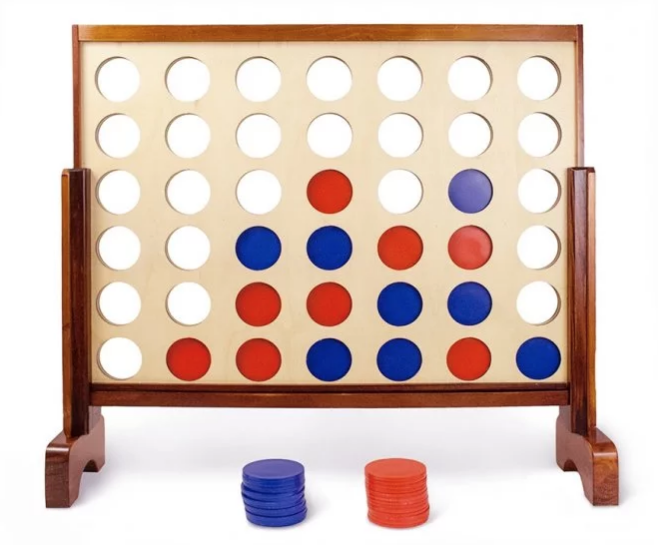 A classic game with a BIG twist!  It's much larger this time!   Get ready to get entertained with this Giant Connect 4 In A Row Game can be played indoors or out.  Measuring in at  31″ x 23″, the finished legs and frame make for a gorgeous effect.  This set comes with 21 red and 21 blue, high quality 3″ diameter plastic coins and a nylon carrying case.  All ages enjoy mega sized fun with this mega sized game!  Great for parties, events, birthdays, or just a family game night.  Play head-to-head with someone and see if you can win!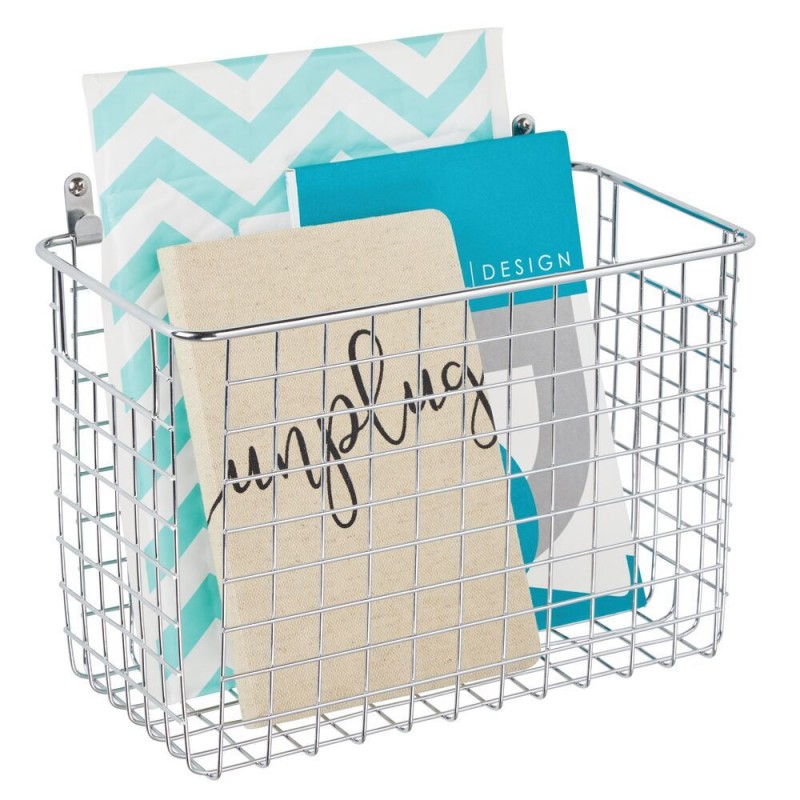 M Design Home Decor offers customers a large collection of home decor, storage, and organizational products. The Large Metal Wire Wall Mount Storage Basket is fun and functional. It provides a drop zone for school papers, magazines, hair accessories, and more. The Large Metal Wire Wall Mount Storage Basket is made with strong steel wire with a rust-resistant finish. It is 6″ x 12″ x 8″ in size. The Large Metal Wire Wall Mount Storage Basket is available in three color options. To learn more about M design Home Decor, read Laurie's full review.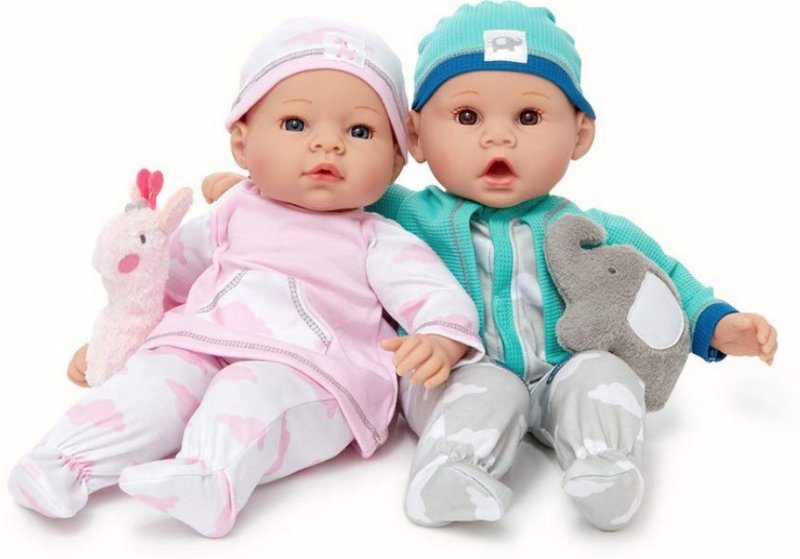 These sweet, beautifully handcrafted Madame Alexander Newborn twin baby dolls come in a charming boy/girl set.  The details make them extra special as you'll find they even feature tiny folds and creases on their hands and feet for a realistic look.  Kids will love them as they are double the fun and double the love!  The girl twin come dressed in a playful pink outfit and hat and she even holds tight to a furry animal friend. The twin boy wears a soft blue and grey outfit while he cuddles a soft elephant toy.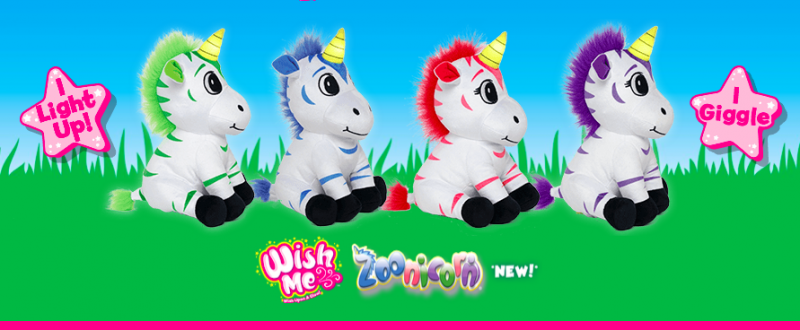 WishMe Zoonicorns are mythical creatures. They are part unicorn, part zebra, and have magical wishing horns. Just kiss the nose of your Zoonicorn, watch their horn light up and make a wish! Zoonicorns are soft and cuddly. They make soothing sounds and use four touch points to help relieve stress and anxiety. WishMe Zoonicorns are available at U.S. retailers including Target, Meijer, Cracker Barrel and Amazon.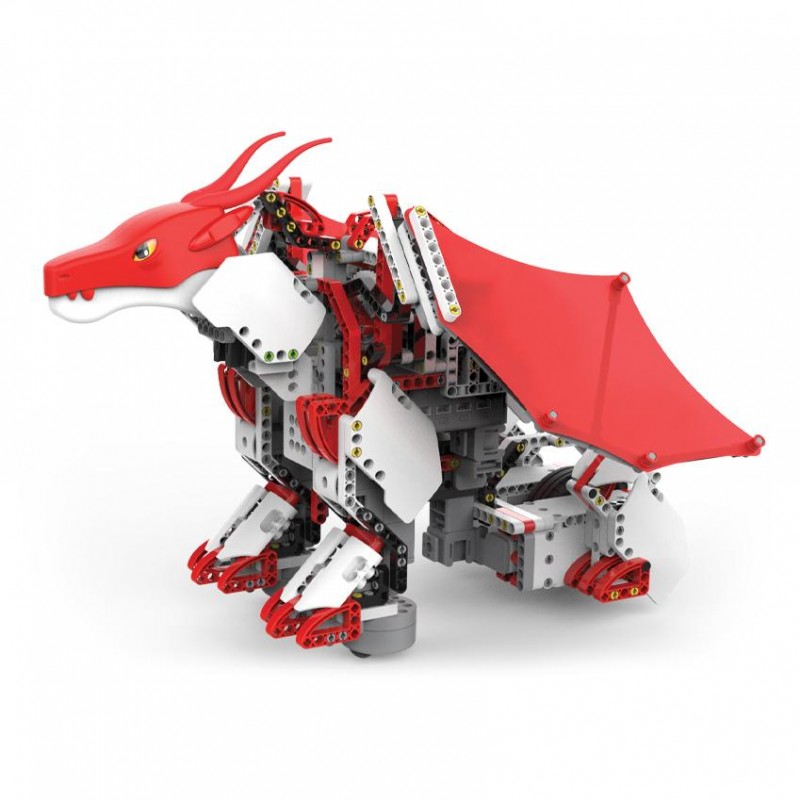 Get little ones engaged in fantasy and STEM work with the new Firebot kit from Ubtech. With a seamlessly easy app that gives guided build instructions and becomes the programming hub for the robot this toy is perfect for blending imagination and creation. If you have a little one in your life who loves dragons, or anything mythical make sure to head over to Ubtech to see the awesome robot builds available.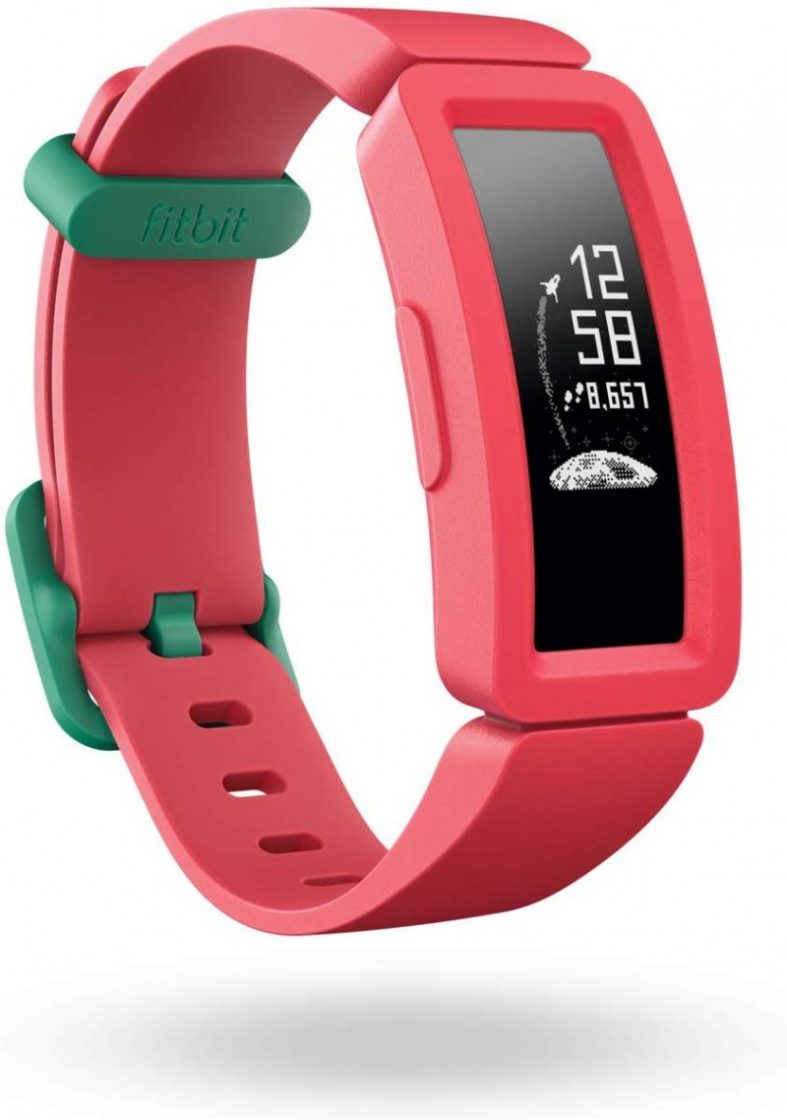 With the Fitbit Ace 2, you (and your kids) can track steps and active minutes to let children skip, jump, and move their way to a healthier life! Kids can earn virtual badges and fun on-screen celebrations when they hit goals. The Ace 2 is swimproof so it can be used in the pool and during swimming lessons! With up to five days of battery life, animated clock faces, and step competitions with their friends, the Ace 2 will be the newest exciting piece of technology this holiday season! You can also use the Ace 2 for sleep tracking, bedtime reminders, and silent alarms.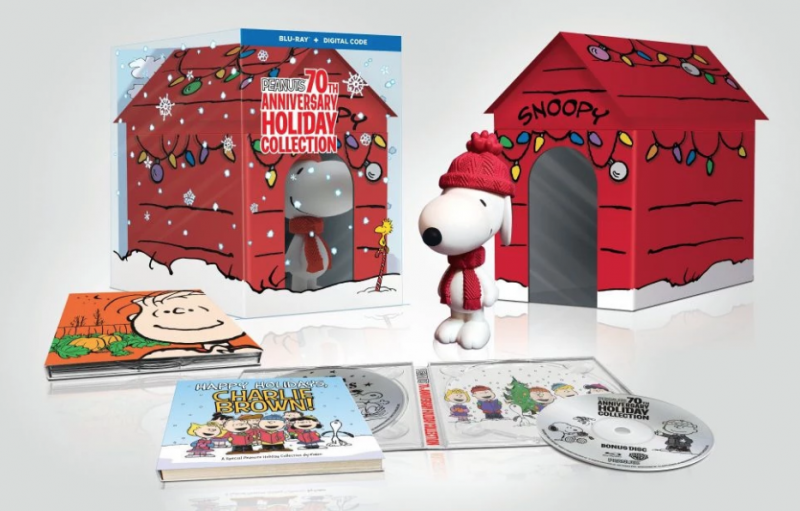 This must have Peanuts 70th Anniversary Holiday Keepsake Collection is now available and a perfect addition to the upcoming holiday season!  Included in this Blu-ray gift set are: It's the Great Pumpkin, Charlie Brown, A Charlie Brown Thanksgiving, A Charlie Brown Christmas, and six additional peanuts specials that have been remastered and restored, plus brand new special features!  So get ready to celebrate the holidays with Charlie Brown, Snoopy, Sally, Lucy, Linus, Peppermint Patty, and the rest of your favorites from the Peanuts gang!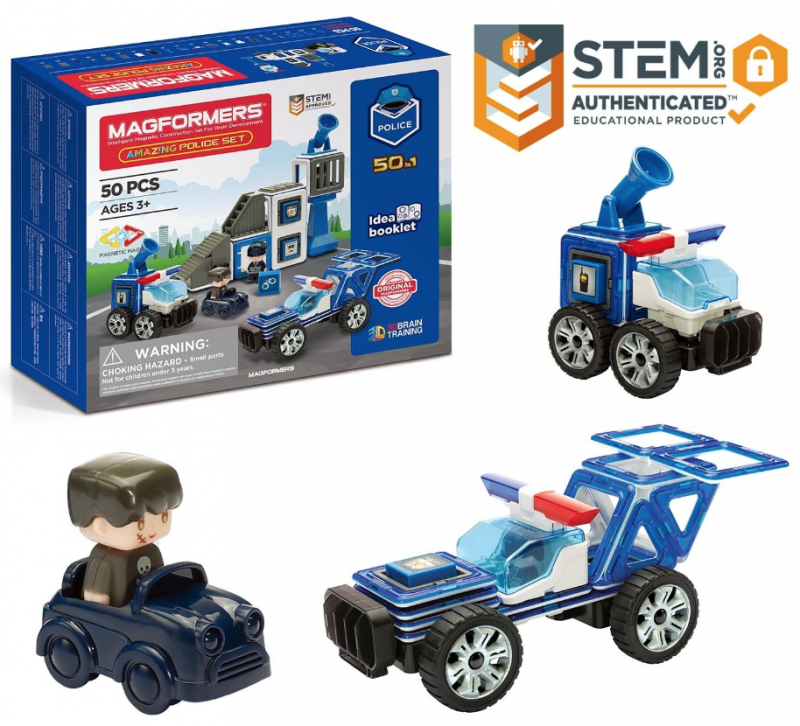 Magformers are the BEST!  And now, you can click and create your own adventure with Magformers AMAZING Police 50-Piece Set!  If you're new to the Magformers world, they are a magnetic construction toy where possibilities are endless.  Get ready to take off in a police car and chase the bad guy. This 50 piece set comes with 24 magnetic pieces, 2 figures, an emergency vehicle siren and much more to keep the city safe.  It's great for children aged 3 and up.  You can create 50 different ideas with the follow-along idea booklet or build your own adventure!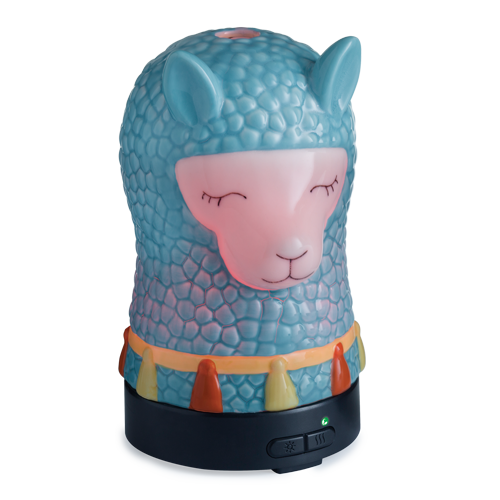 Airomé has a complete line of essential oil diffusers and safe essential oil blends for kids. The Llama Medium Diffuser features two mist modes that provide up to eight hours of use. It also has eight LED colors and an auto shut-off feature. The Llama Medium Diffuser is a playful way for kids to enjoy aromatherapy. To learn more about Airomé, read Laurie's full review.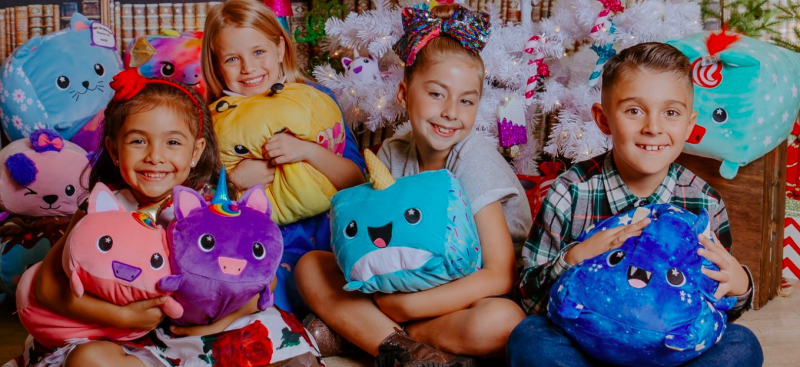 Moosh-Moosh
Plushies are super soft, squishy & cuddly. Kids can bring them in the car, to school, or on vacation because their Moosh-Moosh Plushie is likely to become their new best friend. There are tons of cute animals to choose from, as well as many different sizes and styles such as Moosh-Moosh banks, flashlights and slippers. When tired of playing, squishing and cuddling, your little one can use their Moosh-Moosh friend as a pillow too.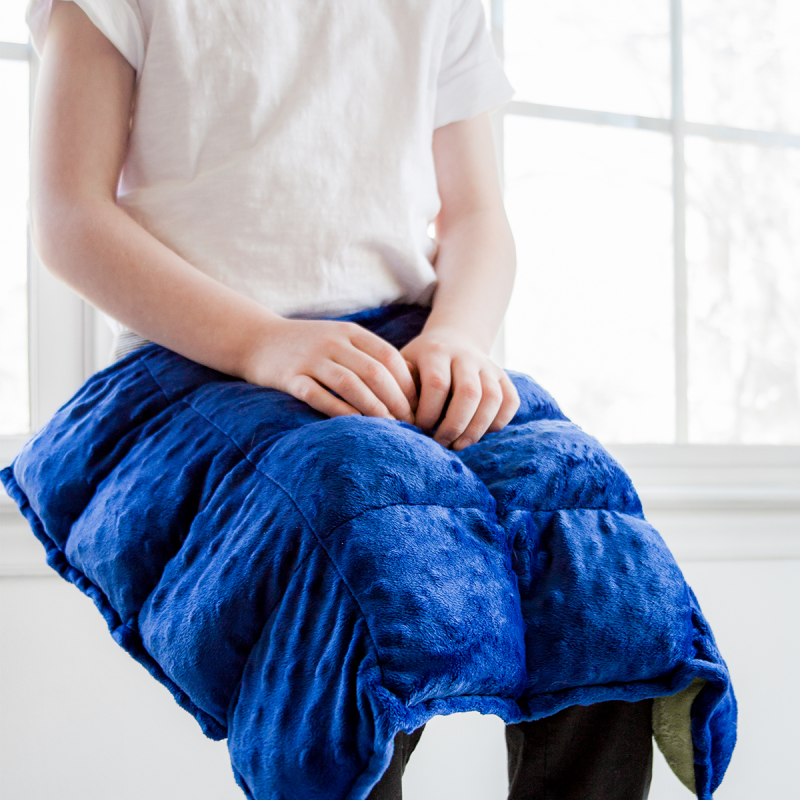 Designed to help kids focus and relax in stressful environments, the Harkla Sensory Lap Pad makes a perfect gift for older kids on your gift list who need a little help calming down. Children can use these weighted lap pads in the car, at school, the movies, and even at home. Harkla's Lap Pads are covered in a soft, minky fabric with dots for the sensory seekers in your life. They're the perfect size to bring along in any situation where kids could use a little calm.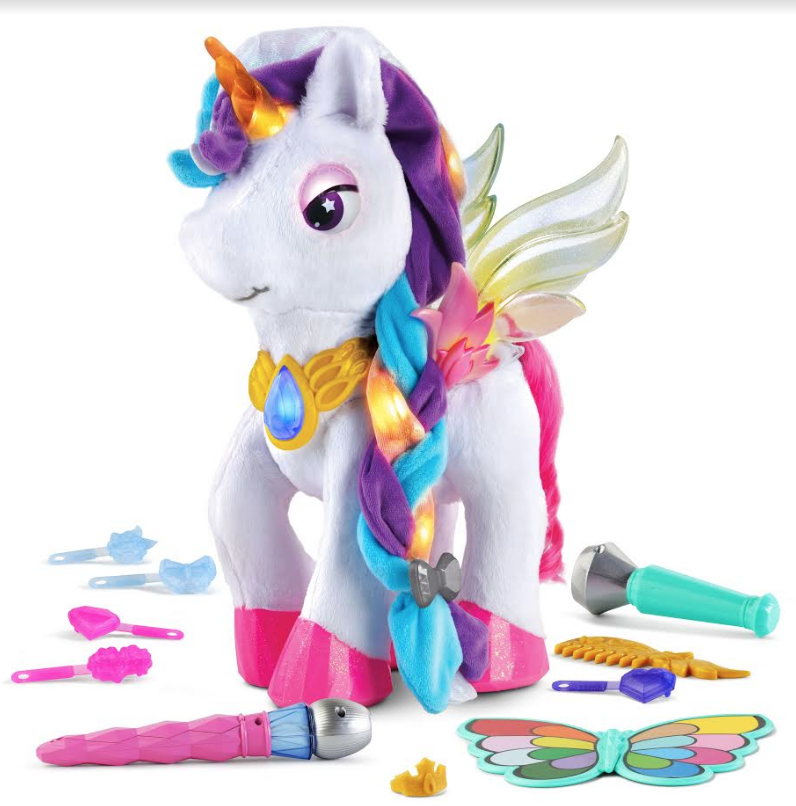 Get ready to light up every day with Myla the Magical Unicorn!  This colorful robotic unicorn is a delight that glitters with lights as she talks and sings.  Just touch her magic brush to the butterfly palette to choose your color.  Then place the brush gently on her eyes, wings and horn to decorate Myla in a variety of colors.  You can also braid Myla's mane, brush her tail, and complete her look by adding her crown and hair clips.  Then, sing a rocking duet with Myla and her microphone. When it's time to go solo, pull the microphone away and Myla will stop singing while continuing to play music.  Every day, Myla will give your child a positive message through play.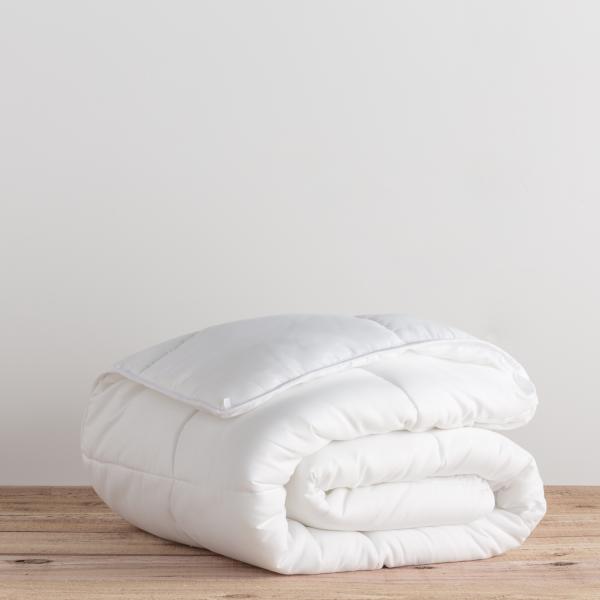 Brookside Home Designs is the place to go for all of your bedding needs. They have everything from bed frames to headboards, toppers, sheet sets, and comforters. The Brookside Microfiber Comforter is made with ultra-soft fabric and microfiber fill. The comforter has been quilted to keep the fill from shifting around. It also features corner loops to hold it securely in place inside a duvet cover. The Brookside Microfiber Comforter is available in four colors and multiple sizes. To learn more about Brookside Home Designs, read Laurie's full review.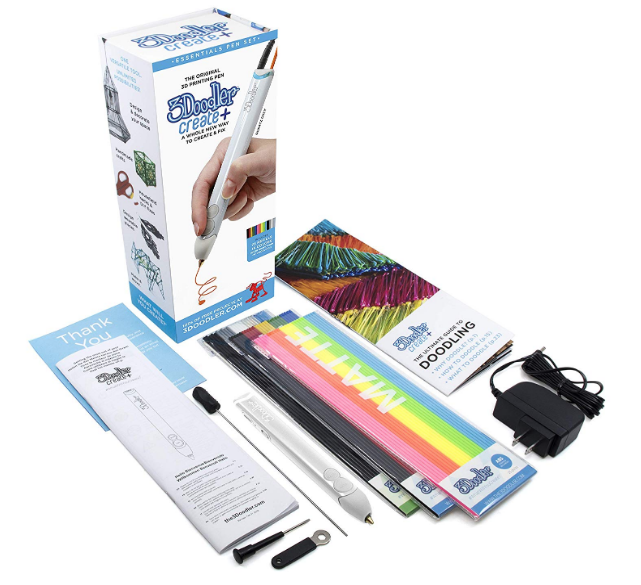 The world is your canvas!  Now with dual drive, the new Create+ 3D printing pen is completely re-engineered which means it will give you an ultra smooth and enhanced Doodling experience.  The awesome improvements include: greater durability, reduced chances of nozzle clogging, and better speed control for doodling over big spaces or intricate details.  With over 70 colors at your fingertips in more than 3 different types of materials, the possibilities are endless.  Kids love to create, so give them the tools to get them started!  Decorate, fix, or create a hack, the possibilities are endless.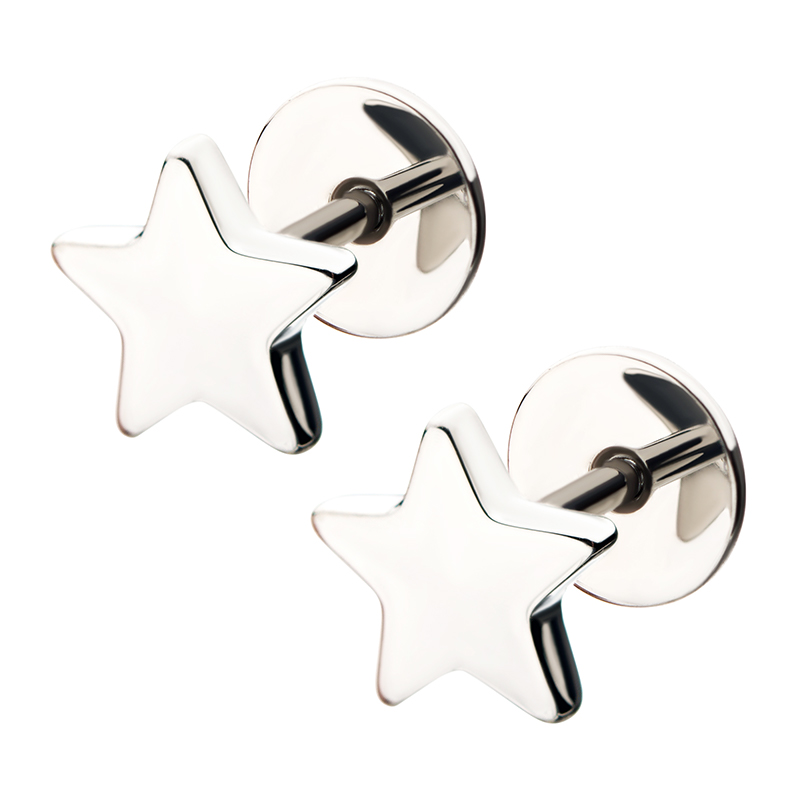 ComfyEarrings specializes in earrings that sit comfortably in your ear without poking your neck or pinching your earlobes. They have an innovative screw-on Comfy flat back, designed for all-day comfort and balance. ComfyEarrings come in dozens of styles for you to choose from. They have an Everyday Collection, Luxe Collection, Huggie Hoops, Ear Charms, Ear Cuffs, and Leverbacks. The Stainless Stars earrings, from the Everyday Collection, are made with 316L Surgical Grade Stainless Steel stars, posts, and backs. They come in a classic gift box perfect for gift giving.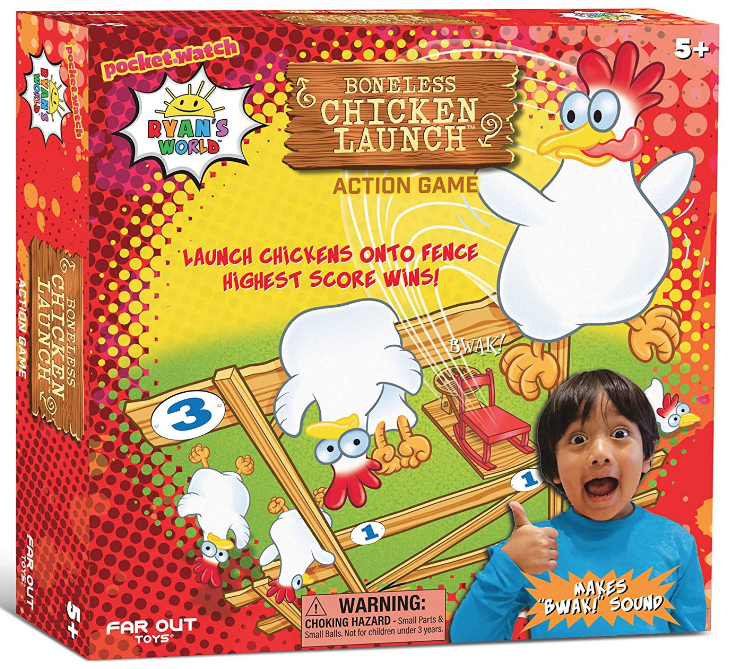 The Ryan's World Boneless Chicken Launch is a hilarious new game that will have players launching, squawking, and landing chickens on the fence.  Place a bean bag chicken onto your special launcher and push the back to send your chicken soaring. The launcher will even make an interestingly hilarious squawking sound!  The goal is to land your chickens on the rungs for points!  The higher the rung, the higher the points. Launch all 5 chickens and add up your score. Then challenge another player!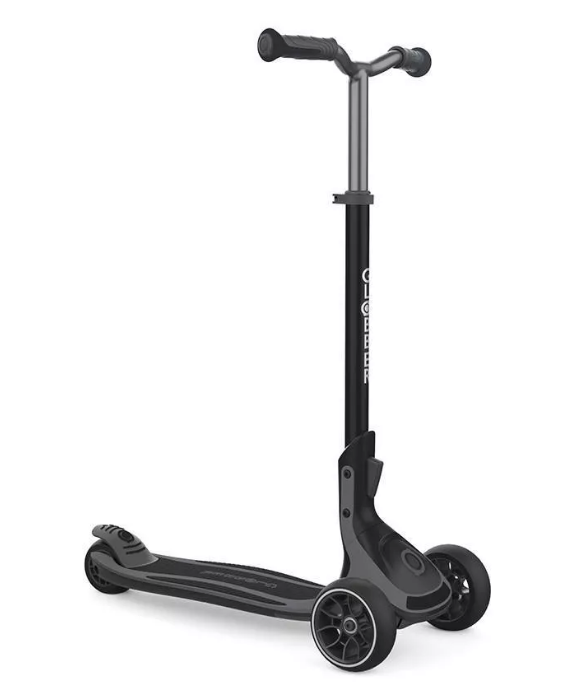 The Ultimum 3-Wheel Globber Scooter is a great choice for kids and teens.  This is the first-ever scooter equipped with Globber's patented, adjustable steering angle control system; which means it allows you to easily modify the turning radius of the front wheels to suit your desired riding style.  The Ultimum is a big wheel scooter for faster rides but also more grip for safe rides too.  Available in navy, blue, or charcoal grey colors.  Get your big kids active with the Ultimum!
Buy It:  Target.com
Globber has been nominated for a 2020 Toy of the Year Award – yay!  Now is your chance to vote here for Globber as Outdoor Toy of the Year before January 5th.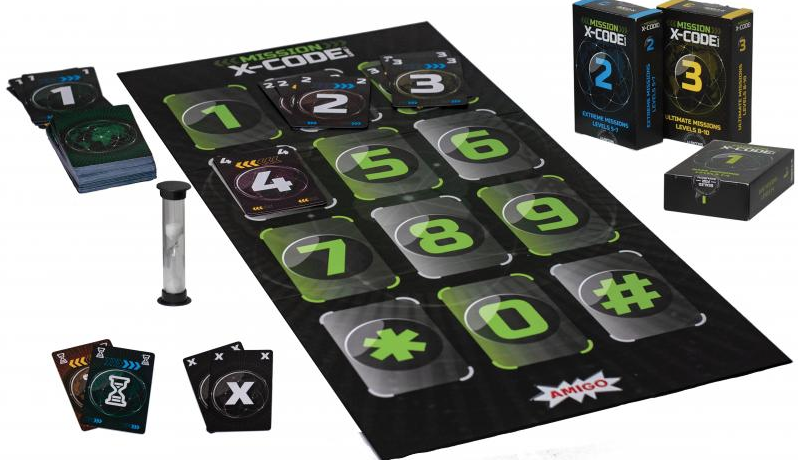 For big kids who love a challenge, Mission X-Code is the game to play!  Mayday! The world's computer networks are down and you've got just 3 minutes to enter a secret code to save them. But you can't do it alone, you must work as a team.  Tell the other players what you need for your part of the code, then swap to get those cards. But you can only trade in one direction, so you'll need communication, strategy, a little luck, and lots of skill . . . and that's just for level one!  There are 10 exciting levels—each more challenging than the last—in this game that's designed to bring people together.
For a gift that will wow, the Loog Pro Electric Guitar and Amp will have kids jamming in no time.  Featuring a slim 3-string neck and accompanying app, the Loog Pro Electric guitar will get you playing songs -not just scales or exercises- right from day one.  With Loog, kids and beginners are playing, learning and having fun from the very beginning, acquiring skills that stay with them forever.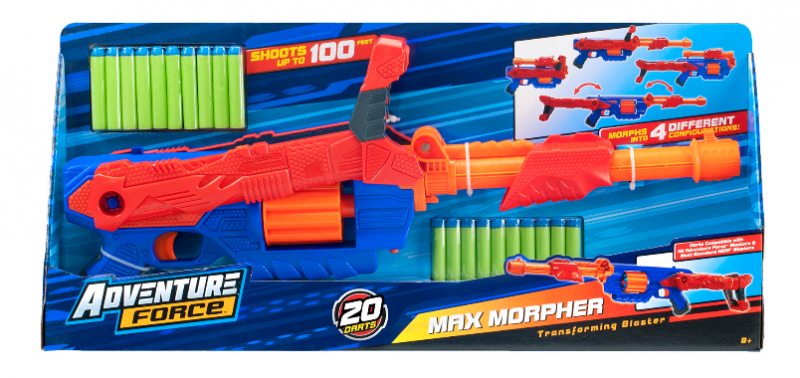 Simple and easy to use, this transforming dart gun is sure to be a hit.  The Adventure Force Max Morpher is a transforming dart blaster that is actually FOUR different dart blasters in one!  Simply flip and move the barrel and stock positions as you like, creating a variety of different designs.  Players can create hand held pistols or long range rifles that will shoot darts up to 100 feet.  The Max Morpher comes with the dart blaster and 10 long-distance darts that are compatible with all Adventure Force Blasters and most standard NERF blasters.  All are gentle enough for kids aged 8 and up.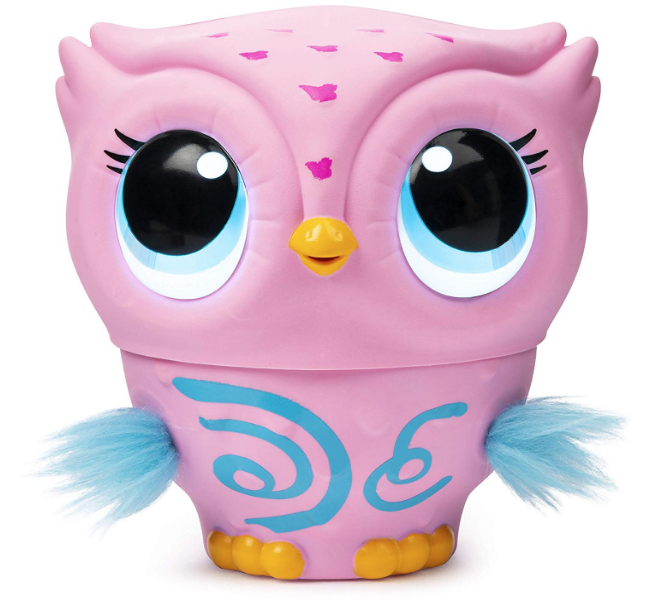 Your new Owleez needs your help to learn how to fly!  Kids find it so much fun to teach there adorable baby owl how to fly.  Practice together (you'll hear a delighted "weeee!"), place her in the nest and watch Owleez spread her wings and REALLY fly!  Every flight is different so you can watch your owl soar, guide her with your hand, or comfort her lovingly after a crash.  Pet, tickle, and even feed her with the included berries.  Get ready to teach your special little baby owl how to fly as you spend time engaging with her.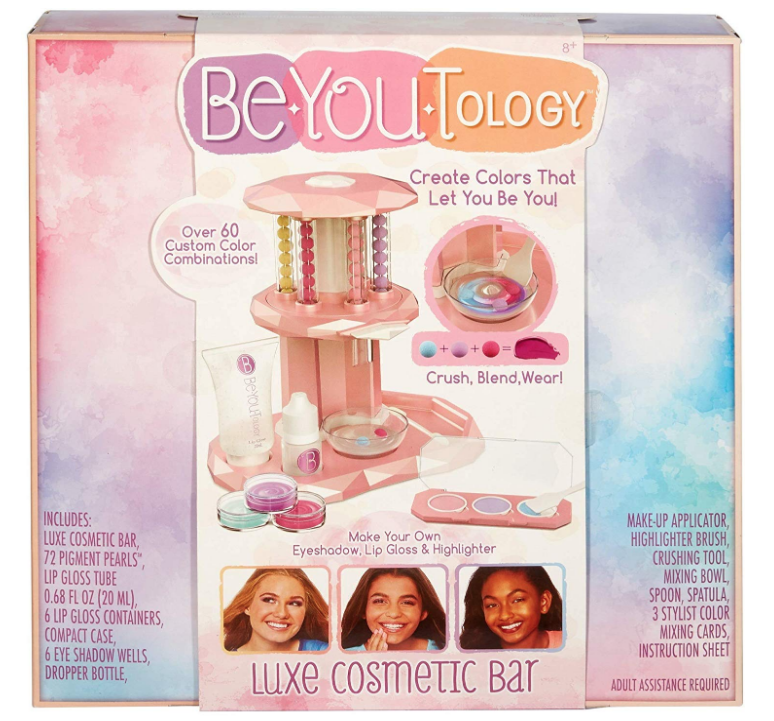 Now kids can personalize their very own beauty looks and create makeup their way with this fun Luxe Cosmetic Bar!  Get ready to design your own personalized makeup for lips, face, and eyes. Using the color mixing cards (or experimenting on your own), your beauty student can choose 3-4 pigment pearls to create a color. Spin the top of the carousel and drop each colored pearl into the mixing bowl into the desired medium (for face or lips). Then crush the pearls and form them into a gloss for lips or shadow for face or eye. With six colors to work with, you can create 60+ makeup shades!  Feel free to create special shades of makeup for yourself or your friends!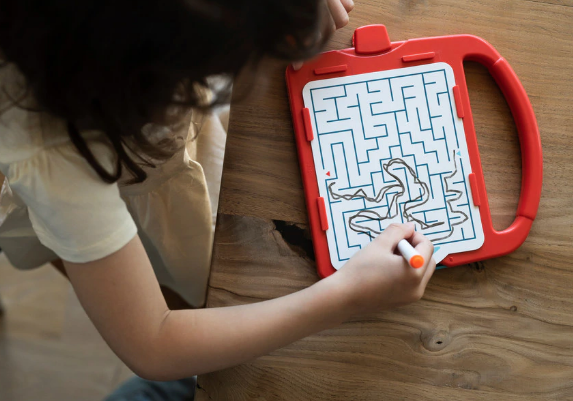 Mazes are always loads of fun.  But there are usually only a couple in a large activity book.  Imagine, FIFTY! reusable mazes, all in one place!  The Chuckle & Roar Mega Maze Portable Travel Mazes delivers just that.  Plus, they are dry erase so kids can enjoy them time and time again!  Featuring 3 levels of difficulty, kids can gradually improve their maze skills over time.  All the mazes fit neatly in the built-in drawer.  So just choose the maze you'd like, slide it in the frame, and off you go.  Everything you need for hours of fun, PLUS, it's travel friendly!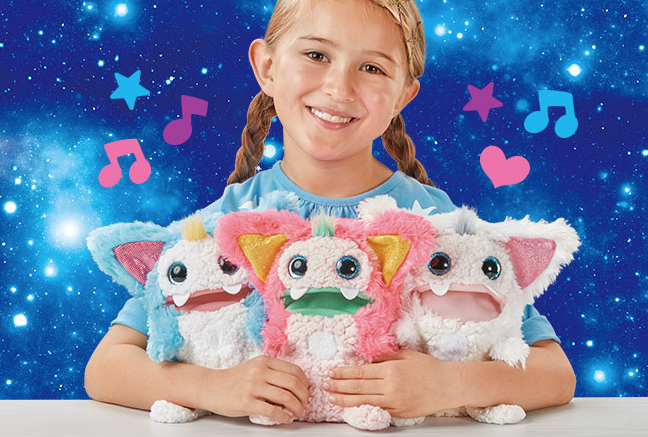 TOMY is delighted to bring some "out-of-this-world" fun to the holiday season with the introduction of their brand new Rizmo. A must have and top on many wish-lists, the Rizmo is the first-ever "Evolving Toy" that listens, learns, remembers and grows. Rizmo, whose name is a mix of Rhythm and Monster, is in search of love, music, and dance.  As kids interact, cuddle, sing and play with Rizmo they will be surprised to experience their friends evolution over time as it grows and evolves.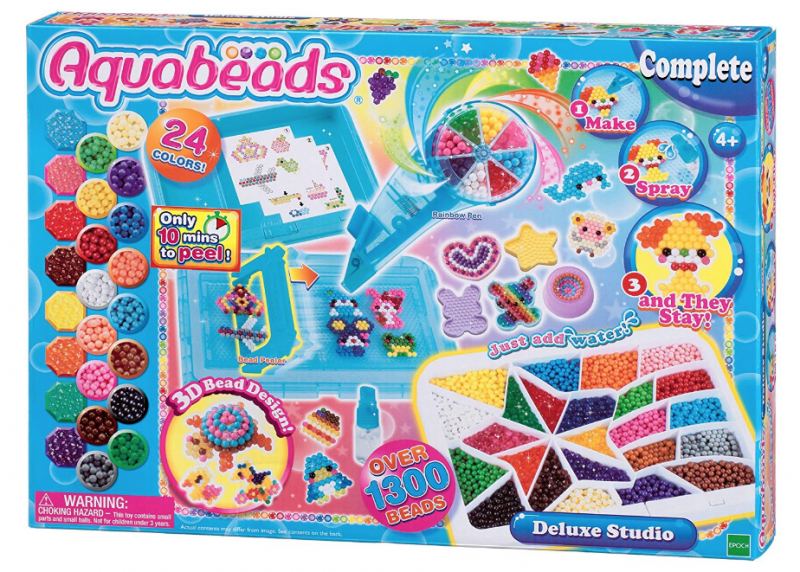 Aquabeads is the original water-activated, ultra-fun, bead craft product.  Made from the highest quality materials, Aquabeads are extremely fun and safe for the entire family to create with. The Deluxe Studio comes with everything to create more than 20 bead art creations – and the possibilities are endless!  The Aquabeads Deluxe Studio contains a table tray, bead palette, tool case, rainbow bead pen, bead peeler, 5 tray shapes, sprayer, 3 double-sided templates and instructions.  Get ready to get crafty this Christmas!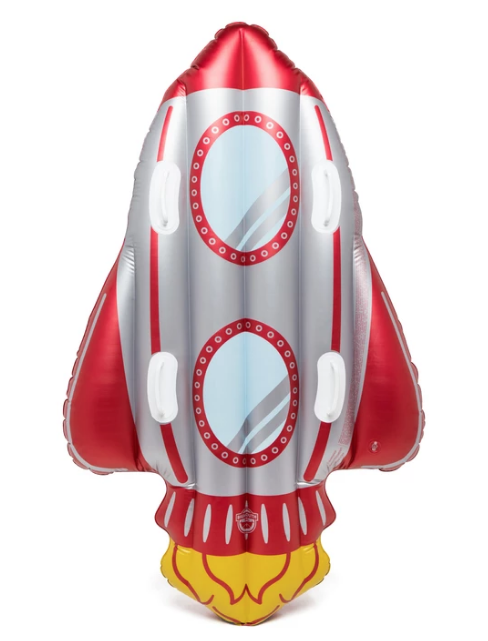 When the weather forecast is predicting an arctic blast-off, it's time to call up your best bud and schedule a slope session.  This giant inflatable Rocket Ship Snow Sled has enough room for two as you fly down your favorite sledding hill.  Simply inflate, find a snowy hill, then grab the comfort grip handles, and BLAST off for an adventurous ride. The thick, durable construction provides a smooth and cushy ride for sledders of all ages.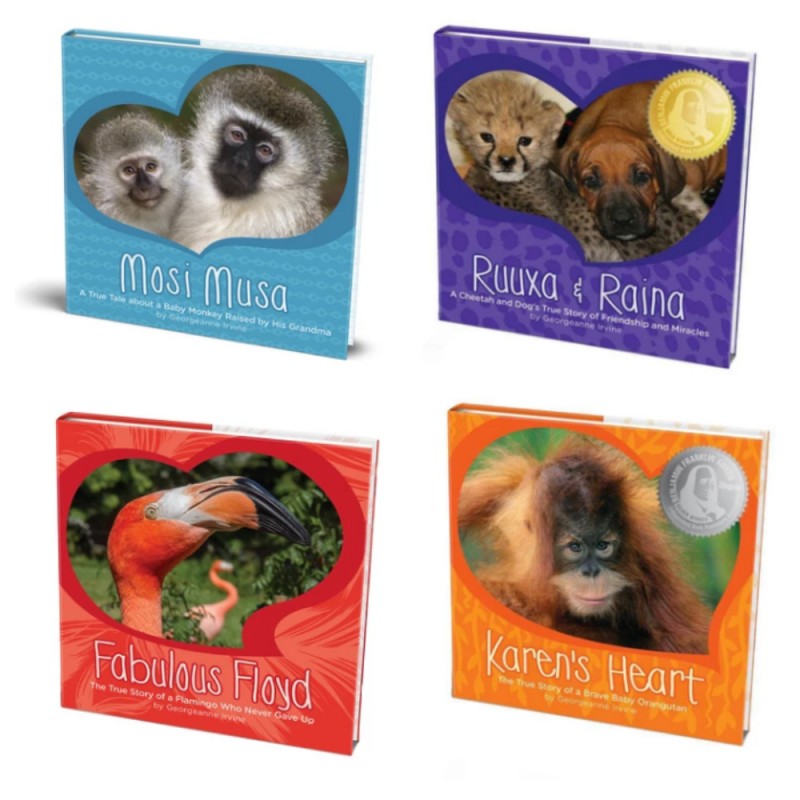 More than 100 years ago, the San Diego Zoo was founded to benefit the children of San Diego.  Now, there's a heartwarming book collection, the Hope and Inspiration San Diego Zoo Children's books, that extends this relationship by connecting animals who are going through various medical conditions to human-like experiences.  Written by Georgeanne Irvine, these wonderful books feature true tales about Zoo and Safari Park animals who have overcome major challenges in their lives.  These books are perfect for inspiring young children and teaching them life lessons about not giving up.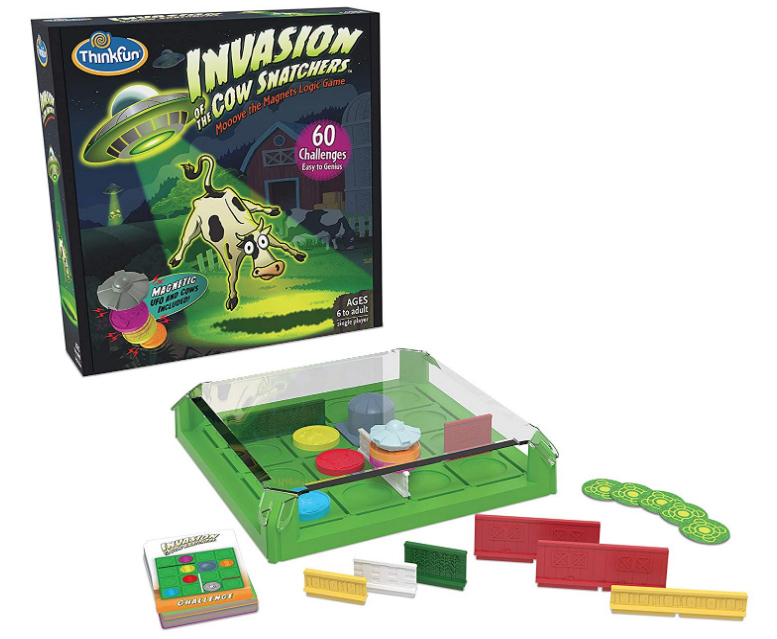 Invasion of the Cow Snatchers is one of ThinkFun's newest, fun stem toy for boys and girls. It's a fun magnet maze logic game that comes with 60 challenges of increasing difficulty, from beginner to expert.  A perfect gift for kids who like smart games and a challenge.  Made with high quality components, this game comes with a very clear and easy to understand instruction manual – you'll be able to play within minutes of opening the box.  Like all of ThinkFun's games, Invasion of the Cow Snatchers is built to develop critical thinking skills.  Players love working through the increasingly difficult challenges while improving logical reasoning and critical thinking skills, all through fun gameplay.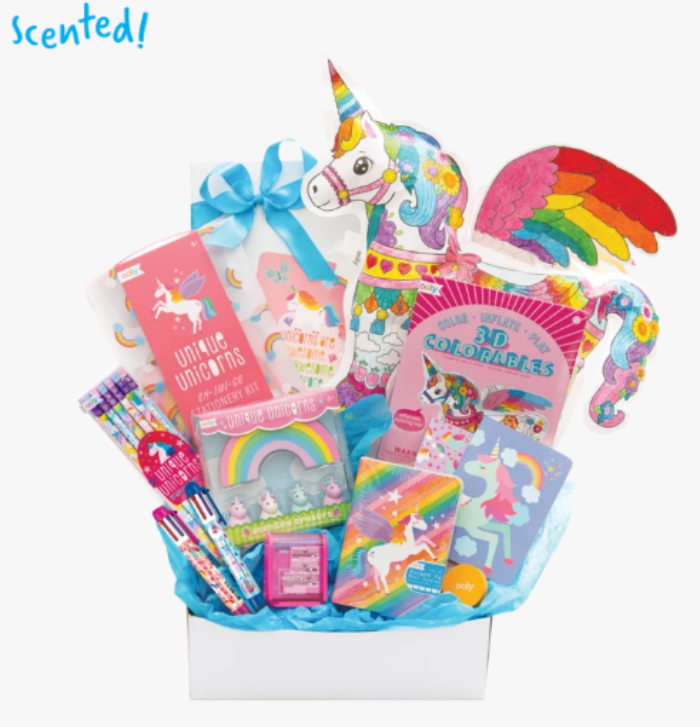 Gifting made easy for the unicorn fans in your life!  This Unique Unicorns pre-wrapped gift set is chock full of fun creative writing and art supplies that special unicorn lover will enjoy.  Explore 3D coloring with the inflatable 3D Colorables® unicorn. Also included are: two 6 Click unicorn multi pens, Unique Unicorns stationery set, 12 unicorn graphite pencils, a set of 8 Pocket Pal unicorn pocket notebooks, a 5 piece unicorn eraser set, and a pink Mighty pencil sharpener set.  All in a gorgeous gift box ready for giving!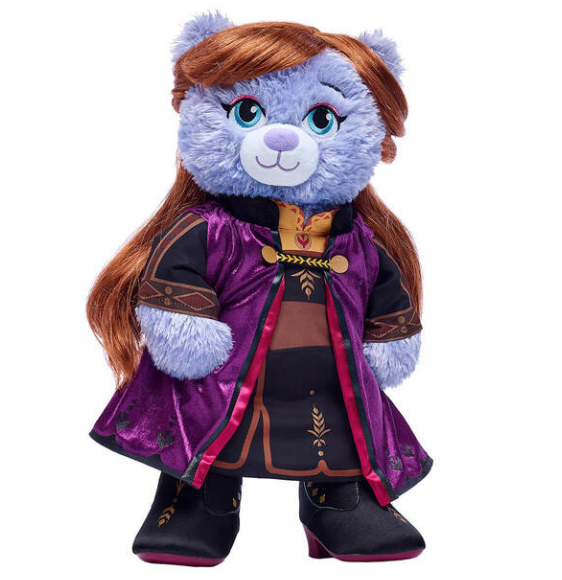 With Frozen 2 fever hitting, Arendelle's adventurous heroine is a must-have in this simply adorable furry friend form!  The Disney Frozen 2 Anna Inspired Bear has sparkly flecks in her soft purple fur giving her even more appeal. This fearless furry friend is ready to go on daring adventures anywhere you'd like to go!  With her signature red hair wig, bodice skirt, cape, and boots, she is Anna all the way.  Inspire your imagination with your own Disney Frozen 2 Anna Inspired Bear as you sit down to watch the new movie!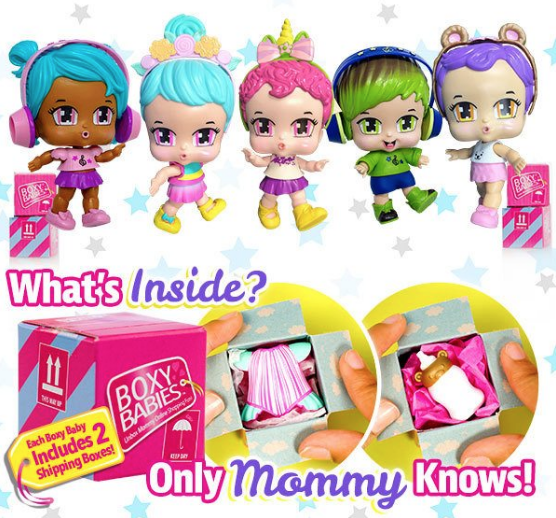 Boxy Babies are so much fun.  And Baby Tini loves everything and anything unicorn themed.  She even wears a unicorn headband!  Unbox these sweet babies AND their bonus surprise boxes for even more fun.  Available in five different baby options including: Addison, Tini, Charlie, Paisley, and Izzie.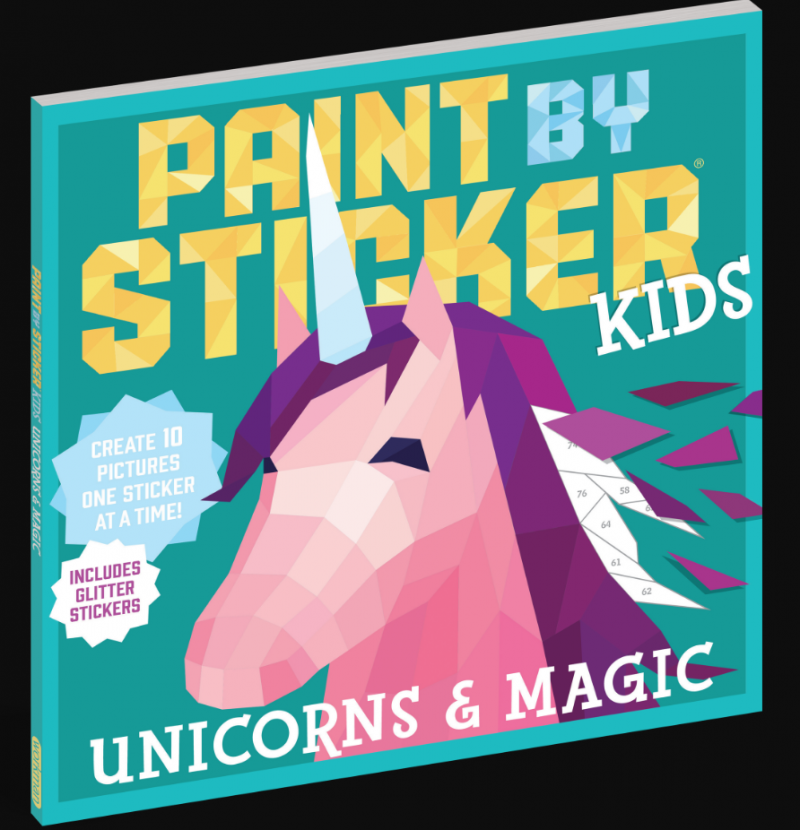 Who loves sparkle!?  Paint by Sticker Kids: Unicorns & Magic includes everything kids need to create ten vibrant images, including unicorns, a dragon, a princess, and more.  The best part is all pages are perforated for easy removal.  This makes sharing or displaying your finished results easier!  Super fun, and a great activity for car rides, appointments, and any time you feel crafty.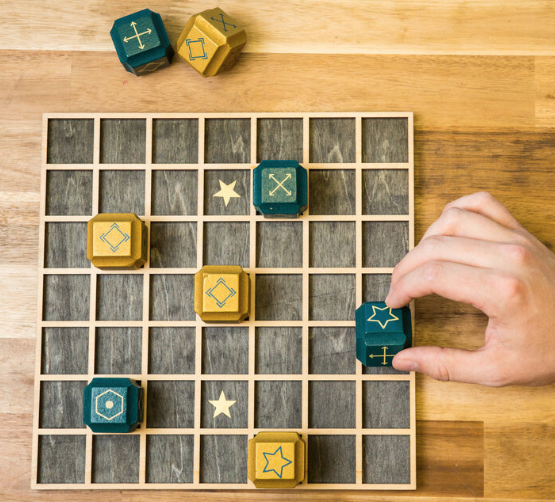 Do you have a game teaser fan on your list this year?  Then this strategy game of tips and turns is just the thing.  Deblockle is a brand new, two player, casual strategy game of tips and turns.  Players take turns tipping their blocks into adjacent squares and then moving them across the board.  Beware, there are size different ways to move on every block!  If you are the first player to successfully remove all of your blocks by maneuvering them onto the final square on the board, you win!  This fun game can be played in about 25 minutes and is geared for ages 8 and up.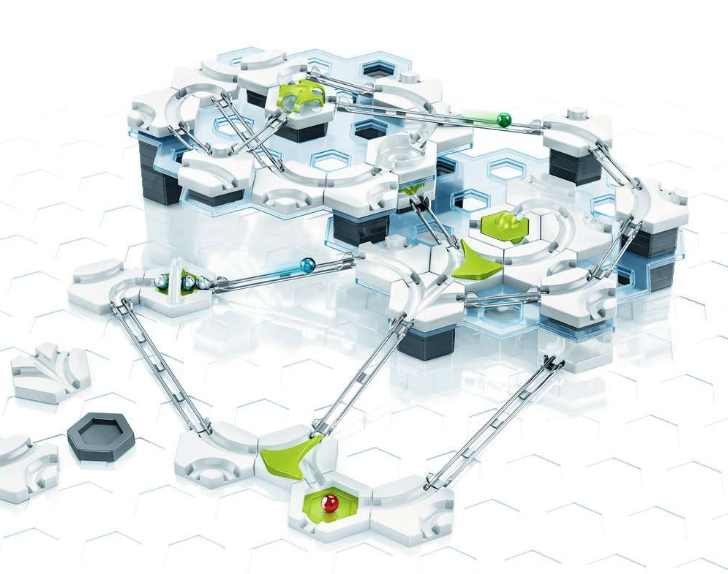 With the GraviTrax interactive track system, you can design and build your own marble runs and experiment with gravity, magnetism, and kinetics to propel your marble to the finish. With a variety of tiles, levels, tracks and elements, you can control the speed of the marble.  The open-play concept offers endless possibilities to design a different track every time you play. Add flair and speed to your tracks with expansion sets and action accessories. Experience the power of gravity with this epic marble run toy.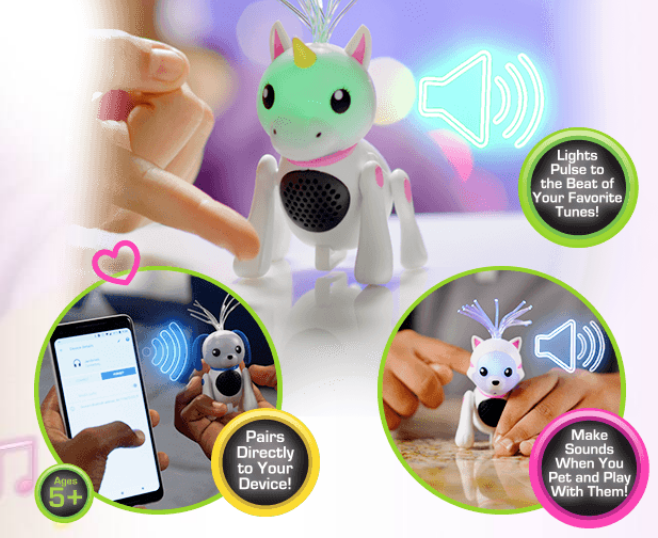 JamBrites are the light-up Bluetooth speaker pets that will keep you tapping your feet all day long! Pair them with any device to play your favorite jams as the lights pulse to the beat. There are five different pets to choose from that even make sounds when you pet and play with them. Plus, their colors change to show the mood of your JamBrites so you'll have a ton of fun. Your JamBrite is the perfect little friend to take with you anywhere you go!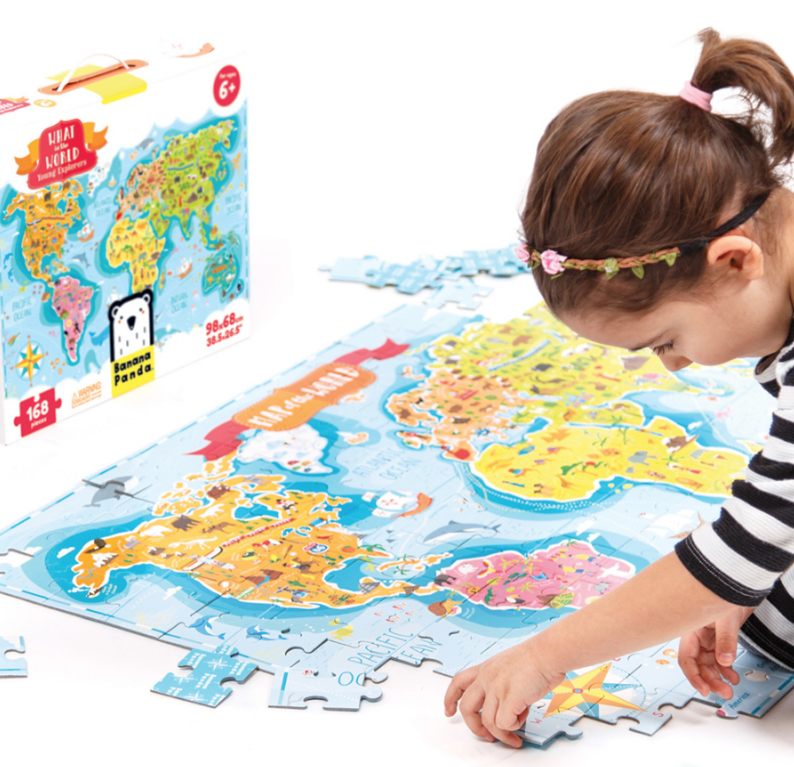 Who doesn't love a great puzzle!? With the wind at your back, kids can now set sail for adventure with this 'What In The World Young Explorers Puzzle'!  Assembling the 168-piece jumbo floor puzzle is a fun way for young explorers to learn about the world either by themselves or with a friend.  It's the perfect activity for learning about nature, landmarks, and discoveries.  Geared for kids ages 6 years and up, everyone loves discovering wild animals, observing amazing plants, and seeing exceptional places. Mysterious discoveries and curiosities await in every corner of the world!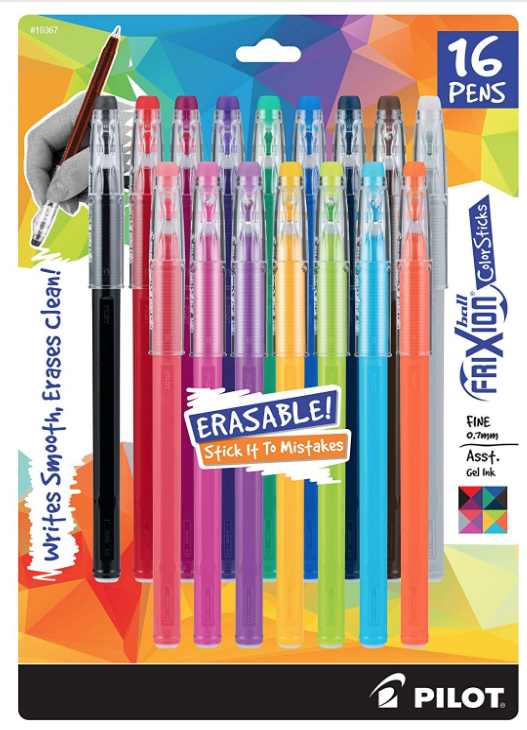 Writers will enjoy bright, vibrant writing with this 16-pack of Pilot Frisian color sticks fine-point assorted erasable gel-ink pens.  For school, office, or home, Fruition color sticks erasable pens takes the stress out of writing – you'll never make a written mistake again, because you can just erase it with these awesome pens!  Everyone loves that this set of pens with Fruition unique thermo-sensitive ink that allows you to write smoothly, erase cleanly, and rewrite repeatedly without damaging your documents.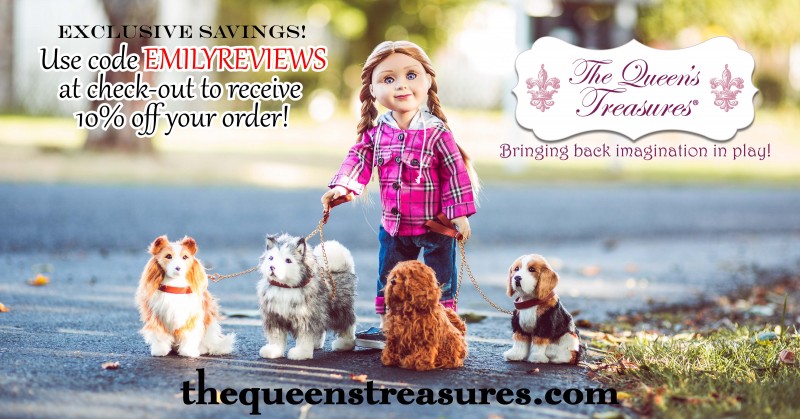 The Queen's Treasures offers affordable, authentic, high-quality 18 inch doll products. They specialize in 18 inch dolls, furniture, clothing, and accessories. Their goal is to stimulate the kind of creative play that requires imagination instead of batteries. All items are made of premium quality materials and must pass rigorous testing to meet or exceed safety standards in the USA, Canada, and Europe. The Queen's Treasures is also the official provider of 18 inch doll furniture, clothing and accessories for The Little House on the Prairie license; featuring both Laura & Mary Ingalls dolls.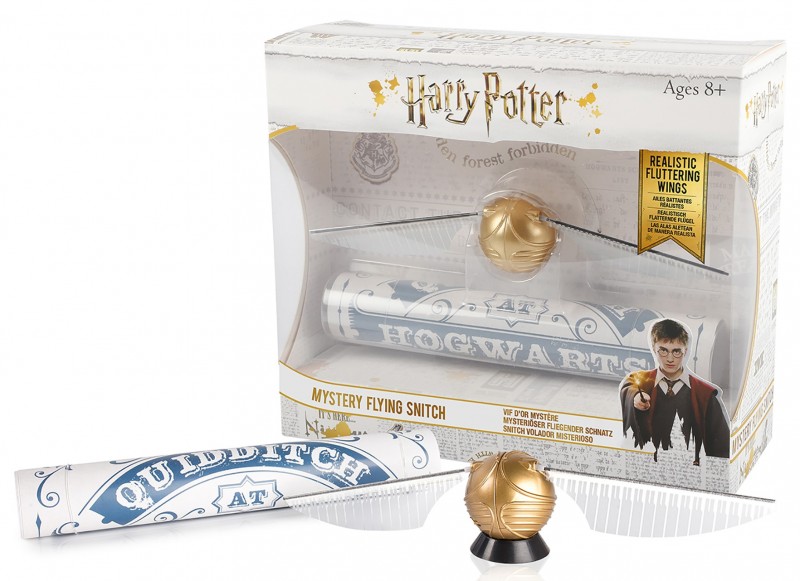 The spell-binding Mystery Flying Snitch will amaze and astound your family and friends as it appears to magically fly around your body!  Incorporating a patented illusion of flight, the Mystery Flying Snitch has realistic fluttering wings and appears to respond to your hands, rising up and flying around your body as you move, avoiding capture. The Snitch is suspended with high tensile thread which are almost totally invisible from around six feet!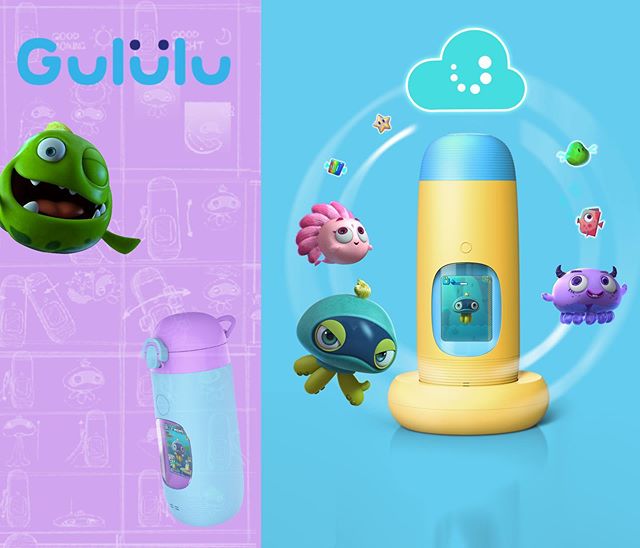 This Interactive Water Bottle from Gululu will keep kids busy and encourage them to drink more water! Gululu Go encourages your child to drink more water through a built-in virtual pet and an adventure game that develops as your child drinks. Let your child choose their favorite whimsical pet to embark on a journey of health and learning – play, track stats, add friends, and stay connected with the cloud-based app that lets you play alongside your child.
Need more gift ideas for older kids or preteens? Check out our gift guides from past years: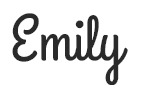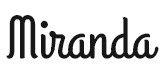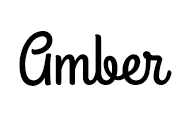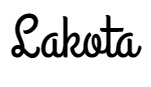 Hi there! I am Emily Evert, the owner of Emily Reviews. I am 28 and live in a small town in Michigan with my boyfriend Ryan and our two pugs. I have a large family and I adore my nieces and nephews. I love reading memoirs, and learning about child development and psychology. I love watching The Game of Thrones, Teen Mom, Sister Wives and Veep. I like listening to Jason Isbell, John Prine, and other alt-country or Americana music. I created Emily Reviews as a creative outlet to share my life and the products that I love with others.
This post currently has 10 responses.